WOMEN'S LEADERSHIP RETREAT 2012

Saturday, October 20, 2012 at 8:00 AM

-

Sunday, October 21, 2012 at 4:00 PM (PDT)
Event Details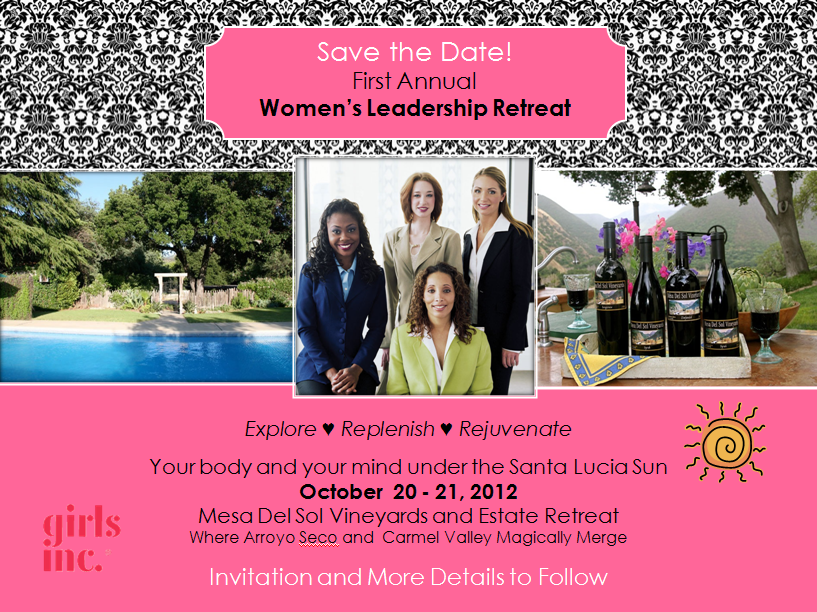 Save the date and plan to join us on October 20 and 21 for what is sure to be an engaging program full of thought provoking discussion, incredible networking opportunities, and great fun in breathtaking surroundings.   Speakers will explore topics on financial planning, entrepreneurial concepts, and strategies for improvement.  Attendees will have the opportunity to rejuvenate personal and professional goals  and replenish a sense of spirit into their business and life plan.  Receive practical tools and tips that can be applied immediately at both home and work!
In keeping with our theme, this event also promises merrymaking and just a bit of indulgence. Want to just get away from it all?  Take a break from the sessions and treat yourself to a aromatherapy massage by Aqua Blue Spa Technicians.  Retreat guests will be treated to the visual delights of Mesa Del Sol's historic property  and rustic charm.  Unwind and celebrate as this weekend turns into a memorable encounter.
Retreat includes continental breakfast, catered luncheon and delicious BBQ on both Saturday evening and Sunday at noon.  Not to miss is the Saturday evening jubilee with live music by singer/songwriter, Rose Merrill.  Taste the fabulous wines of Mesa Del Sol and experience the property's breathtaking views.  Sunday will review each of Saturday's presentations and focus on assessment of goals and objectives.  The afternoon is free to enjoy the pool and the properties many amenities. This is a private venue not open to the public except by invitation or reservation.  See http://www.mesadelsolvineyards.com/ for more information on retreat property.
Saturday Speakers:
Keynote address:  Margaret D'Arrigo-Martin, VP Community Development, Taylor Farms                     Harness Your Personal Power Tools | IMPOWER Success and Happiness
Session One:  Denise Connors, Health and Fitness Expert, Wholly Fit Central Coast                                  Balancing a Busy Lifestyle and Incorporating Fitness in to Your Every Day Routine
Session Two:  Maria Boisvert, Sr. Vice President, RBC Wealth Management                                  Creating Financial Security in Unsecure Times
Session Three: Sheila Dundon, Founder/Coach, RISE Leadership Forum                                                   Ten Tactical Tips for Achieving Breakthrough Results
Session Four:  Karen Nardozza,  Principal, Moxxy Marketing                                                                          Creating Your Very Own Personal Brand and Maximizing Its Value
5:00 p.m. Wine Tasting and Live Performance by Singer/Songwriter, Rose Merrill
6:00 p.m. Barbequed Tri-tip and Halibut, mixed green salad, pasta, and garlic bread
(Saturday evening festivities are open to the public.  $45.00 pp.  All are welcome).
Sunday Speakers:
Round Table Forum Facilitator:  Christie Mims,  National Speaker and Coach, Founder/Principal, The Revolutionary Club
Sustaining Change and Moving Forward | Life After the Retreat: Next Step!
Two hour program on career fact finding and goal setting facilitated by this dynamic presenter!!!
Special Presentation by Patty Fernandez, Executive Director, Girls, Inc. and guest introductions
Chicken BBQ/luncheon and wine tasting with afternoon open to enjoying the property.
Questions?  Contact either of the following:
Robyn DaRosa at (831) 595-1048 or robyn@projobs4u.com
Kathy Huggins Pimentel at (831) 320-2606 or khugs@att.net
Sponsorship opportunities are available NOW!  Sponsorships and proceeds in part to benefit Girls Incorporated of the Central Coast.  Contact either of the above or Patty Fernandez, Executive Director with Girls, Inc.
When & Where

Mesa Del Sol Estate Retreat & Winery
45803 Arroyo Seco Road
Arroyo Seco Road & Carmel Valley Road
Arroyo Seco, CALIFORNIA 93940


Saturday, October 20, 2012 at 8:00 AM

-

Sunday, October 21, 2012 at 4:00 PM (PDT)
Add to my calendar
Organizer
Proformance Group Productions Unlimited
"Walt Disney told his crew to 'build the castle first' when constructing Disney World, knowing that vision would continue to serve as motivation throughout the project. Oftentimes when people fail to achieve what they want in life, it's because their vision isn't strong enough."
– Gail Blanke, President and CEO, Lifedesigns
***
"I don't make long-term plans. I make short-term goals. My life is proof that you never know what can happen."
- Katie Lee, Food & Lifestyle Expert
***
"I could tell you my adventures, beginning from this morning," said Alice, "but it's no use going back to yesterday, because I was a different person then."
-Adventures of Alice in Wonderland by Lewis Carroll