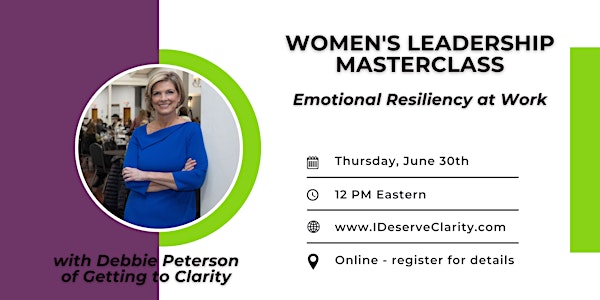 Women's Leadership Masterclass: Dealing with Challenging Emotions at Work
Refund policy
Contact the organizer to request a refund.
Eventbrite's fee is nonrefundable.
As a woman in leadership (or aspiring to be) join us and discover the tools and strategies to calm the chaos and move forward confidently.
About this event
As women, we often take on too much. Mostly, because we are responsible for a lot. We get lost trying to focus on everything and spread ourselves too thin. If we aren't careful, the emotions that we feel will take a toll.
Emotions aren't bad, they are just energy in motion. They are meant to be experienced for a period of time - not forever - and intended to pass through - not stay with us. But that's not always what happens. Instead, we feel anger or frustration at a situation, and instead of paying attention and exploring why we are feeling this way, we push it down. We ignore it. But that may not be the best strategy.
Do you ever tell yourself that you'll just "power through it" or say to yourself, "suck it up, buttercup!" Yes, you're a strong woman, but if you keep telling yourself, "you don't have time to deal with this right now," it will catch up with you.
So what can you do instead? I'm so glad you asked! Join me and discover what you need to know so that you'll confidently navigate what you are experiecing but also learn how it's actually serving you.
In this masterclass, you'll:
Deepen your understanding of negative emotions like anger, sadness, fear, guilt, limiting beliefs, and self–doubt and what to do about them.
Gain strategies to deal with your stress and anxiety, as well as how not to pick up anyone else's.
Explore the boundaries that need to be in place to successfully navigate emotions (yours and others) in your leadership and life!
Understand the importance of self-care and other important strategies to give you the "grace and space" to navigate a changing environment.
Give yourself permission to explore tools that will allow you to become more resilient so you can bound back quicker...better, and make the impact you were born to make!