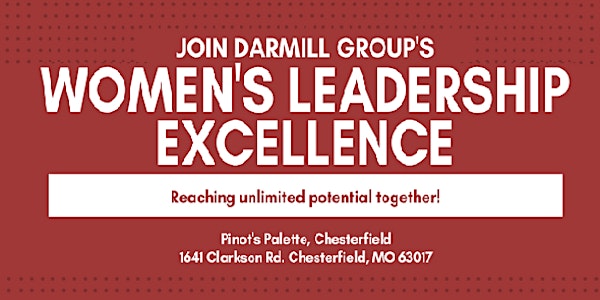 Women's Leadership Excellence
When and where
Location
Pinot's Palette, Chesterfield 1641 Clarkson Rd. Chesterfield, MO 63017
Description
Women's Leadership Excellence
At DARMILL GROUP, we have a Leadership Excellence Group just for women! We know how important it is to achieve growth and success through positive-thinking, powerful leadership skills, and building personal and professional relationships based on trust and confidence.
Dur ing this 12-month series of coaching sessions, you will master of the art of personal-development and positive self-talk, as well as networking and relationship balance. You will come away stronger, more confident and competent; empowered with deeper relationships. Being part of an uplifting, supportive team ensures your personal life and business will flourish.
Benefits of Women's Leadership Excellence Group Coaching:Participation in al l 12 events leads to permanent personal and professional change in the following areas:

Master positive thinking for supreme confidence

Identify inner voice that builds trust

Skills for engaging dialogue

Powerful, action-driven communication

Networking tips for instant rapport

Assertiveness without conflict

Self -management

Relationship management

Elimination of conflict

Maximize powerful connections

Effective listening skills

Empowerment in all aspects of life

Meaningful friendships

Greater personal fulfillment

Increased business success
Women's Leadership Excellence Group Coaching Investment: $575 per month
Groups meet once a month for 4 hours of group coaching; moderated by Executive & Leadership
Coach, Dr. Milu Islam.

Group size is no more than 15-to-20 women

Each participant receives 1-hour of one-on-one leadership coaching per month with Executive & Leadership Coach (Value: $450 per month)

Each participant receives one complementary ticket to Leadership Happy Hour (value $125)

Entire course is 12 months; minimum commitment is 6 months
*All dates are subject to change, cancellation, or addition.
Learn More: Women's Leadership Excellence
Organizer:

Sponsored by: