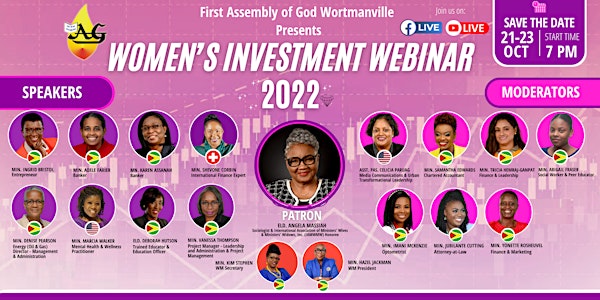 Women's Investment Webinar 2022
Welcome to our Women's Investment Webinar 2022 on exploring God-given gifts to impact families & generations. Register to start the journey!
About this event
Our Women's Investment Webinar 2022 edition is being hosted under the theme "ENTRUSTED WITH TREASURE" and based on the biblical charge that God has given to women to stand strong and be faithful, courageous under fire, humble and prayerful despite challenges. Inspired by 2 Timothy 1:14 (NIV), this year's theme empowers us to explore and challenge women (and communities) in discovering their God-give giftings and talents and taking charge of their destinies in keeping with God's purpose. The power of this discovery and action in God's purpose will help women impact their families and generations to come; their communities and the nation.
In 2022, we encourage women to "Guard the good deposit that was entrusted to you - guard it with the help of the Holy Spirit who lies in us." We continue to be reminded that it is the power and presence of the Holy Spirit that will continue to help women to be empowered by faith as they ascend to their sphere of influence to meet the challenges of the 21st century head on.
This year's Webinar will be held for 3 nights from Friday to Sunday, October 21-23, 2022 from 7:00 PM every night. This year's event will also feature women-led workshops on key areas.
The Webinar will be livestreamed on the First Assembly of God Wortmanville Facebook and YouTube Pages. Be sure to like and subscribe to be notified of the streams. Women who register via Eventbrite will receive an exclusive link to the Zoom room where the Webinar's speakers and moderators will be hosted.
We invite you to register and you can become a part of a dynamic community of women defining their destiny in the world of finance, wealth creation and money management. Be sure to like and follow our Women's Webinar Facebook Page!
Meet our Event Keynote Speakers:
Min. Karen Assanah [Guyana]- Banking and Finance expert with +20 years' experience
Min. Ingrid Bristol [Guyana] - Entrepreneur and International Franchise holder with +30 years' experience
Min. Shevone Corbin [Switzerland]- Chartered Accountant and International Finance specialist with +20 years' experience
Min. Adele Farier [Guyana] - Banking and Finance expert with +20 years' experience
Min. Denese Pearson [Guyana] - Director of Rubis and Management and Administration expert with +20 years' experience
Min. Deborah Hutson [Guyana] - Trained Educator/Education Officer with +20 years' experience
Min. Marcia Walker [U.S.A] - Mental Health & Wellness Practitioner with +20 years' experience
Min. Vanessa Thompson [Guyana] - Developmental, Project Management and Leadership expert with +20 years' experience
Meet our Event Moderators:
Our panel discussions are enlightening with 360 degrees perspective on hot button topics, led by our dynamic Moderators:
Min. Celicia Paruag [U.S.A] - Expert in Finance, Media and Communications and Urban Transformational Leadership
Min. Jubilante Cutting [Guyana]- Practicing Lawyer and Youth Advocate
Min. Imani McKenzie [Guyana]- Optometrist and Youth Volunteer
Min. Abigail Fraser [Guyana] - Social Worker, Peer Educator and Volunteer
Min. Tricia Hemraj-Ganpat [Guyana]- Expert in Finance and Leadership
Min. Samantha Edwards [Guyana] - Expert in Finance and Audit
Min. Yonette Rosheuvel [Guyana] - Expert in Finance and Marketing
Organizers:
FAOGW Women's Ministries (WM) Department