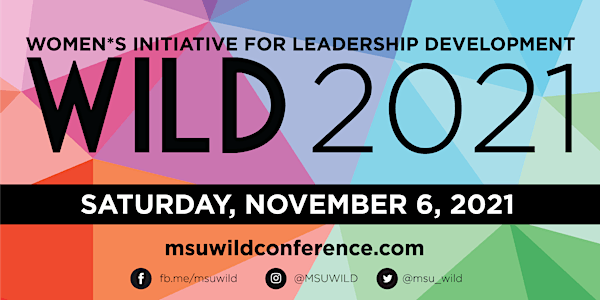 Women*s Initiative for Leadership Development (WILD)
The Women*s Initiative for Leadership Development (WILD) Conference will be held on Sat, Nov 6, 2021 at Michigan State University
When and where
Location
MSU Union 49 Abbot Road Union Ballroom East Lansing, MI 48824
Refund Policy
Refunds up to 7 days before event
About this event
The Women's Initiative for Leadership Development (WILD) Conference will be held on Saturday, November 6th, 2021 in the MSU Union at Michigan State University. All Spartans who are interested in gender equity, empowerment, and leadership development are encouraged to attend!
Conference registration opens on October 1st for students, alums, and faculty/staff/community members. 
ABOUT WILD
The Women*s Initiative for Leadership Development (or WILD) is a student leadership initiative facilitated by the office of Women*s Student Services at Michigan State University. The vision of WILD is to connect, engage, and prepare women* students at MSU to be agents of social change on campus, in the community, and for broader society.
This year's theme is Celebration: Identity, Intersectionality, Indivisibility. Read more about the theme below:
CELEBRATION! It's time to celebrate! Since 2020 our world has faced one hardship after another starting with a global pandemic, boiling racial tensions brought upon by centuries of systemic injustice, and ending with a contentious presidential election. However, as we look into what the future holds, it is imperative that we move forward in a way that can heal humankind as a whole. Through WILD, we aim to build each other up by celebrating and unifying behind the different identities that make us who we are while also promoting inclusivity, self-discovery, and collaboration.
Identity
The WILD Conference seeks to recognize and celebrate the various identities that make up the Spartan community and beyond. Whether those identities are based on race, gender, sexuality, religion, or nationality, we seek to engage with those of the MSU community by facilitating discussion and cultivating an accepting and receptive environment. By doing so, we intend to amplify the voices of the marginalized so as to celebrate their diverse identities.
Intersectionality
The WILD Conference wants to emphasize the fact that humans are three dimensional and that we experience life in different ways due to our various compounded and overlapping identities. Through an intersectional mindset, we intend to explore how interconnected societal systems have shaped our experiences. With this in mind, we seek to build coalition and camaraderie with our Spartan community.
Indivisibility
The WILD Conference wants to solidify the idea that each of our intersecting identities are pieces of ourselves that live in conjunction with each other. They make us whole and who we are, and they are not something that can be observed on the surface level. By understanding and celebrating the things that make us different from one another, we can stand with and support one another with more love and acceptance than ever before.
SPACE IS LIMITED | REGISTRATION CLOSES OCTOBER 29, 2021
FAQs
What does WILD stand for? WILD stands for Women*s Initiative for Leadership Development.
When and where is the WILD 2021 Conference?The 2021 WILD Conference will be on Saturday, November 6th, 2021, in the MSU Union.
Who can attend this conference? Any students, staff, faculty, or alumni in the MSU community that are interested in leadership development associated with gender equity.
How much does it cost to attend WILD 2021? If you are a current MSU student, there is no cost to register as student registrations have been subsidized by sponsorships.  If you are MSU faculty, staff, or community member, or are an alum of MSU, the registration fee will be $25. All registrants will receive a free t-shirt and complimentary lunch.
How do I register for the WILD Conference? Registration will open on October 1st, 2021, and close on October 29th, 2021.
I do not identify as a woman. Am I allowed to attend this conference? YES! The goal of the WILD Conference and Women's Student Services is support all students in working toward an empowering and equitable community on campus.
What should I wear to the WILD Conference? Be comfortable and be yourself. For some that might mean business casual attire, but not required. Keep in mind you will be doing some networking, and there will be an opportunity for headshots to be taken.
Where do I park for this conference? You can park at the #6 MSU Grand River Ramp, located at https://www.google.com/maps/place/Ramp+%236+(Grand+River)/@42.7335838,-84.4802449,15z/data=!4m5!3m4!1s0x0:0x10535547be476d22!8m2!3d42.7335838!4d-84.4802449
I have questions about this conference. Who should I contact?You can contact Women*s Student Services with any questions at wss@msu.edu or call +1 517-432-7556. We would love to help!
How do I stay up to date with this conference?You can stay up to date with us through Facebook, Twitter, or Instagram!