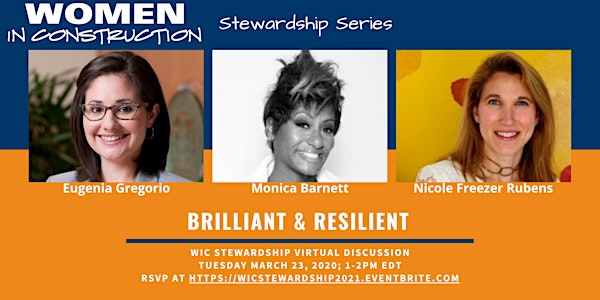 Women's History Month Women in Construction Stewardship Event
The WIC Stewardship Series continues VIRTUALLY with "Brilliant & Resilient" on March 23, 2021. Please register in advance.
About this event
2020 was a year that required flexibility, adaptability and resiliency ... and it's not over yet.
Please join the Women in Construction Stewardship Committee for an inspiring and motivating discussion to celebrate Women's History Month on Tuesday, March 23, 2021 from 1pm to 2pm (EDT).
Our panelists will explore how they were able to adapt and flourish despite the unique challenges they encountered on a day-to-day basis. During this lively interaction, attendees will also have the opportunity to engage with the panelists and network with other attendees.
PANELISTS
Eugenia Gregorio, Founder/Principal, Gregorio Sustainability, LLC
As a sustainability leader with almost 20 years of experience, Eugenia partners with private, public, non-profit, and government organizations to advance their environmental, social, and governance goals, with expertise in the commercial real estate and construction industries.
Monica Barnett, Founder, Blueprint for Style
Blueprint for Style is a savvy and upscale Image Consulting, Personal Branding & Wardrobe Styling company that ensures individuals and organizations understand the power of a polished presence and how to achieve it. We create programs, seminars and training that emphasizes the lasting effects and long-term benefits of the first impression.
Nicole Freezer Rubens, Author, The Long Pause and The Short Breath and Owner, NFR Consulting
NFR Consulting, established in 1997, is a boutique interior design and art consulting firm specializing in creating personalized and unique interiors for residences and offices. Each project reflects the tastes and needs of the individuals who will live in the transformed spaces.
During the Covid-19 pandemic, Nicole published her debut book The Long Pause and The Short Breath. It is a collection of poetry and photos about lockdown and civil unrest in NYC when it was the epicenter.
MODERATOR
Robyn Stanfield, Principal, Envol Construction Consultants, LLC
Envol Construction Consultants, LLC was established in 2017. Envol is a construction consulting firm which focuses (almost exclusively) on the resolution of construction disputes. Robyn possesses 35 years of overall experience in the construction industry with over 20 years of experience as a construction claims consultant. Robyn serves on the Board for the Women in Construction Conference (WIC).
COST
Tickets are $35. Please register in advance as space is limited. Sales end on March 16th.
EVENT LOCATION
Virtual (A calendar invite with login information will be provided closer to the date of the event).