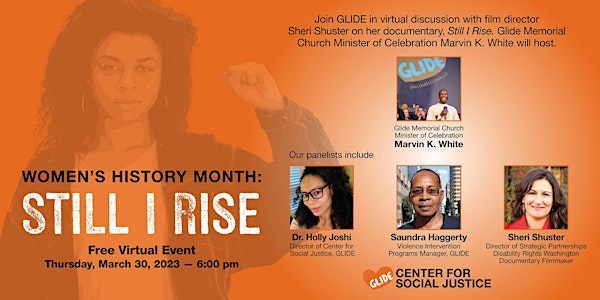 Women's History Month: Still I Rise
The film Still I Rise, director Sheri Shuster's debut project explores the relationship between racism and sex trafficking with womxn .
By GLIDE Center for Social Justice
Date and time
Thursday, March 30 · 6 - 7:30pm PDT
About this event
1 hour 30 minutes

Mobile eTicket
Join GLIDE in discussion with the director of the powerful, documentary film Still I Rise. The film, director Sheri Shuster's debut project, explores the relationship between racism and sex trafficking with womxn closest to the problems and the solutions. Sheri follows the journeys of a national advocate and survivor leader as they realize and prioritize the interdependence of gender justice work and other movements for social equity.
Still I Rise features powerhouse vignettes with Professor Kimberle Crenshaw, Alicia Keys, Janet Mock, Viola Davis, Gabrielle Union, Tarana Burke, Angela Davis, Jada Pinkett Smith, and Janelle Monae. It uplifts the struggles, strengths, and resilience of everyday women engaged in a fight for justice, culture change, and healing.
Film Screening: Upon registration, the link to the film will be sent to you. We encourage you to watch the film before the event.
Host: Marvin K. White, GLIDE's Minister of Celebration
Marvin K. White, MDiv, is the Minister of Celebration at the historic Glide Memorial Church in San Francisco. He is the author of four collections of poetry: Our Name Be Witness; Status; and the two Lammy-nominated collections last rights and nothin' ugly fly. He is articulating a vision of social, prophetic, creative, and technological justice through his work as a poet, artist, teacher, collaborator, preacher, and thought leader.
Our panelist include:
Sheri Shuster is an Iranian American documentary filmmaker and seasoned fundraising professional dedicated to advancing intersectional conversations about gender, racism, ableism and power. An L.A. native, her commitment to human rights drew her into the world of public policy, development, and storytelling. For over fifteen years she worked with nonprofits and elected officials, including former U.S. Congressman Tom Lantos, and The Center for Women and Democracy. From 2008-2012 Sheri served as Associate Director of Covenant House California (CHC) advocating for homeless, systems involved and sex trafficked youth. The extraordinary youth at CHC in Oakland inspired her documentary directorial debut, Still I Rise. Sheri's work has been featured at UC Berkeley, The African American Policy Forum with Professor Kimberle Crenshaw, Parlay House and The National Underground Railroad Freedom Center. Still I Rise has been supported by the Berkeley Film Foundation, Jamel Perkins, the Harnisch Foundation, and Congresswoman Barbara Lee. Sheri is an alumnus of UCLA and the Evans School of Public Policy and Governance at the University of Washington.
Dr. Holly Joshi joins GLIDE as the new Director of the Center for Social Justice. She is a Bay Area native and has been a community servant and leader in social justice and systems change work for twenty years. She has worked on issues of racial and gender justice, youth and community development, and criminal justice reform through executive leadership positions with government, non-profit, and private, social impact organizations. She is a nationally recognized expert on gender-based violence prevention and intervention and served as the executive director for MISSSEY, a direct service organization providing crisis intervention, long-term supports, and advocacy for trafficked youth. Before coming to GLIDE, she worked as the Director of Racial Justice and Systems Change at Bright Research Group, a research, evaluation, strategy, and design firm that is owned and operated by women of color.
Saundra Haggerty - Saundra is the Violence Intervention Programs Manager at GLIDE. During her four years at GLIDE, she has been committed to addressing barriers that marginalized communities face. Her passion lies in advocating for restorative justice and criminal justice reform to address the harm caused to African Americans by systemic racism and mass incarceration. Saundra provides trainings and presentations throughout the San Francisco Bay Area on domestic violence and intervention strategies. Saundra is a graduate of the Domestic Abuse Intervention Project and a certified batterers intervention facilitator, and she works with courts, probation, child protection agencies, and other community-based organizations focused on ending family violence. She has facilitated Strength and Resilience, Women Overcoming Violence, and Mindful Meditation groups for women housed at San Francisco County Jail #2.
Join us!
Center for Social Justice
About the organizer
GLIDE's Center for Social Justice promotes the participation of all people in the decisions and resources that affect, bolster—and sometimes harm—our society. Through community learning, mobilization and attending to the lives of our poorest and most disenfranchised citizens, all of GLIDE's programs promote a just and loving way of living together