Join us for an evening of women's health on screen, featuring a talk by Dr Elinor Cleghorn
About this event
Join us for an evening of women's health on screen, featuring a screening of Rita Maria Conry's The UTI Documentary (2021), Anna Fearon's Motherhood (2020), and Bronwen Parker-Rhodes' Menopause Stories (2020).
The evening will open with a talk by Dr Elinor Cleghorn, author of Unwell Women, and close with a panel Q&A with the filmmakers.
The event will explore issues surrounding women and non-binary people's health, wellbeing, bodies, and sexualities. We will discuss the past and present of chronic and acute ill-health; experiences with healthcare professionals and systems; the challenge of representing personal and intimate narratives on film; pain and suffering; friendship and communities of support; obstacles to female filmmakers' success in a male-dominated industry; and the value and importance of individual testimony in both medicine and documentary filmmaking.
You can find out more about the Self Examination project on our Instagram.
Draft Programme:
18:30-19:00 - Arrival and Drinks
19:00-19:45 - Dr Elinor Cleghorn's talk
19:45-20:30 - Film Screenings
20:30-21:15 - Q&A with Filmmakers
21:30 - Event Ends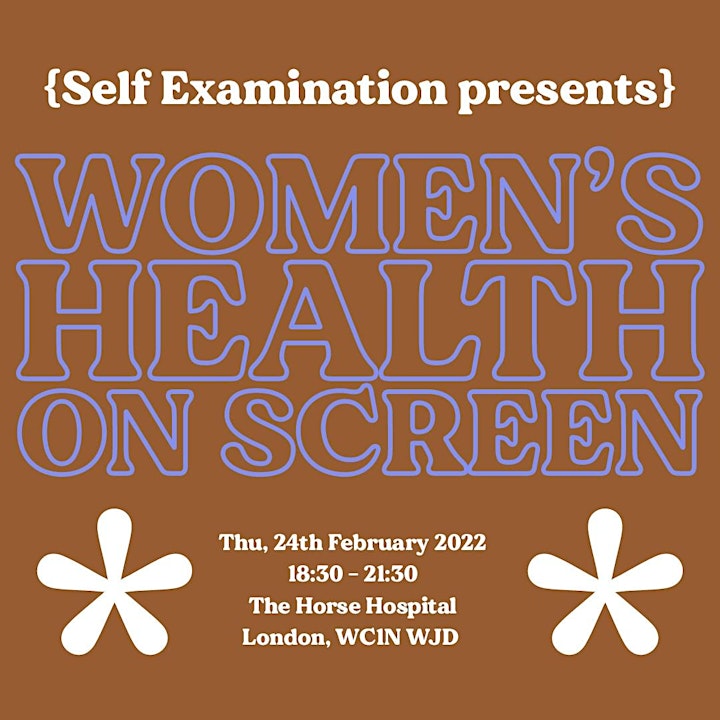 Films:
The UTI Documentary tells the story of women's experiences of Urinary Tract Infections, and advocates for healthcare change. It was made by Rita Maria Conry and Agnes Arnold-Forster and is part of the King's College London and Wellcome Trust-funded Healthy Scepticism project.
Motherhood explores the nuanced and honest experiences of Black motherhood. It was comissioned by Channel 4 Random Acts for their Black & Proud series for Black History Month, and made by Anna Fearon.
In Menopause Stories, six women openly share their intimate, complicated and illuminating experiences with menopause. It was made for the New York Times and made by Bronwen Parker-Rhodes.
Speakers:
Dr Elinor Cleghorn is a writer, historian, and researcher. Her non-fiction debut, Unwell Women: A Journey Through Medicine and Myth in a Man-Made World, unpacks the roots of the perpetual misunderstanding, mystification and misdiagnosis of women's bodies. She tweets from @ElinorCleghorn.
Rita Maria Conry is a filmmaker, director, and editor. In the summer of 2020 she was diagnosed with a chronic UTI after thirteen years of misdiagnosis and dismissal. You can find her on Instagram.
Dr Agnes Arnold-Forster is a writer, filmmaker, and medical historian. She has had cystitis for most of her adult life, and as an expert in gender and healthcare, The UTI Documentary is not just a personal project, but a professional and intellectual one too. She tweets from @AgnesJuliet.
Anna Fearon is a photographer and filmmaker based in London. The central themes she explores in her work are Blackness and queerness and challenging the limited and token representations. You can find her on Instagram.
Bronwen Parker-Rhodes is a filmmaker. After graduating from Slade School of Fine Art, she has produced and directed films for The New York Times, BBC, Channel 4, Tate, Christies, Nowness, Vice, and has exhibited her films and photography worldwide. She's on Instagram.
Fine Print:
This is a not-for-profit event, and ticket sales will go towards venue hire and paying our speakers and filmmakers. Please select the ticket price most appropriate for your circumstances, no evidence of unwaged or student status is required.
If the cost proves prohibitive, or if you have any other questions about the event, please get in contact with one of the organisers: agnes.arnold.forster@gmail.com.
Accessibility information about the venue can be found here. Please do get in touch with us with any queries or to discuss specific access arrangements or needs.
Covid-19: We hope to go ahead with an in-person event, but will be monitoring the situation carefully and adhering to government guidance.