About this Event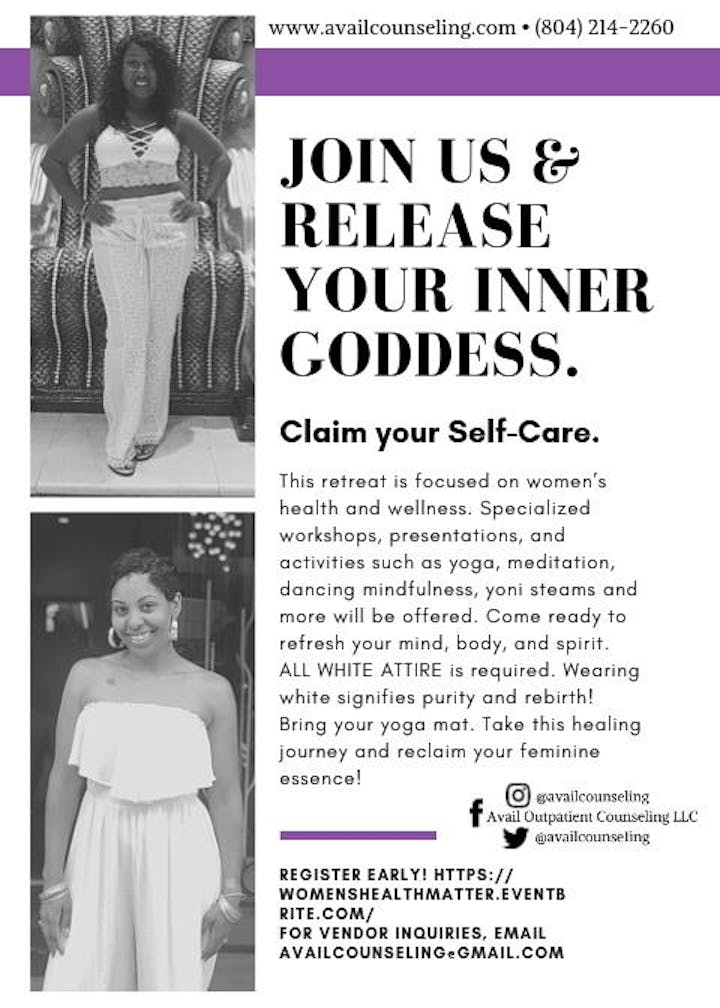 Join us to release your inner goddess! In observance of both Mental Health Month and National Women's Health Week, Avail is hosting an event entitled, "Women's Health Matters: Goddess Retreat" on May 11, 2019 from 10am-3pm at Eastern Henrico Recreation Center. This Goddess Retreat will focus on the health and wellness of women through specialized workshops and presentations. Our intention is to refresh each's Goddesses mind, body, and spirit. This Goddess Retreat is led by other Goddesses, motivational mental health and wellness experts. Wearing white signifies purity and rebirth! Take this healing journey and reclaim your feminine essence!
It's your time for self-care because Women's Health Matters! Each guest must register individually.
***A LL WHITE ATTIRE IS REQUIRED FOR ENTRY AND PARTICIPATION (comfortable clothing for dancing and yoga)
*** PLEASE BRING YOGA MAT
***Age Requirement 18 and over(16 and up are welcomed but must be accompanied by a female guardian) We do explore topics such as sexual health so PARENTS pleased be advised.
***Due to venue policy we can not sell food Onsite & Lunch orders must be prepaid by May 3, 2019.
***Please select your lunch options by submitting payment and selecting options by submitting payment and selecting options (Lunch Selection includes your entry HOWEVER your entry does NOT include lunch) Lunch is provided by Veggies and Herbs LLC.
Please select below:
A) Vegetarian -Raw Salad Tray-Includes Cucumber salad, Zucchini Salad, Vegetable Spaghetti
B)Herb Crusted Chicken Thigh Sautéed Green Beans with Roasted Sweet Potato
C)Italian Meatloaf (Turkey) Sea Salt & Thyme Potatoes with Stewed Cabbage
Itinerary: 10:00am-3:00pm
10:00-10:15 Registration
10:15-10:20 Welcome & Opening Prayer & Sisterhood Fellowship
10:20-10:45 Celebratory Sage & Stretch Workshop-Learn basic yoga moves and enjoy an optional smudge to increase positive energy!
10:45-11:00 Motivational Movement & Dance Therapy Workshop -Learn how to use dance as therapy to minimize stress and for weight management. Enjoy the rhythms and learn simple moves to elevate your spirit!
(5 minute break)
11:05- 11:45 Yoni 7 Power-Learn about yoni steaming, an ancient holistic practice to heal trauma and maintain womb wellness. This workshop will introduce the history and benefits of yoni steaming while providing a step by step how to guide to do it at home.
(15 minute break)
12:00-12:45 Mindfulness 101 Workshop-Learn to manage stress and anxiety with mindfulness strategies. This is an interactive, mind-body workshop that teaches about several techniques that can be used to practice and increase mindfulness, providing all the information one will need to begin practicing mindfulness on their own.
12:45-2:00 Lunch and Learn Curated by Chelsea Higgs-Wise
***You must prepay for a lunch ticket. If you do not purchase a lunch ticket, you have the option of bringing your own lunch. Meet all the vendors and shop to support small businesses! This is good time to purchase your Goddess goodies and Mother's Day Gifts.
2:00-2:15 Closing Mantra & Healing Sister Circle
2:15-2:45 Visit the vendors (Vendors must breakdown at 2:45)
3:00 Adjourn
***Official Women's Health Matters! Goddess Retreat RVA T-Shirts can be purchased for $14 by sending CashAPP $Shawnrell and your size. Tshirts will be available for pick up May 10 5:30-7:00pm and May 11 at 9:30am at event location.
***Please be kind. If you purchase a ticket and can not attend , please cancel the order to allow the ticket to be available for someone else.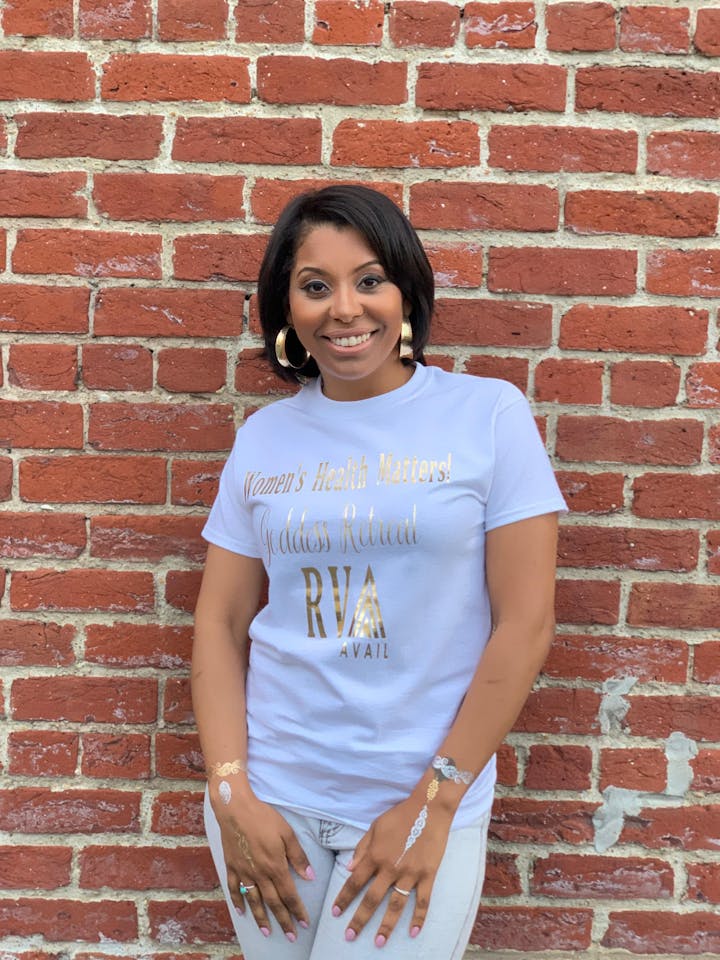 Meet Tangee Moore, Co-Owner of Avail Outpatient Counseling!
Licensed Clinical Social Worker
Mindfulness and Meditation Expert
Reiki Practitioner
Chakra Balancing Expert
Plant-Based Lifestyle Expert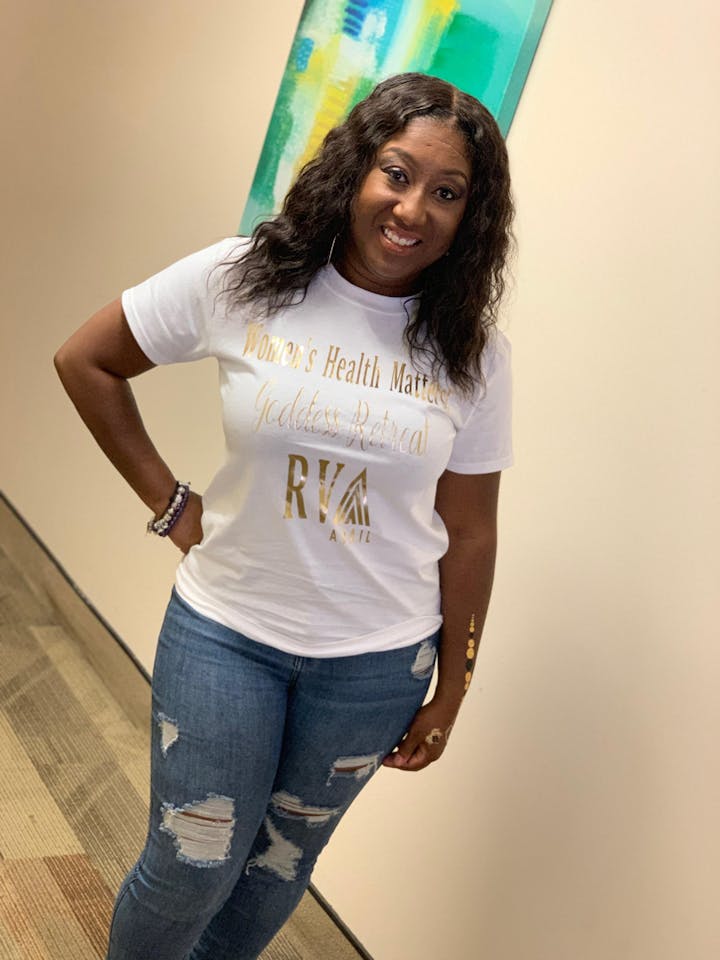 Meet Dr. Shawnrell Blackwell, Co-Owner of Avail Outpatient Counseling!
Empowerment Coach
Qualified Mental Health Professional
Nationally Certified Fitness Instructor
Yoni Steam & Holistic Practitioner