About this Event
Education Connection Academy, ECA, is a 501 (c) (3) non-profit organization with a two-fold purpose: to increase health awareness and to decrease illnesses attributed to childhood obesity. ECA believes that helping the community is one of the most efficient and effective ways to shape the lifelong health and well-being of children. The matriarch in children's lives plays a vital role in increasing their health awareness and practices. Matriarchs or mother-figures serve as role models and are the primary influence in the household to illustrate to children the importance of making health conscience choices. Women are typically the person who prepares the children's food and schedules their activities in a household; thus the reason ECA is focusing on the support of the mother.
ECA provides the opportunities for women to lead by example by sponsoring and supporting events such as Women's Health Matters Goddess Retreat that help women increase awareness about preventative and routine care for physical, mental, and health conditions that many women face. Women's Health Matters Goddess Retreat 2020 on May 9, 2020 10am-3pm at Eastern Henrico Recreation Center will focus on mental health, cardiovascular disease, diabetes, domestic violence, and breast cancer by providing literature, experts, and resources. Workshops will promote healthy heart living and holistic healing as a means to help women make better choices that impact their health.
SPONSORSHIP OPTION:
For a small donation of $35, you will provide a participant at the Women's Health Matters Goddess Retreat with a heart healthy lunch and HEALING BAG that will include preventative tools and resources for her. Our goal is to strengthen the matriarch to support our children because it takes a village to raise a child. The $35 sponsorship is tax deductible as a charitable donation.
Please provide a woman with a gift of healing! Sponsor as many women as your heart can give.
IMPORTANT: This ticket is for SPONSORSHIP ONLY and not an ADMISSION ticket. Purchasing this ticket does not give the sponsor the right to select the recipient of the sponsorship. The sponsorship will apply to the first 200 women who reserve an Admission ticket when the registration begins.
DONATION OPTION:
For a donation of $25, receive a heart healthy lunch and guaranteed admission to Goddess Retreat. Must be 18 years or older. This is a women's only event. The $25 sponsorship is tax deductible as a charitable donation.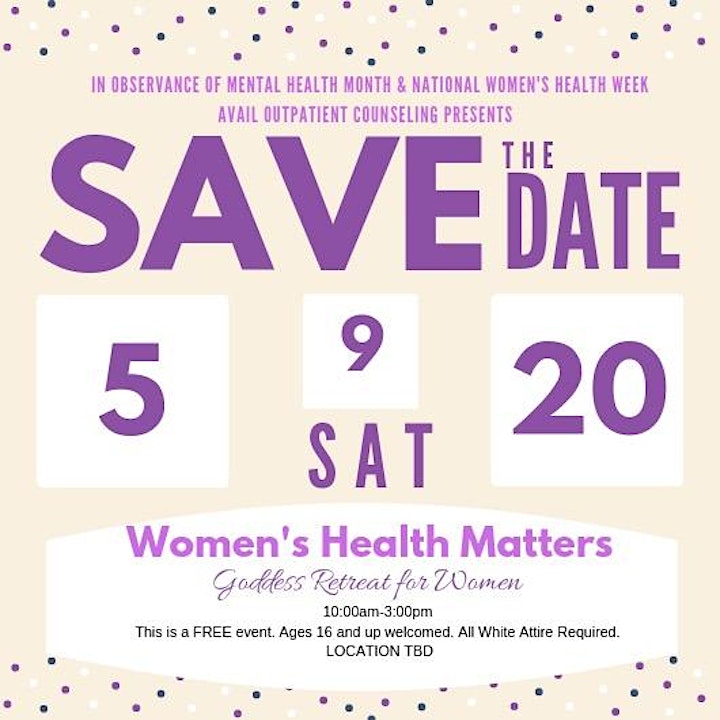 Date and Time
Refund Policy