Location
Stafford Centre
10505 Cash Road
Houston, TX 77477
Sales Have Ended
Registrations are closed
Thank you! We look forward to seeing you at the Women's Health & Fitness Expo Houston. Be inspired, Be healthy!
Description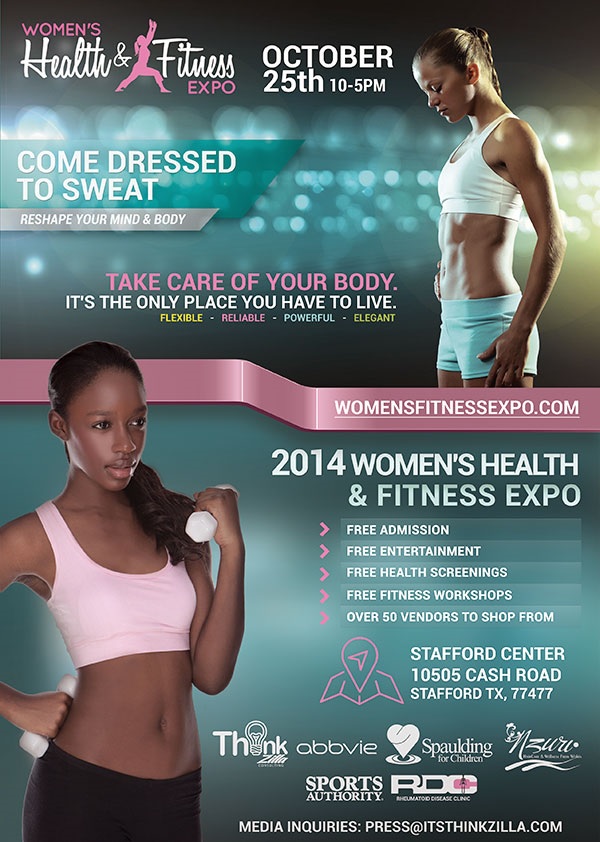 MAIN STAGE PRESENTATIONS
10:30AM-11:00AM
Title: "30 Minute Live Online Fitness Classes and Workout Videos"
Presented by: N IT 2WIN IT FITNESS
Description: I want to help you STAY N IT 2WIN IT and make health and fitness a regular part of your life. Join Carlos Duncan to learn how to maximize your workout in just 30 minutes. Also visit my booth to receive tips on how to stay motivated and how to prepare healthy recipes with a subscription to my YouTube channel @ youtube.com/user/nit2winitfitness .
11:15AM-12:00PM
Title: "Dance Fitness w/ Trecia KneCole"
Presented by: Trecia KneCole
Description: This Dance Fitness Class is a Shred & TONE program created by Professional Dancer & Dance Fitness Guru Trecia KneCole. It's a cardio dance fitness program that blends hip hop, R&B & Soul music with high energy dance steps to form an art of movement that shred's unwanted fat and is highly addictive. It consist of 35 minutes of high intensity dance cardio and a 20 minute 5-8 lbs. weight based cardio program to give you a full body work out like no other. It's fun, effective and extremely easy to follow.

12:15-1:00PM
Title: Pilates
Presented by: Scoop Pilates
Description: Pilates is an exercise system that combines flowing movement with rhythmic breathing. One of the best things about pilates is that it's low-impact and safe for all populations. Pilates is for anyone from a high school athlete, to a 30 year old just wanting to stay in shape, to a 70 year old with a knee replacement. We will show you various exercises performed on a specialized piece of equipment called the reformer that will target all muscle groups during a workout. If you're looking to lose weight, gain strength, improve flexibility and mobility, then pilates is for you!
1:15PM-2:00PM
Title: "JAfrican® Fitness"
Presented by: The JAfrican® Fitness Team
Description: JAfrican® Fitness is the premiere boot camp style fitness program based on West African dance principles, combining aerobic cardiovascular fitness with full-body sculpting. It is open to all levels of fitness, and no dance experience is required! Emphasizing on full body movements and plyometrics, this class will delight and amaze you again and again with energetic variations. Come join us and experience a revolutionary fitness program!
2:15PM-2:45PM
Title: "Xtreme Level Dance & Fitness Studio"
Presented by: Xtreme Level Performance & Competition Teams
Description: Our teams perform at community events, school functions, and halftime & pre game entertainment to the NBA, parades, conventions and compete in numerous competitions.
3:00PM-3:30PM
Title: "Zumba"
Presented by: Sheronda Dawson
Description: Hi! I'm Sheronda and I come invite you to Zumba! It is a Latin-inspired dance fitness party. We will be moving, shaking, and burning calories in no time! The party is infused with hypnotic Latin and other world rhythms. There is no right or wrong when it comes to Zumba, so come and enjoy the experience with me! Who's ready to hit the dance floor and move your way to better health? Let's do this!!!
3:45-4:30PM
Title: "Heel Thrill/Chair Fitness"
Presented by: Trecia KneCole
Description: In Heel Thrill you will learn some great fun and sexy moves. Everything from walking, various hip rolls, floor wok, chair dancing and more. Each class starts with a 25 minute dance cardio warmup utilizing a chair, light weights and your own body weight. Immediately preceding your warm-up you will learn a dance routine to a song in heels and perform the routine at the end of class. (Heels are suggested but not mandatory)
CLASROOM PRESENTATIONS (ROOM 104-105)
11:30AM-12:30PM
Title: "5 Steps to Healthier, Glowing Skin"
Presented by: Dr. Angela Sturm
Description: We all want to have healthy, radiant skin. We will talk about the best products for skin protection that includes, but also goes beyond your standard sunscreen. We will talk about how to monitor for skin cancer and what to look for to keep your skin healthy. Also, we will discuss at home and in office treatments to make your friends wonder what your secret is!
1:00PM-1:45PM
Title: Losing Weight or Reducing My Body Fat, Which Do I Choose?
Presented by: Angel'a M Jones
Description: The discussion will point out the difference between losing weight vs reducing body fat. What is losing weight? What is reducing body fat? How to lose weight and reduce body fat.
2:00PM-3:00PM
Title: "Faster Recovery (It's in your legs)"
Presented by: Andrew L. Doe MD
Description: As your fitness level increases you may find yourself taking longer to recover. Recently, the use of compression wear (tights, socks, shirts, etc.) has come in to favor. While many athletes swear by it, the reason it works might surprise you. Come and see the experts at Houston VIR and learn about compression and recovery.
3:30PM-4:30PM
Title: "Your Tool Box for Healthy Living"
Presented by: Dr. Latisha R. Rowe, Click It Clinic
Description: Dr. Rowe's presentation will focus on the importance of diet and exercise in disease prevention, with practical tips for implementation at work and home. The doctor's "7 Steps to a Healthier You" have helped countless people adopt a healthy lifestyle that is manageable, time efficient and effective. This discussion will also include an overview of modifiable and non-modifiable risks for diabetes and hypertension.