Description
Welcome to the WOMEN'S HEALTH CONFERENCE 2019!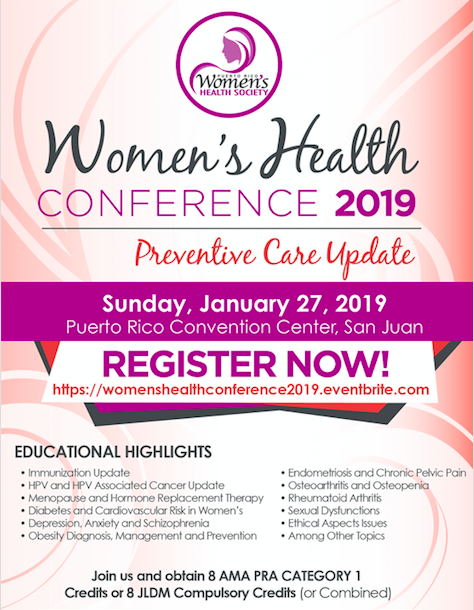 ABOUT THE CONFERENCE
Women's Health Society is glad to invite all primary care physicians, sub-speciliaties and allied fields working in the arena of Women's Health Care to the upcoming Women's Health Conference 2019, held on Sunday, January 27, 2019 at the Puerto Rico Convention Center in San Juan.
This year our conference is based on the theme "Preventive Care Update", aims to discuss the comprehensive overview of the latest developments, innovations, challenges and strategies in the arena of Women's Health ranging from Reproductive Medicine, Gynecologic Oncology, Maternal & Fetal Health, Immunization Reccomendations, Women's Mental Health, and many more.

We Welcome all to join us at this upcoming rewarding experience, where you can interact with experts, engage yourself in a dedicated scientific networking environment, expand your knowledge and enhance your collaborative research in the field of Women's Health.
FOR SPONSORS & EXHIBITORS please contact us at (787) 731-3325 or by email at jdiaz@sdmsgroup.com
Official Page: www.saludmujerlatina.org
Facebook: www.facebook.com/SaludMujerLatina
---
Política de Cancelación y Reembolsos
*No se realizarán reembolsos, en aquellos registros que sean procesados. *Toda Venta es Final.
En el caso de surgir alguna situación que amerite una cancelación, está deberá recibirse por escrito con al menos 7 días previos al evento y estará sujeto a la aprobación de la Junta de Directores y descontando la cantidad de por el 'Procesing Fee'. Luego de esta fecha, ningún reembolso será realizado. Estos Reembolsos se Realizarán POSTERIOR al cierre del evento.
Si desea mayor información del Registro, no dude en comunicarse a SDMS Group al 787-731-3325.
Recuerda que..
1. La vestimenta requerida para nuestras actividades es Casual Elegante.
2. El estacionamiento tiene un costo fijo de $10.00 más impuestos.**
---
Inscripción, Registro y Métodos de Pagos
1. Los métodos de pagos aceptados para su inscripción son los siguientes: VISA, MasterCard, AMEX y Discover. Pagos Cheques*, Money Orders* son aceptados. Pagos realizados con Efectivo deberán hacerse directamente en las Oficinas de SDMS o el día del Evento, según aplique. *Ver Instrucciones de Registro.
2. Las Inscripciones pueden realizarse de una de las siguientes formas:
- Inscripción On-line: Es nuestra recomendación que los Registros se realicen en línea, con una tarjeta de crédiro como método de pago. Sólo seleccione la Categoría ó Evento, al que desee asistir y complete la información.
- Por Teléfono: Llamando a SDMS Group al (787) 731-3325. *Horarios de Oficina para Registro son de Lunes a Viernes de 9:00am a 5:00pm
- Por Fax: Descargando la Hoja de Registro, completarla y enviarla vía fax al (787) 294-6129
- Por Email: Completando la Hoja de Registro y enviarla por email a info@sdmsgroup.com
- Por Correo: Enviando la Hoja de Registro por correo a: SDMS Group | Attn. Women's Health Society Registry | PMB 290, #35 JUAN C. BORBON STE 67, GUAYNABO, PR 00969 | Cheques a nombre de: Women's Health Society *Un cargo por la cantidad de $25.00, será realizado por todo cheque sea devuelto.
¡GRACIAS POR SU PATROCIONIO!