Women's Healing Weekend Workshop - Dallas, TX
Description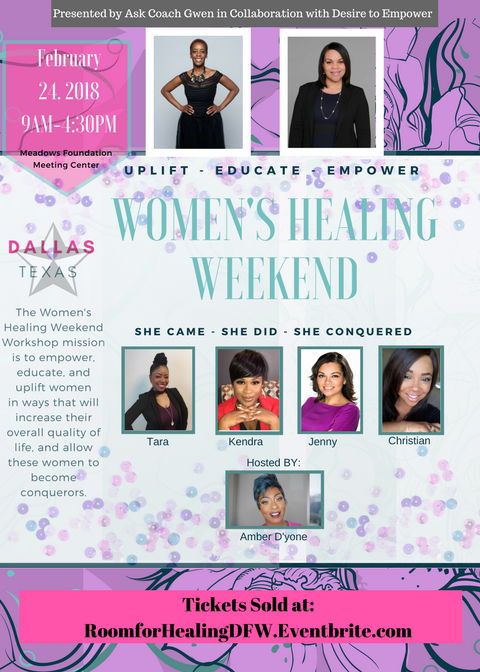 The Women's Healing Weekend Workshops mission is to empower, educate, and uplift women
in ways that will increase their overall quality of life, and allow these women to become
conquerors.
Our mantra for this workshop tour is "She came. She Did. She Conquered."

Throughout the weekend licensed professionals, speakers, and community and church leaders
will help women to heal and guide them toward success. We facilitate this healing and guidance
through sessions concentrating on empowerment, inspiration, and education lead by industry
leaders and visionaries.

Participants will be engaging in exercises focused on educating, empowering, and promoting
wellness & healing of women, with segments exploring Spirituality, Finances, Career, and
Relationships.

During the Women's Healing Weekend participants will be engaging in exercises focused on the
educational tools that lead to an uplevel in quality of life. The educational aspect of the program
is focused on segments relating to Spirituality, Finances, Career, and Relationships. To
complement the educational aspects of the weekend we also offer segments centered on
empowerment, promoting wellness, and emotional, social and psychological healing.

In order to accomplish this mission the Women's Healing Weekend Workshop will:
 Share the stories of Women who have overcome Domestic Abuse, which affects 1 in 3
women and 1 in 4 men in the United States.
 Create innovative breakout Q&A sessions that will give participants an opportunity to
explore topics such as breaking cycles of abuse, toxic relationships, financial failures, career
stagnation, and loss of spiritual connectedness.
 Motivate participants to view their "story" as a catalyst for changing their own lives, rewriting
HER story as a story of success!
This exciting event is designed to:
 Motivate and Inspire women of all ages, awakening her sense of self-efficacy.
 Provide women with practical tools, strategies, and resources to make significant
advancements in all areas of their lives.
 Inspire women to take action and manifest their dreams into fruition.
 To help build healthy and supportive relationships by cultivating communion amongst
women.
This program is presented by Ask Coach Gwen, and co-hosted by Desire to Empower whose
mission is "Making every woman and girl feel like she can conquer the world.
RSVP now to claim your spot at this extraordinary event!