Location
Vlierhof - Guest house / B&B / Groups/ Familie
Klever Straße 115
47533 Kleve
Germany
You are warmly invited to the 2nd Edition of The Women's Handpan Gathering to explore and enjoy "The Sound of Sisters".
About this event
Welcome to the 2nd Edition of The Women's Handpan Gathering.
This gathering aims to unite female handpan players, musicians and enthusiasts in creating a safe, comfortable, creative and empowering space for us to grow as a community & personally.
With the handpan at the heart of this gathering, this is a great place to experience and learn more about the connective world of melodic steel.
Note: Owning your own handpan is NOT necessary.
Why a Womens Handpan Gathering?
- The Handpan scene is (although growing) still unbalanced in representing female players, both on and off stage. As a handpan player and full time musician and performer for the past 7 years, I felt that something needed to change. This weekend is a further development from the 1st Edition of the Women's Handpan Gatthering in creating a platform for female players and enthusiasts to share , listen and communicate with one another in a safe environment without any external pressure. - Samantha Archer
What is included in the Womens Handpan Gathering Ticket?
ALL meals (Vegetarian/Vegan and Organic) - Breakfast / Lunch / Dinner / Tea / Coffee / Snacks.
ALL handpan workshops
Guided Jam sessions
Healing Space
Open Space
Community Fire Space
Sauna & Swimming Pond
Singing Circles
Guided Ceremony
Sisterhood Themed Workshops
and more...

Some Workshops and Private 1-1 Sessions for massage, body work, music lessons, shamanic sessions etc. will be available for additional costs.
(A full and detailed program of events will be released soon.)
You are invited: To participate and experience as much or as little as you like.
Please get in touch if you would love to join the Gathering but are financially in need of a reduction. :)
The Gathering begins Friday afternoon from 4pm and will close Monday Noon at 12pm.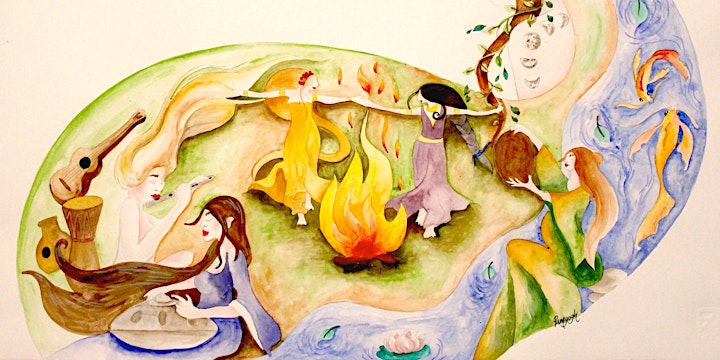 Traveling to The Women's Handpan Gathering using Public Transport.
Flying:
The closest airport in Germany is Weeze Airport (Dusseldorf). The 2 biggest, closest and most common airports are Dusseldorf Ariport and Köln/Bonn (Cologne) Airport.
The closest airport in the Netherlands is Eindhoven Airport or Amsterdam Airport Schiphol. There are train connections from each airport to nearby cities.
Train:
If you are arriving by train, the two closest train stations are Kleve in Germany or Nijmegen in the Netherlands. There are bus connections from each train station.
Bus:
The closest bus stop is 'Kleve Keeken Schützenhaus' just 500 metres away from the Vlierhof. Connections from Kleve - you take the 60 in direction 'Millingen de Gelderse Poort'. From Nijmegen Central Station - you take the 80 or 82 to Millingen, then there is an easy change at 'Millingen Gemeentehuis' in which you take the 60 in the direction of Kleve Bahnhof.
Safe Travels.