Sales Have Ended
Ticket sales have ended
We're sorry, but tickets are no longer available for this event. Please contact us if you have any questions, or check our Eventbrite page for other training options. Thanks! Citizens Safety Academy www.CitizensSafety.com info@CitizensSafety.com 615-801-8007
Sales Have Ended
Ticket sales have ended
We're sorry, but tickets are no longer available for this event. Please contact us if you have any questions, or check our Eventbrite page for other training options. Thanks! Citizens Safety Academy www.CitizensSafety.com info@CitizensSafety.com 615-801-8007
This ladies-only USCCA course teaches women the fundamentals of defensive shooting, concealed carry, and drawing from a holster.
About this event
General Course Description
USCCA's "Women's Handgun & Self-Defense Fundamentals" is a welcoming and engaging training guide created by a woman for women who are seeking to begin, improve upon, or add to their firearms skills. The full curriculum has three distinct modules (Women's Basic Pistol, Women's Intermediate Pistol, and Women's Defensive Pistol). It's designed to reach students who are brand new to firearms and those who are ready to learn more about defensive shooting.
Level 3: Defensive Handgun
What We'll Cover in This Course
In this class, we're offering the Defensive module only. That's "Level 3" of the three-part WHSDF curriculum. The defensive module includes the following topics:
Universal Safety Rules (review from Levels 1 and 2)
Defensive mindset
Use of force principles
Cover and concealment
Voice commands
Drawing from a holster
Drawing from a bag
Reloading (review from Level 2)
Fundamentals of marksmanship (review from Levels 1 and 2)
Defensive accuracy
Dry-fire exercises (review)
Defensive live-fire exercises, to include :
Drawing from the holster
Shooting from retention
The side-step (getting "off the X")
Shooting from kneeling
Introduction to shooting timers
Acclimating to various environmental stimuli
Emergency reloading

And lots more!
NOTE: Our primary focus will be learning to safely draw from the holster and re-holster a handgun. We'll run through those skills dry and live until everyone is safe and comfortable. All other topics will be covered as time permits, based on the pacing of the class.
Equipment List (Level 3: Defensive)
For the Defensive module, please bring the following:
Reliable defensive pistol (please contact us if you don't have one)
100 rounds of ammunition
A quality defensive holster (holster must fully cover the trigger and must not collapse when the gun is removed)
ALLOWED: Strong-side hip or appendix holsters only please (no small-of-the-back, ankle, etc.)
NOT ALLOWED: Any holsters that require pushing a button to release the gun (Blackhawk Serpa models, etc.)
A concealment garment (closed front like a t-shirt or pullover; or open-front like a blazer or cardigan; or both)
At least one extra magazine (or speedloader, for the revolver shooters)
A method of storing the extra magazine on your person (mag pouch, pocket, etc.)
Water, snacks, medication, and anything else to keep yourself comfortable
Note-taking materials
A positive attitude
An open mind
A great big smile
If you have a concealed carry permit, feel free to come to class with your firearm in your holster. If not (or if you're not comfortable carrying yet), just bring the firearm enclosed in a gun case or range bag. Thanks!

Want to Get a Head Start?
For those who like to prepare in advance, check out our online self-study course called Defensive Handgun Overview. It's available on CSA's Online Training Hub. The online class is not a mandatory prerequisite, but it's a great supplement to Women's Defensive Pistol for those who want a quick primer that they can breeze through from the comfort of their homes before attending the live-fire course.


Interested in Level 1 or Level 2?
We're also offering the Basic module (Level 1) and the Intermediate module (Level 2) of this course in four-hour chunks on week nights at 6pm. To sign up for the other levels, please check our Eventbrite calendar.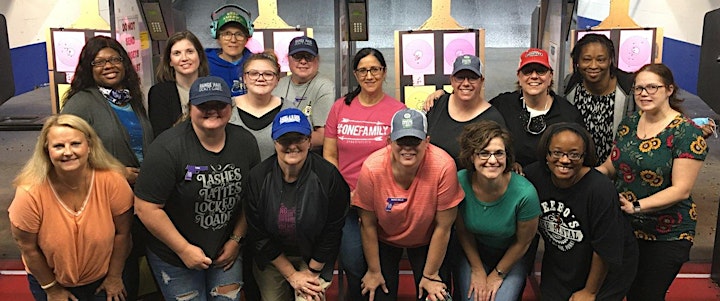 Organizer of Women's Handgun (Level 3)
Welcome to Citizens Safety Academy! CSA takes pride in giving good people self-confidence and peace of mind. We specialize in home defense and personal protection for everyday citizens, business proprietors, and families. Our safety solutions are well grounded in research, field experience, and many years of training. The CSA instructors have a wide array of professional backgrounds, from law enforcement and military, to education, legal practice, and private security. But we all share a passion for training in the field of personal defense and passing our expertise on to fellow law-abiding citizens. Our diversity helps us relate to all students — young and old, male and female, urban and rural, novice and expert. If you would like to empower yourself against crime and other dangers in today's challenging world, please consider signing up for one of our classes. We look forward to training with you and your loved ones. Please visit our website at www.CitizensSafety.com or call us at 615.801.8007.