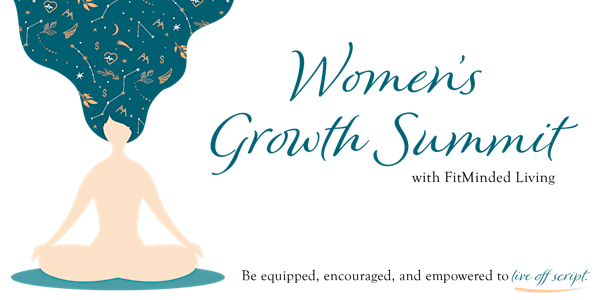 Women's Growth Summit: Living Off Script
Discover the strength and beauty of living life off-script with this illuminating exploration with local leaders and powerful women.
When and where
Location
Hagerstown Community College 11400 Robinwood Drive Hagerstown, MD 21742
Refund Policy
Contact the organizer to request a refund.
Eventbrite's fee is nonrefundable.
About this event
Join HCC, FitMinded Living, and your host Andi Overton at the Women's Growth Summit on Saturday, March 20, 2021, 8:30 a.m. to 4 p.m., for a day of empowerment, solidarity, and fulfillment.
With the guidance of our spectacular speakers and leaders, we will explore the potential inside all of us. Whether we are accepting new challenges or taking new chances, we can embrace the value of living off script. We will share stories, lessons, and friendship. In our short time together, we will find confidence and inspiration. Don't miss this transformative experience.
TICKETS
Virtual - Get comfortable at home and connect with us virtually!
In-Person* (ON HOLD as of 1/20 due to COVID positivity rates in Washington County) - Have an intimate, in-person experience, complete with a light breakfast on us and an opportunity to connect with speakers and other attendees over lunch.
*If health regulations prevent us from gathering in-person on March 20, you'll have access to exclusive virtual or small-group gatherings with select speakers.
SPEAKERS
Whitney Hahn | Master Message Designer at Digital Bard
What an Improv Comic Can Teach You about Living Life Off-Script
Life is often unpredictable. Whitney helps us welcome this unpredictability with the key rules of improv. Leave with a newfound confidence in taming the randomness of life and navigating those off-script moments.
Julie Gaver | Owner, Julie Gaver Discovery
Everyday Magic: Finding Joy and Beauty in the Unexpected
Life today challenges us to develop an insatiable thirst for finding magic and joy in the mundane. In this lively and entertaining session, you will learn how to rise above unexpected challenges to embrace the "extra" in the extraordinary and to always remember the powerful influence of humor and humility in our ability to live off script.
Tina Fraley | Life Integration Coach, FitMinded Living
Turning Obstacles into Opportunities
It's never too late to begin! With Tina's direction, explore how mind and body can work together to help create your extraordinary. Live life off-script and thrive.
Toni Bowie | Managing Partner, MaxLife, LLC
Playing My Part
It has been a long time since the U.S. has experienced the current level of polarization. Reaching some level of unity requires each of us to do something different. We hope you will join us as we explore ways to implement a different script in our lives and do something outside of our norm to build unity and inclusion.
Kelsi Waltemire Palmer | Chief Experience Officer, Kite & Anchor
Your Communication Experience
Show up to your everyday life. By choosing to live life with higher expectations, you will find growth in all that you do. Kelsi will help us identify when, why, and how we choose to show up for life.
Jordan Waters | Co-Owner, Soldierfit Hagerstown
You are Priority Number One
Take time to remember to make YOU your number one priority. Jordan will walk you through allowing your emotions to be motivators, not burdens. By shifting your priorities and switching your mindset, you will find the best in you, and help to bring out the best in others.
Alisha Carpenter | RYT200 Yoga Teacher and Health Coach
Finding Your Yoga in Everyday Life: Living Life Off the Script and Off the Mat
Find the balance and health you've been searching for, on and off the mat. With Alisha's guidance, you will walk away with not only an understanding of the practices of yoga, but also a strategy to incorporate the yoga lifestyle into finding peace, strength, and mindfulness in daily living.
HEALTH & SAFETY
Health measures in response to COVID-19 will be taken to ensure the safety of all attendees at this event. In-person attendees will be required to complete a health screening online before arriving, or at a self check-in station on on site. Appropriate social distancing measures will be enforced and face masks are required. We are monitoring the COVID-19 situation closely and will make adjustments as necessary.
SPONSORS