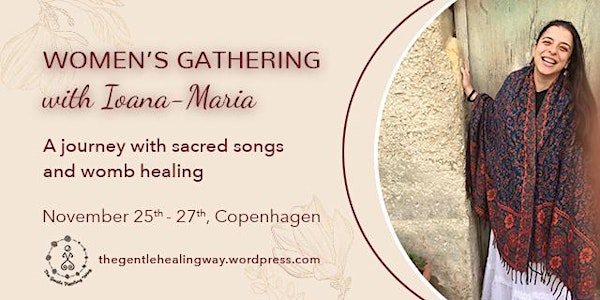 Women's Gathering
It is my true honor to invite you to co-create a gentle, yet powerful weekend in a circle with sacred songs, laughter and womb healing work.
When and where
Location
Amagerbrogade 30 30 Amagerbrogade 5th floor 2300 København Denmark
Refund Policy
Contact the organiser to request a refund.
About this event
🌿 THE GENTLE HEALING WAY - A LASTING AND DEEP HEALING
We invite you to explore those aspects of the woman that make us shine bright, just the way we are. We will explore the way in which each and every one of us can shine her inner light with joy and determination, in spite of what is going on on the outside.
Come as you are! We will sing with and to our own hearts and to each other, we will share and enjoy one another. We will work with the help of sound and music, that will create a gentle environment for you to be absolutely you.
🌿 SACRED SONGS
One of the main ways that Ioana-Maria works is through songs. Some of the songs that she uses are sacred and ceremonial songs from around the world, some are songs that have come to her throughout the years, each with its own individual instructions on how and when to use it.
And this is one of the things that makes her work gentle. When the heart recognizes the song, it can relax, open and let the healing happen in the most gentle and natural way possible, in a beautiful alchemy.
🌿 WOMB HEALING
From marking the birth of a child and working with the new mothers in their ceremonies after birth, to working with young women as they come into their womanhood, as well as guiding women through their grieving process after a loss, she will do her best to guide women in their journey through life.
Rather than teaching techniques and systems, Ioana-Maria's work focuses on guiding each woman reach her own inner wisdom and live her life by it.
Since 2013, her main work has been the one with women, in groups as well as individually.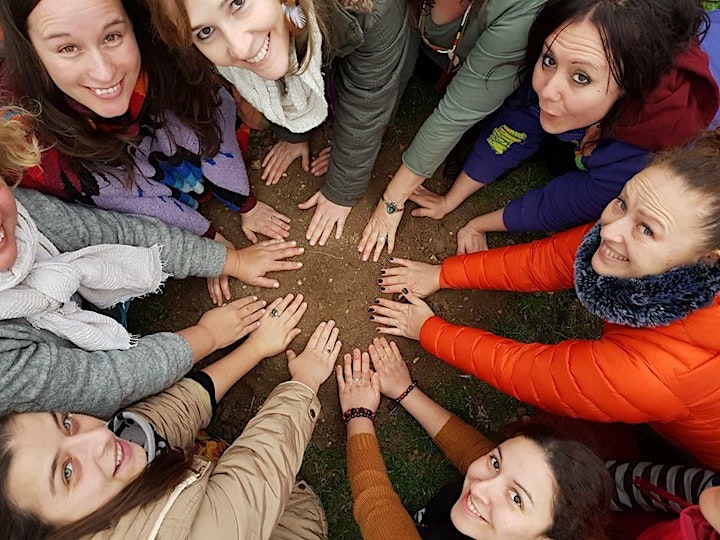 🌿 ABOUT IOANA-MARIA
"Born and raised in Sibiu, Romania, I was raised in the spirit of music, but also in the spirit of maintaining our traditional customs. I have always had a sincere interest towards the different cultures and traditions of this world.
Because of this interest doors were opened towards the world of indigenous people around the world.
For the past 17 years I have worked and I keep working with spiritual leaders from North America, South America, but also Europe, which allows me to create bridges between the world of ancient teachings of the indigenous world and the Western world.
I dedicate my life to the spiritual paths of ancient wisdomkeepers and I approach these teachings with much dedication and respect, by doing so trying to maintain the dignity of these centuries old traditions and ceremonies.
Since 2011, I have been dedicating my life exclusively to this way of life, that I try to share in the best way that I can, without losing close contact with my elders and ceremonial family.
In the work that I do, we will share ideas, knowledge, ceremonies, feelings, experiences, we will feel united and understood, we will talk about those things that our spirit needs to release and we will find our freedom and vitality, but most importantly, we will share at each participant's own pace, with no pressure or judgement, in the most gentle and - why not - fun way possible."
If you wish to know more information about Ioana-Maria and the work that she does, you can find it here: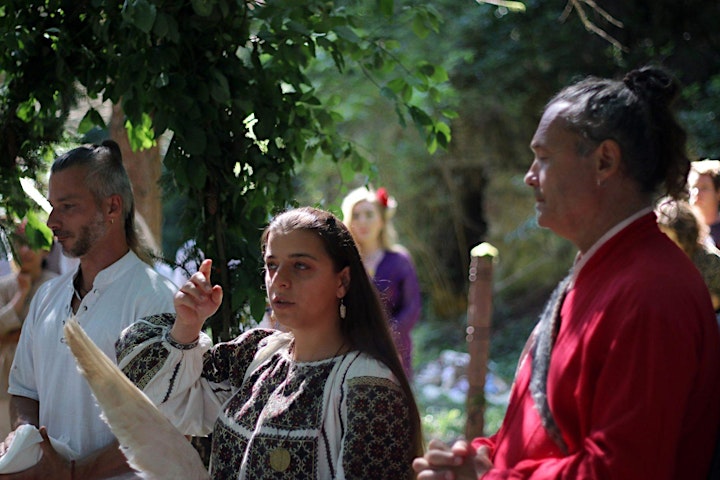 TIMES
Friday, November 25th, 18.00-20.00
Saturday, November 26th, 10.00-18.00
Sunday, November 27th, 10.00-17.00
LOCATION
Amagerbrogade 30. 5th floor, Kursus+Klinik on the bell
PRICES
Full workshop 2.300 DKK.
Students/unemployed 1.900 DKK.
Including snacks and tea.
For Friday only 150 DKK
REGISTRATION:
Contact Viktória Ivicsics on: messenger, call/sms +45 52762003.
Your participation at the workshop will be secured when you have given a message on telephone number 52762003 and paid a deposit of 700 DKK. The deposit is binding, but should you be prevented from coming, you are welcome to find someone else to take your place.
With love,
Viktória and Ioana-Maria