Description
My name is Kirby Smith and I am a qualified Financial Planner with over nine years experience.

Over the last few years, I have noticed more clients who lack the basic knowledge and understanding of their financial affairs.
I was asked if I would consider running evenings to educate Women with the aim to improve their financial literacy in areas such as the family budget, banking structure, superannuation, debt, insurance and estate planning.
And so it begun... "Women's Financial Education" a six week introduction to core elements of your finances..

This program will be run from 6.30pm on Tuesday evenings for six weeks. Sessions run for around 1-1.5 hours dependant on questions and content. $250 for six weeks is an fabulous investment in your financial future. It is well worth it for the valuable content and education you receive. So come along, have a drink, enjoy the company of other Women and ensure your 2018 year is off to a great start financially!
I have had such a strong and positive response from the local community. Consequently, I am now running public and corporate sessions in Torquay which will soon extend to Geelong. ​
Every woman who has attended my sessions, has improved her knowledge and felt empowered by the content.

"Great! Exactly what I needed"

"Excellent. Kirby is a wealth of knowledge"

"Loved it! Thinking of new things and making me confident in the decisions we have made previously"

"Excellent. Has provided me with a good foundation to ask questions and tackle things I thought were beyond me"
"This program bought home to me that there is one thing to know something intellectually but it is a completely different thing to do something with your knowledge. You made it personal and real – you took my numbers out of my financial plan and made them practical – you helped me look at my super from a different angle, and my budget is something that will make a major impact on our life and finances. I couldn't be happier with the program and I am glad I took part"
---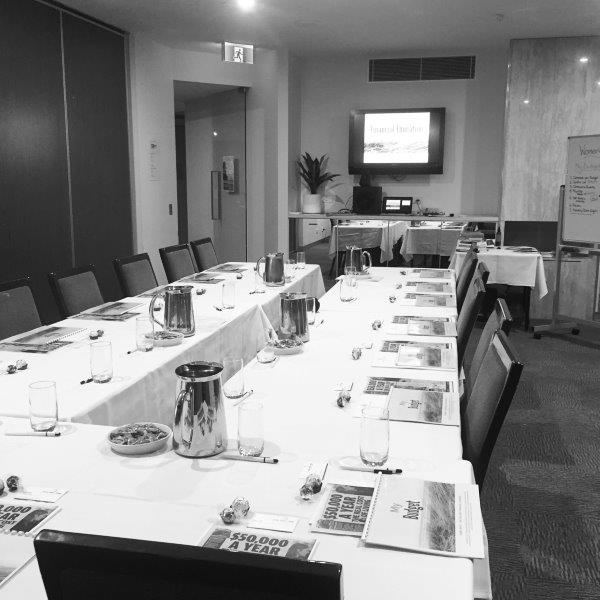 Week 1 - My Budget
Create a budget and banking structure you can manage
Our first session will be run with the intention of getting financially fit.
We will address:
the ultimate banking structure

the five key spending categories

setting your ultimate budget

strategies for smarter spending

By then end of the 1-1.5 hours we will enable you to walk out with an understanding of what budgeting really is and how it can re-shape your future. You will have an almost complete budget and the tools and knowledge to finalise it later. Importantly, you will gain insight into you and/or your families spending habits, where more discipline is required and we will bring to life how this can allow you to reset achievable savings and lifestyle goals for the future.

Week 2 - My Superannuation
Find your lost super, learn about fees and investment options and determine which super fund is suited for your needs
Our second session will be run with the intention to educate you on the key elements of your super funds including:​
Investment - Asset classes and options

Fees

Insurance

Beneficiaries

Tax and Contributions

Planning for Retirement and Super calculators used by the industry

Super consolidation
By the end of the 1-1.5 hours you should walk away with a general knowledge and understanding of where your superannuation can be invested and what questions to ask your fund to determine accurate fees and performance.

Week 3 - My Debt
Our third session will be held with a loan specialist who will talk about debt management. Our intention will be to educate you in everything debt related including:
choosing the right home loan

home loans for buying property,

offset accounts

investment loans

renovation loans

refinancing your existing home loan

commercial and business loans
We will also discuss how to consolidate your debt and manage current repayments. By the end of this week you should have a greater understanding of your debt and how to control and reduce it efficiently and effectively.

Week 4 - My Insurance
Learn how to protect what really matters and ensure you get what you pay for
Our fourth session will be run with the intention of educating you on the types of insurance cover and how to transfer some of the risks of life to an insurer. We will cover the different types of insurance and how you ensure you are adequately covered i.e.
Home and contents

Car Insurance

Life Insurance

Total and Permanent Disablement

Trauma Insurance

Income Protection Insurance

By the end of this session you should have a greater understanding of the different types of insurance cover and why you would need to implement certain types in certain circumstances. Hopefully this session will also let you review and reassess your levels of personal coverage.

Week 5 - My Estate
Our fifth session will be run with the intention to educate you on the various aspects of your estate. You will be given a document titled "guide to your estate" to prompt you as to the decisions you may wish to make in the event of your passing. You will also learn more about:
Wills

Power of Attorney

Binding death nominations

Executors

What forms part of your estate
At the end of this weeks session you should have a general understanding of why you need a will and the assets that are included in your estate.
Week 6 - My Plan
The week where it all makes sense
Our sixth session will put all the jigsaw pieces into place for your own financial plan. We will discuss any questions you may have on the previous five weeks.
At the end of today's session you should go home with a clearer picture of your complete financial situation and some realistic goals for you to work towards. These may include:
Building wealth to buy your first home

Regular investment in shares or property

Funding your lifestyle goals i.e. having a baby, getting married, buying a boat or a dream holiday.
Date and Time
Location
Refund Policy