Women's Entrepreneur Forum - Featuring The Taxpayer Advocacy Panel
Description
"Sisters Investing in Sisters" Elevating Extraordinary Women to Excellence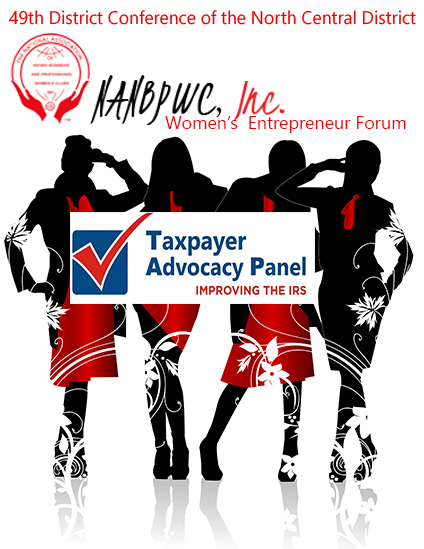 You are invited to this free Entrepreneur forum!
Thursday, May 15, 2014
6:00 pm – 8:00 pm Networking 5:30 pm
Sheraton Ann Arbor Hotel
3200 Boardwalk
Ann Arbor, MI 48108

Meet the Michigan Taxpayer Advocates who serve you!


Elizabeth M. Chaney - NCD Governor
Contact: Renee Freeman rmfdove2@aol.com
IRS Fresh Start Initiatives for Small Businesses

Simplified Home Office Deduction

Understand Business Identity theft

Nonprofits-Stay Exempt!
National Association of Negro Business and
Professional Women's Clubs, Inc.
NANBPWC, Inc.
is a 501(c)3 nonprofit organization
Visit our National Website: http://www.nanbpwc.org
Organizer of Women's Entrepreneur Forum - Featuring The Taxpayer Advocacy Panel