Location
Holiday Inn Gateway Center Flint
5353 Gateway Centre
Flint, MI 48507
Description
Saturday Expo is 9-5 with 50+ vendors.
TICKETS AT THE DOOR $5!!
*PLUS on stage, a Fashion show at 2 pm, sponsored by Jan's Cleaners, and featuring clothing from JC Penney, Shift Boutique, Eclections, Superior Furs & Leather, and David's Bridal, who is giving tribute to victims of domestic violence.
*demonstrations of Acro Yoga and Tibetan Singing Bowls,
*"Perk 'em Up Girls"--a bra-fitting clinic with Essential Bodywear's Millie Heinz,
*"Living A Peaceful Life" by Rebecca DeHate of Radiant Possibilities, and
*"Awaken to Self-Love" by Katina Love, of the "Awakening With Katina Love" talk show/pod casts.

Tickets $5 at the door!!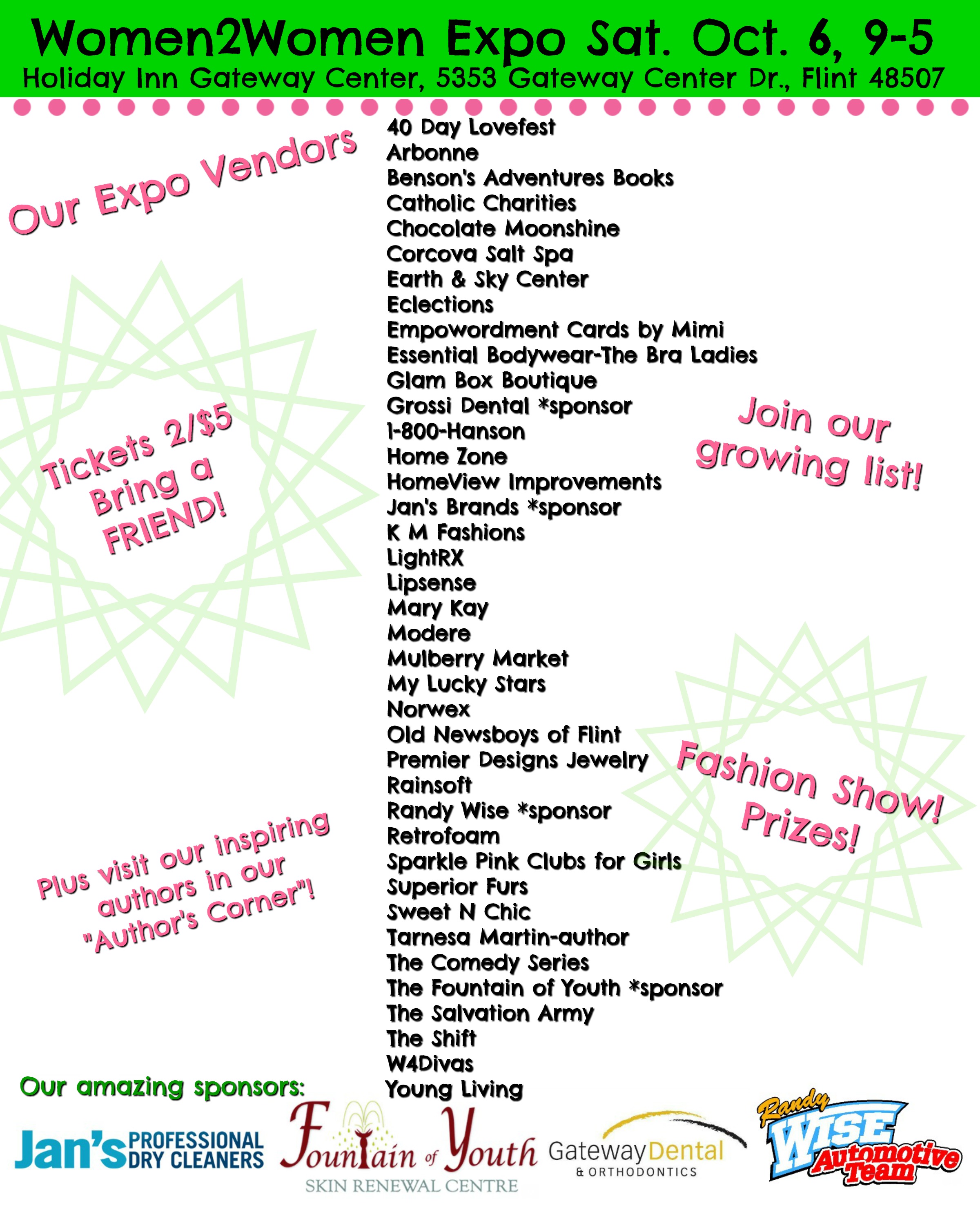 This is for Summit only:
Reserve your seat by the October 3rd deadline!
Please NOTE: Tickets will not be available for purchase at the door.
Also, notify us of dietary needs (see below).

Are you inspired by women with great life stories and messages of wisdom? These women are truly unique, powerful, and will fill you UP! Coming from all walks of life with varied passions, they will share what they have learned on their life's journey in ways that will help you get WITH it, girl!
This is going to be an exciting, energy-packed event you won't want to miss.
**Summit ticket includes lunch and your ticket to the Expo the next day.
Make a weekend of it by reserving your room. Bring all your girlfriends! Call 810-232-5300 and ask for the W2W special rate of $99. SO fun!
Our speakers/topics:
"Our Girls Need Us: How Sparkle Pink Girls' Clubs Are Changing Lives"~Deria Brown
"Master Mindset"~Deb St.Hilaire
"13 Ways Self-love Prepares You For Your Life's Purpose"~Katina Love
"There's Something Behind The But"~Burnie Nelson
"Be Happier In Just Two Minutes A Day"~Tina Nies
"It Does Get Better"~Melissa Hager and Abby Corcoran
"What's Grace Got To Do With It?"~Mimi Matthews
Fahion shows on each day!
We are still adding to the list so come back for more!

Details:
Summit on October 5, 9:30am-2pm
Expo on October 6, 9am-5pm
Held at Holiday Inn Gateway Center, 5353 Gateway Centre, Flint, MI 48507 810-252-5300
A lunch will be served during the summit on Friday.
**If you have dietary needs, please email us at mimi@w2wmichigan.com.
Your ticket to the Summit includes a ticket to the Expo.
This is a beautiful venue with great dining in-house and many restaurants close by. Bring your friends and make a weekend of it!
Reserve a room for $99 by calling 810-232-5300 and asking for our W2W rate.
If you have any questions, please email us at mimi@w2wmichigan.com.
We are SO excited to see you there! Join us in celebrating and empowering women!
We have an amazing vendor lineup too!