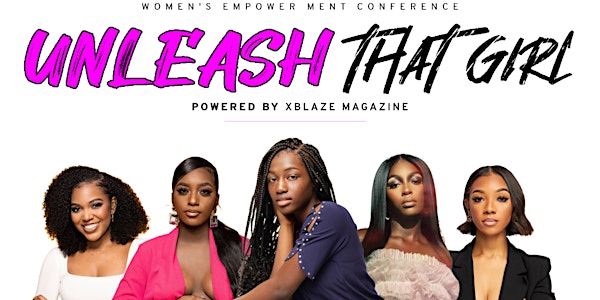 Women's Empowerment Conference: UNLEASH THAT GIRL
women empowerment conference, an event intended to empower girls and women within our community
Date and time
Starts on Saturday, March 25 · 8am PDT
About this event
Women have been admired as sources of great power and creativity and as beings that symbolize the beauty of life. They have also proven why they run the world time and time again! March is a month dedicated to honoring, remembering, and teaching the history of great women who've blazed trails that many of us walk on today!
This year, we're excited to introduce our first ever women's conference: Unleash That Girl! Join us on March 25th at 11 AM ET, from the comfort of your own space, to indulge in a day full of inspirational, enriching, and enlightening conversations. Pressing topics like education, wellness, confidence, growth, and much more will be covered by our diverse panel of influential young women.
So, take this as your sign. This conference is here to give you the final push you need to truly unleash that girl. To Unleash That Creative, Unleash That Dancer, Unleash That CEO, Unleash That Student, Unleash That Warrior, UNLEASH THAT GIRL! All it takes is for you to be intentional and choose yourself by registering for this event and placing yourself among a pool of like-minded women!
About the organizer
XBlaze Magazine is a D.M.V (Washington D.C., Maryland, Virginia) based Multimedia Outlet that is focused on delivering POSITIVE, time-relevant, and inspirational content to the masses. Often we shed light on ambitious children, teens & young adults who are a part of various professional industries such as entrepreneurship, entertainment, leadership, and more! However, we do not limit our spotlight to youth alone! Over here, the calling is to enlighten you with wholesome, motivational & uplifting media, while simultaneously empowering and informing you!