Women's Empowerment Brunch | 2020 - Your Year of Vision
Description
National Coalition of 100 Black Women, Inc. - Metropolitan St. Louis Chapter
PRESENTS
Women's Empowerment Brunch
2020 - YOUR YEAR OF VISION
COME WEARING YOUR GLASSES SO YOU CAN SEE YOUR VISION!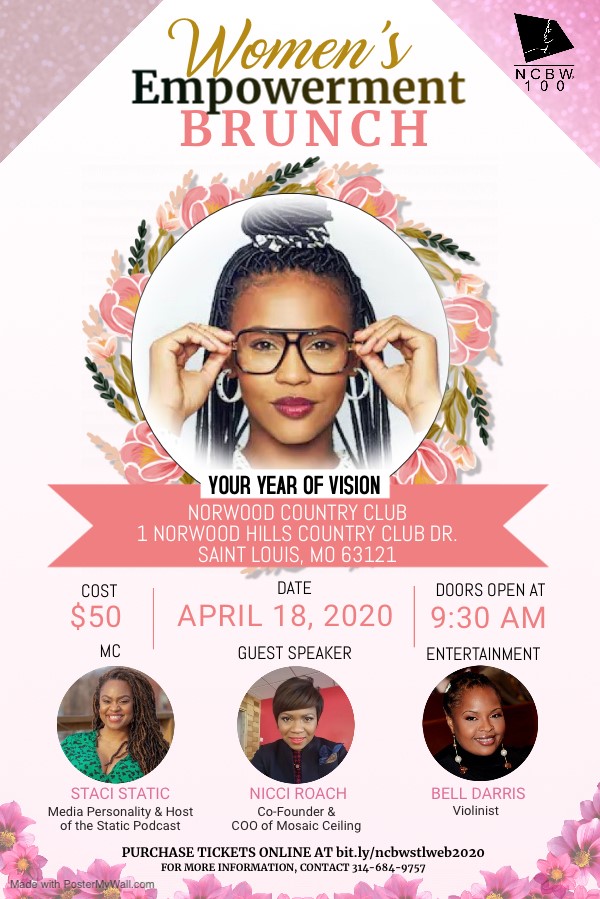 The National Coalition of 100 Black Women,Inc. - Metropolitan Saint Louis Chapter is excited to celebrate its Women's Empowerment Brunch at the Norwood Hills Country Club located at 1 Norwood Hills Country Club Drive, Saint Louis, MO 63121 on Saturday, April 18, 2020 doors open at 9:30 a.m.

This event is for all women, whether you are a stay at home Mom, starting a new career or a seasoned professional looking to make a bigger impact in your world. Yes - men are welcomed to attend as well!
We will award scholarships to women 30 years of age or older as well as celebrate the accomplishments of women in the St. Louis community.
Our MC is Staci Static, Media Personality and Host of the Static Podcast. This daily podcast features stories and guests that inspire people to activate their inner fly to get to the next level professionally and personally.
Our Keynote speaker is Nicole "Nicci" Roach, Co-Founder & COO of Mosaic Ceiling. Award-winning inclusion and engagement practitioner. Advocate for advancement and equality of women. Nicci Roach is diversifying rooms with equipped leaders through interactive lectures, consulting and as a producer/on-air radio host on KSTL Jubilee 690 AM.

Our entertainment for the morning will be violinist, Bell Darris.
Tickets to the event are $50.00 and can be purchased online at http://ncbwstlweb2020.eventbrite.com/
For ad book purchases or to purchase a table email: fdevelopment@ncbwstl.org or call 314-684-9757
Visit us at www.ncbwstl.org