WOMEN'S DRAGONFLY RETREAT NOV 12-15, 2019 SEDONA AZ
About this Event
SEDONA, AZ | NOV 12- 15, 2019 | 4 DAYS/3 NIGHTS
THE MEANING OF THE DRAGONFLY
The Dragonfly in almost every part of the world is considered to be an agent of change, abundance, transformation and self-realization.
During this retreat, you will be looking into the deeper aspects of life -- you will be learning how to detox your catabolic (destructive) energies so you can shift your core thoughts and transform the way you view yourself, your relationships and your life -- positively and powerfully-- just like the mighty Dragonfly!!
WHY YOU WILL LOVE THIS RETREAT
You will love the Dragonfly Retreat because you will get just the right mix of "me-time" and transformative experiences.
Beyond self-discovery and healing, there will be many opportunities to learn new tools through guided HOLISTIC MIND/BODY group activities, beautiful insightful ceremonies, outdoor explorations and a good amount of free time.
You'll take with you many techniques that can be used in your everyday life to enhance your quality of life, and manifest the life you love and want to live!
WHY SEDONA
Sedona has developed a worldwide reputation as a place of enlightenment.
Beneath the endless beauty beats a healing heart. Sedona has long been regarded as a place both very sacred and powerful.  People travel from all across the globe to experience the mysterious cosmic forces that are said to emanate from the Red Rocks, also known as a Vortex.
What is a Vortex? Sedona Vortexes are swirling centers of energy that are conducive to healing, meditation and self-exploration. These are places where the earth seems especially alive with positive vibration and energy.
It is home to a large community that promotes a variety of alternative healing and spiritual practices. There are a number of wellness shops, spas and boutiques scattered throughout the town.
OUR SANCTUARY - THE RETREAT HOUSE
This Sedona GEM is a spacious, unique 3300 square foot home with stained glass windows, custom stonework and flagstone floors found throughout.
You will be able to sit outside on the deck and take in the wide panoramic views of the magnificent Red Rocks, meditate near the Koi Pond or simply linger in the shade of a 500-year-old Juniper tree.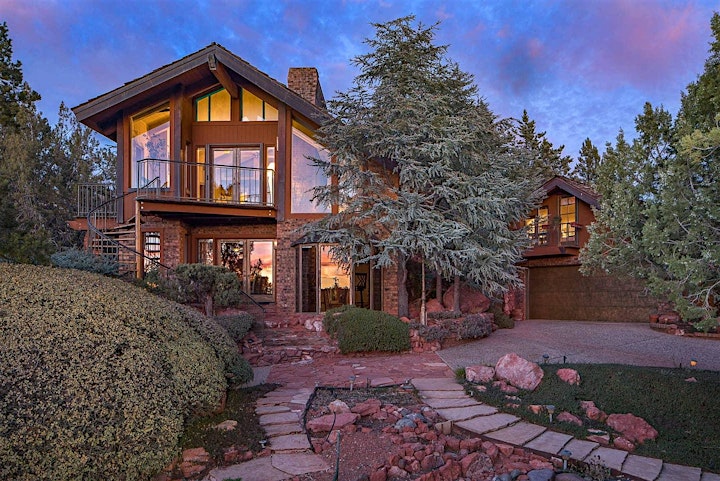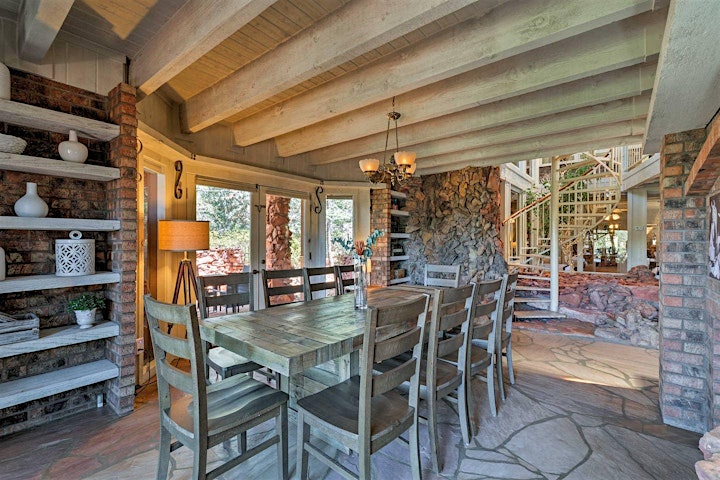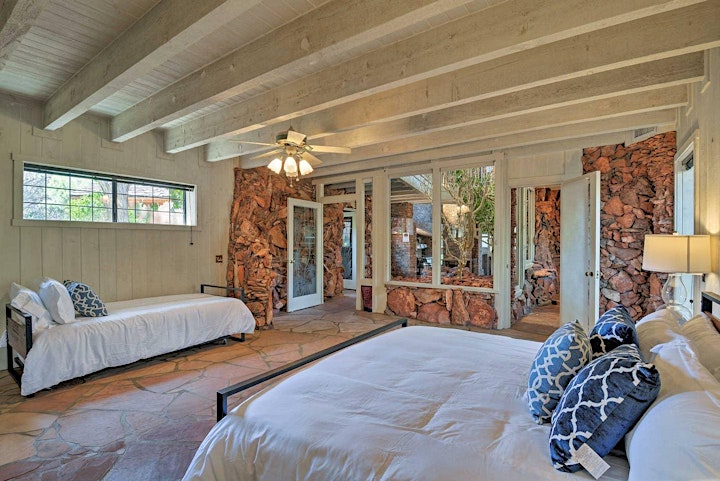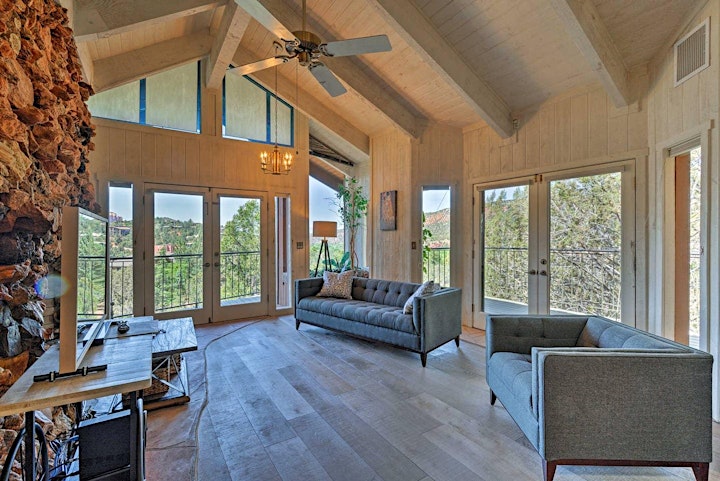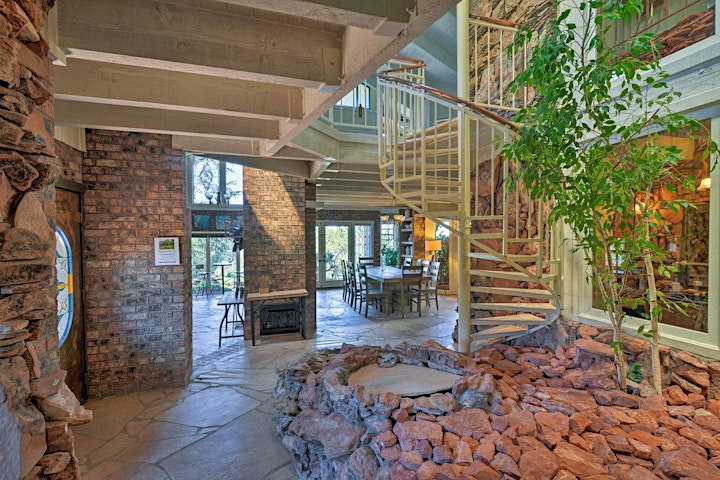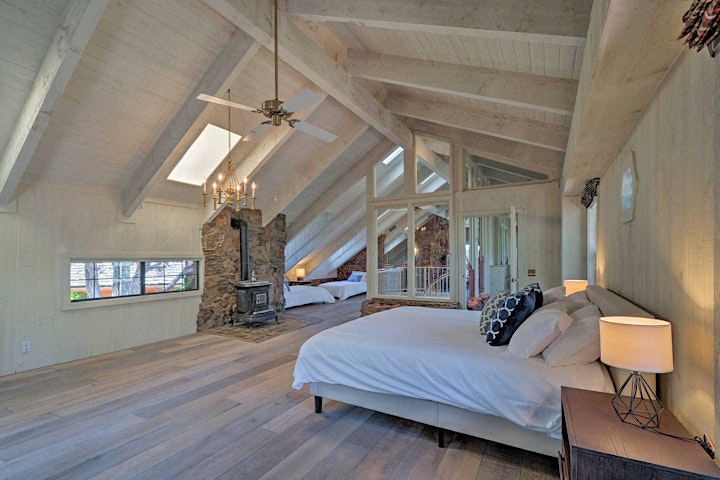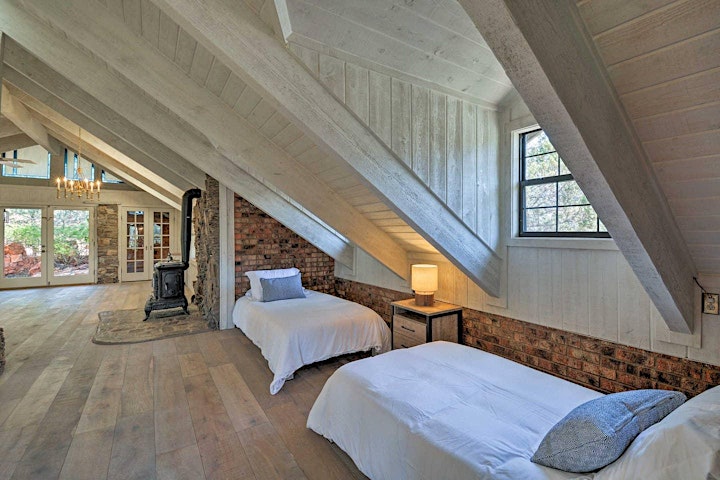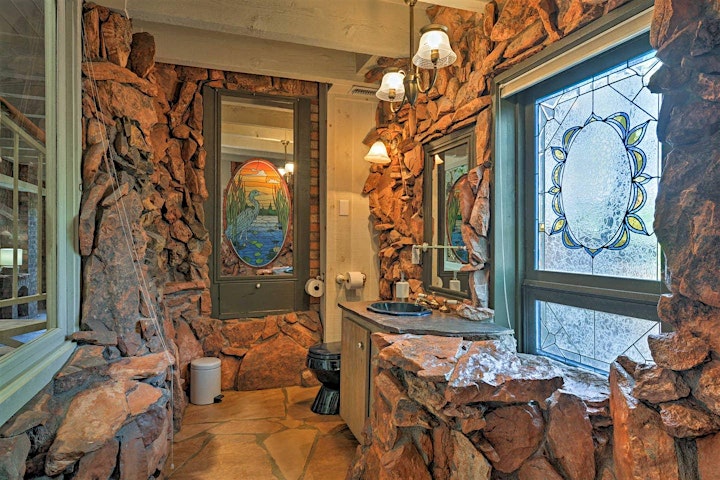 RETREAT INVESTMENT
WHAT IS INCLUDED:
- The NEW-YOU Assessment & Private Online 90 min. Coaching Session
(Pre-Retreat)
Your transformation will begin before the retreat. You will answer an online assessment of 85 questions and receive a 90-minute online coaching session with Rosane Gibson, Certified Professional Coach and Retreat Facilitator, where you will identify your desired spiritual transformational goals and your expectations before your visit to Sedona.
-4 days/3 nights Accommodations*
-Transfers To/From Phoenix International Airport**
-ALL Transformational Experiences/Activities (LISTED BELOW)
-Local Transportation in Full Size SUV throughout Retreat
-Sedona Winery Tour/ Lunch /Tasting
NOT INCLUDED:
-R/T Airfare
-Transfers to/from Sedona if unable to arrive/depart as indicated below
-Groceries, Meals and Spa services are NOT included
-Gratuities
SAMPLE ITINERARY
7AM-9AM Sunrise Vortex Hike -Amitahbah Stupa (Non-strenuous)
10:30AM-1PM Sedona Sightseeing & Tiaquepaque Village Arts & Crafts Shops
1PM- 2PM Medicine Wheel/Labyrinth Walk
2PM- 4PM Sedona Winery Tour/Tasting
4PM- 5:30PM Free Time - Rest, Relax, Read, Journal (on your own)
5:30PM-7PM Full Moon Drumming Ceremony
7:30PM-9PM Shamanic Experience w Hummingbird
*Sample Itinerary times, facilitators and schedule of events are subject to change; weather permitting
ALL TRANSFORMATIONAL EXPERIENCES INCLUDED ARE:
* NEW-YOU Assessment & Private Online 90 min. Coaching Session -must be completed no later than October 30th (No exceptions)
* Medicine Wheel & Labyrinth Walk (Non-strenuous)
* Sunrise Vortex Hike (Non-strenuous) at Amitabha Stupa & Peace Park
* Shamanic Experience with Hummingbird (Shamanic Native Healer)
* Sunset Meditation at Seven Canyons
* Sedona Sightseeing
* Tiaquepaque Village Arts & Crafts Shops
* Free Time to do some Journaling, Read or just Relax
* Private Life-Coaching sessions also available during the retreat (additional fee)
TOTAL RETREAT INVESTMENT U$ 1350* due by OCTOBER 31st 2019
For more information please contact : power2empowerwomen@gmail.com or Text/Call 786-423-8674
PAY IN FULL TODAY - OR- PAY IN 3 INSTALLMENTS
1) NOW = $250 Deposit (Non- Refundable) TO RESERVE YOUR SPACE
2) FULL BALANCE DUE NO LATER THAN OCTOBER 31st, 2019
To send payments via Paypal or Zelle : power2empowerwomen@gmail.com
For other payment arrangements please text Barbie at 786-423-8674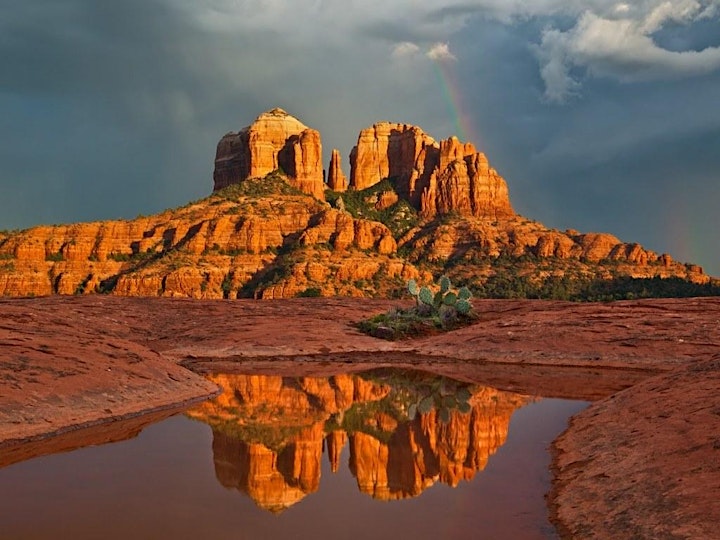 ABOUT YOUR HOSTS
POWER2EMPOWER (P2E):
P2E's Barbie Armada (Founder) in close collaboration with Adrienne Gershon have created this beautiful retreat to honor, nourish, inspire and RE-IGNITE the fire that lies within each and every woman's spirit!
Power2Empower organizes social events combined with wellness activities that bring a diverse group of women together to encourage new meaningful connections, support one another's passion projects, and create transformative experiences that foster healing, growth and manifest endless possibilities... empower-fully!
MEET OUR DRAGONFLY RETREAT TEAM
ROSANE GIBSON, Retreat Facilitator & Certified Life Coach
We are delighted to join forces with Rosane in Sedona because she captures the very essence of our organization and our mission of creating transformative experiences.
As a Certified Life Coach and Energy Leadership Index Master Practitioner, she has been empowering women around the world for over 20 years.
"Through self-discovery, we are able to shift our destiny and beat the drum according to our own rhythm, igniting the power within to heal and to grow gently and effectively" ~ Rosane
Read about her story here: http://www.rosanegibson.com/my-mission.htmlh
HUMMINGBIRD, Shamanic Healer
Hummingbird will open the doorway that connects us all to Mother Earth. She is a healer, a teacher, a musician, a singer and a storyteller who integrates Shamanic and contemporary techniques with sound healing and sacred Native American wisdom as a platform to gain a deeper spiritual connection. We ask participants to come with an open heart, so that they can truly benefit from a spiritual transformational moment.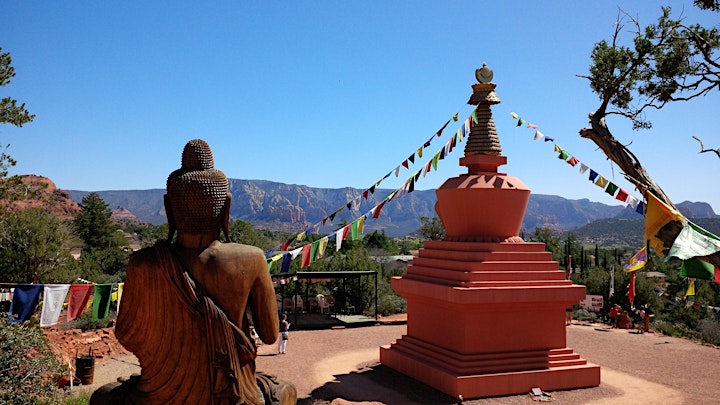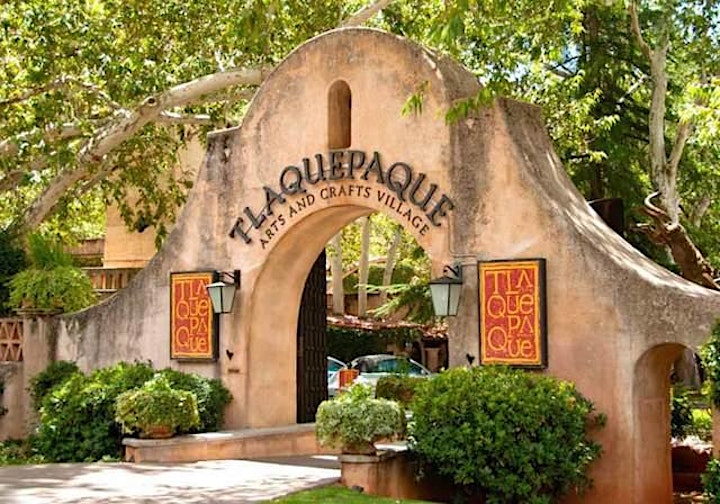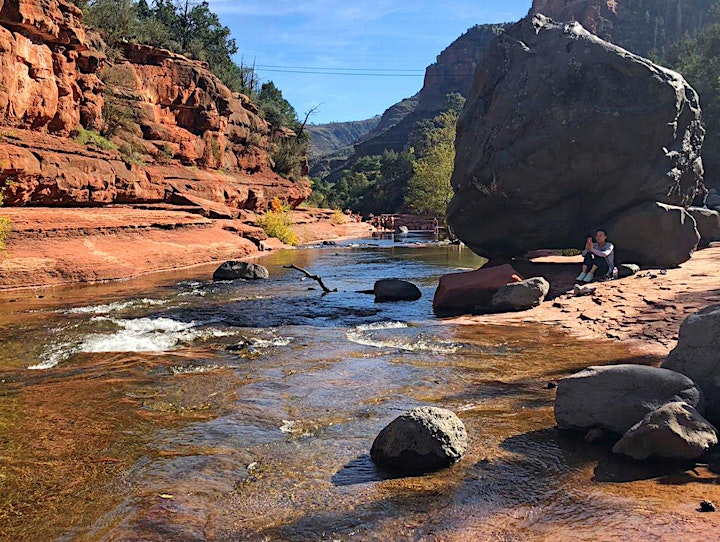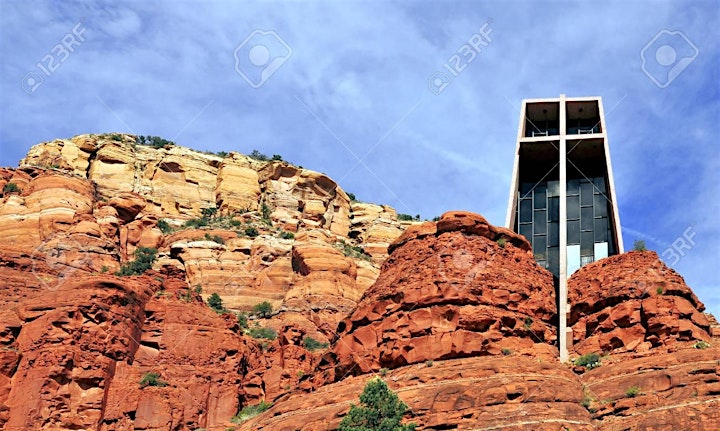 IMPORTANT NOTES - PLEASE READ CAREFULLY
This DRAGONFLY RETREAT is Land ONLY. Airfare is NOT included.
The prices listed are in U.S. Dollars.
This is a NON-SMOKING retreat.
FULL PAYMENT U$ 1350 DUE BY: OCTOBER 31st, 2019
1) ACCOMMODATIONS:
Total Investment is based on SHARED LOFT-STYLE ACCOMMODATIONS /SHARED BATHROOM/ DOUBLE- OCCUPANCY
MAIN HOUSE ONLY, OPEN LOFT STYLE accommodations, Double occupancy, Shared Queen bed, Shared King bed or Twin bed/ Trundle with Shared bathrooms (Total 3 Nights)
SLEEPING ARRANGEMENTS ARE ASSIGNED and RESERVED ON A FIRST-PAID, FIRST-SERVED BASIS.
2) AIRFARE:
You are responsible to book your own roundtrip airfare. It is NOT INCLUDED in the Total Retreat Investment Cost and must be arranged separately.
Example only -approximate cost $350-450 R/T from MIA-PHX (Phoenix Sky Harbor International Airport - Closest Airport to Sedona)
ARRIVAL: Please book your flight to arrive BEFORE 11AM on TUES NOVEMBER 12, 2019.
TRANSFERS TO/FROM THE AIRPORT: THE ENTIRE GROUP WILL MEET AND BE PICKED UP AT THE PHOENIX SKY HARBOR INT'L AIRPORT AT 11AM ON TUES 11/12, IN ORDER TO DRIVE TO SEDONA (2 HOURS) AND HAVE TIME TO SETTLE IN AT THE HOUSE AND REST BEFORE OUR AFTERNOON/EVENING ACTIVITIES.
DEPARTURE : Please book your return flight AFTER 7PM on FRIDAY, NOVEMBER 15th, 2019.
WE WILL BE DRIVING BACK TO PHOENIX SKY HARBOR INT'L AIRPORT LATE ON FRIDAY AFTERNOON (5PM) AS A GROUP AND THAT WAY YOU WILL HAVE AMPLE TIME TO CHECK IN FOR YOUR EVENING FLIGHTS BACK HOME.
VERY IMPORTANT: IF YOU CANNOT MEET AT THE AIRPORT BY 11AM ON 11/12 OR NEED TO LEAVE SEDONA AT ANY OTHER TIME ON FRIDAY 11/15 AT 5PM YOU WILL NEED TO MAKE YOUR OWN ARRANGEMENTS (AT YOUR EXPENSE) TO/FROM THE RETREAT HOUSE IN SEDONA AND YOU WILL NOT BE REFUNDED FOR ANY PORTION OF THE TOTAL INVESTMENT.
THE DRIVE FROM PHOENIX TO SEDONA IS APPROX 2 HOURS.
3) MEALS /GROCERIES ARE NOT INCLUDED
4) SPA SERVICES ARE NOT INCLUDED
5) TRANSPORTATION COSTS INCLUDED ARE gasoline, rental car, insurance, tolls and parking
6) DAILY PASS TO ANGEL VALLEY IS INCLUDED
TERMS & CONDITIONS: Prices listed are per person in US dollars and include a NON-REFUNDABLE deposit of $250 after October 15th.
CANCELLATION POLICY: Should you need to cancel your trip please inform us in writing using our email address power2empowerwomen@gmail.com. If the cancellation is up to 30 days prior to the start date, then we will refund 50% of the total payment minus the non-refundable deposit of $250. If you cancel any later than 30 days prior to the start date of the retreat and there will be NO refund.
POWER2EMPOWER and its hosts reserve the right to cancel the retreat and provide a full refund (not including airfare) if the retreat does not have at least 8 paid attendees by October 31st, 2019.
ALL ATTENDEES WILL NEED TO SIGN LIABILITY WAIVERS PRIOR TO THE COMMENCEMENT OF THE RETREAT.