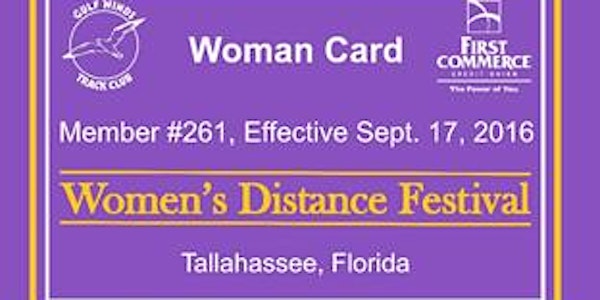 Women's Distance Festival 2016
When and where
Location
Optimist Park E Indianhead Drive Tallahassee, FL 32301
Description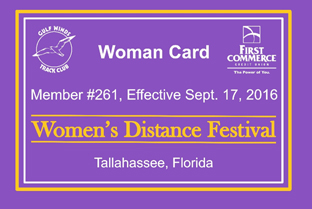 Lisa Unger is the director of this quality event that celebrates women in sports. The women often outnumber and out run the men in this race through Indian Head Acres. It has a unique twist in that the women start 5 minutes before the men. The 2012 women's winner ran 17:05.88 for a new course record. Kayleigh Tyerman apparently did not think that was fast enough and in 2013, she ran with the men and smashed the 17:00 mark finishing in 16:51. The race began with Dot Skofronick and Shirley Bull as race directors in 1982.
Date: September 17, 2016
Time: 8:00 a.m. (5K women); 8:05 a.m. (5K men); 9:00 a.m. (1 mile)
Place: Optimist Park, East Indianhead Drive, Tallahassee
USATF Certified 5K: FL06045DL
5K Awards: Top 5 women and First Male; M/F Masters, Grand Masters, Great Grandmasters; 3-deep in 5-year age groups. Special Mother/Daughter Team Award.
1 Mile Awards: Top 10 girls and boys plus treat bags to first 25 finishers 14 and under
Entry Fees (GWTC members receive $2 discount for registrations made by 9/13/16):
By September 13 or online: 5K with Shirt - $20; 5K No shirt - $15; 1 Mile - $10

After September 13 (paper): 5K with Shirt - $25; 5K No shirt - $20; 1 Mile - $12
Packet Pickup: Wednesday, Sept. 14, 4:00 p.m. - 7:00 p.m., Capital City Runners, 1817 Thomasvile Road
Tallahassee Memorial Pediatric Services donation for door prize drawing opportunity!
The TMH Foundation, on behalf of Tallahassee Memorial Children's Center, is seeking both cash and non-cash contributions to benefit pediatric patients and their families. Prominent among current needs are new toys for the playroom, patient rooms and toy chest. Donate to the Foundation along with your registration to be entered in a door prize drawing. The pediatric unit at TMH is focused on providing superior care to children from newborn to adolescents in a 17-county region in North Florida and South Georgia, and is the largest in the Big Bend area where children receive care. In partnership with Florida State University, TMH offers art and music therapy to pediatric patients of the Children's Center. These therapies help children to communicate and express themselves during their hospital stay. The Children's Center encompasses Pediatrics, the Pediatric Intensive Care Unit, Kids Korner, Outpatient Pediatric Surgery, Pediatric Emergency Services, Pediatric Rehabilitation, Adolescent Behavior Health, Pediatric Diabetes, and pediatric specialties in genetics, cardiology, ophthalmology, critical care, neurology, endocrinology, nephrology and radiology, and is home to the region's only Pediatric Intensive Care Unit (PICU). Cash donations are appreciated and can be used to replenish items needed in the Children's Center.
For additional information contact Lisa Unger, unger4122@comcast.net, 850-264-9615.