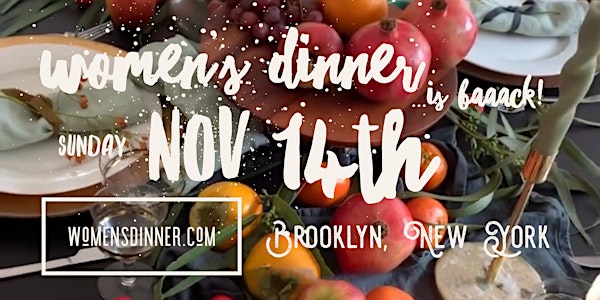 Women's Dinner
Women's Dinner since 2011 has been a gathering of gals in numbers ranging from ten to a hundred around a (very) long table. WomensDinner.com
Refund Policy
Contact the organizer to request a refund.
Eventbrite's fee is nonrefundable.
About this event
Unintentionally started on the Summer Solstice in 2011 as a surprise birthday for its host, Annie McCain Engman, whose friends weren't sure whether she'd want her recent break-up involved and decided to dedramatize the decision by making it ladies-only, the thirty-person dinner was such a smash that it grew into a seasonally-reverent quarterly banquet that at its largest sat a hundred girls.
The format has varied (Mama Engman once cooked for seventy-five in a large wok), but it's generally evened out to be that everyone brings a dish of su'm healthy, a plate, glass and cutlery that means everyone just has to wash their own dish thereafter and that makes for a hodgepodge photogenic table full of personality, an anonymous gift to put on another's plate, and of course there's an ever-changing dress code challenge. We get up and rearrange seats between courses to get to know the most people, sometimes sitting by neighborhood, and everyone stands up round-robin to say something according to the prompts we define.
Need a new job, friend or hand-me-down lease? Get in this fam!
xo,
@WomensDinner