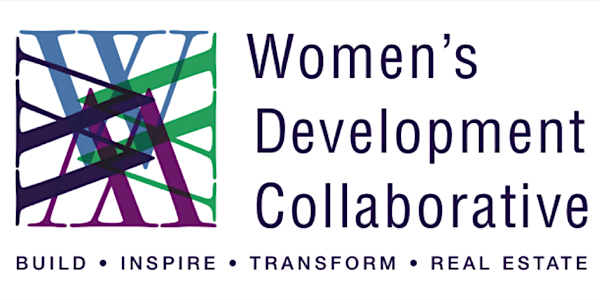 Women's Development Collaborative in Washington, DC September 17-21
When and where
Location
Washington, DC 20001
Description
Women's Development Collaborative (WDC) Events in Washington DC- September 17 through 21, 2019
Hope you can join us for our upcoming WDC Fall 2019 program in Washington DC this September. You can purchase tickets for WDC events and membership via this Eventbrite page. For those traveling from the West Coast on Tuesday 9/17, we will provide the locations/times where we're meeting in Tysons so you can arrive anytime between 3:30 PM to 7 PM.
---
Join or Renew Now to Receive These WDC Membership Benefits for the Fall 2019 Program by purchasing tickets via Eventbrite or writing a check (see further information below on membership and ticket pricing):*
Please support the Women's Development Collaborative by becoming a member or renewing your membership to attend the Fall 2019 WDC program and receive event discounts that pay for themselves!
Sustaining Members: $500 per year. Go to the entire WDC Fall 2019 Program for free and get a 30% discount for the Spring 2020 Program.

Supporting Members: $200 per year. Get a 30% discount off WDC events.

Student Members: $100 per year. Free admission to the September 17 Tysons tour and dinner plus 50% off the Saturday program and upcoming Spring 2020 Toronto program.
All 2019 WDC Members can purchase discounted tickets, and new Fall 2019 sustaining members attend the Fall program for free. Please contact WDC at wdc [at] seifel [dot] com with any questions. Non-members can purchase early bird tickets (10% discount) through September 12 midnight Eastern Time.
---
WDC FALL 2019 PROGRAM, Washington, DC - September 17 to 21
TUESDAY, September 17, Late Afternoon/Evening, 3:30 PM Tour + 7 PM Dinner, Tysons VA
We will hear how a group of influential women are leading the transformation of Tysons into a vibrant, walkable community and tour through new developments underway throughout The Boro. Our program will feature a panel presentation moderated by Meghan Trossen of Tysons Partnership, and panelists Cathy Moy (Kettler), Caroline Flax (The Meridian Group) and Elizabeth Baker (Walsh Colucci Lubeley & Walsh). After our tour of The Boro, Vicki Davis, Managing Director of Urban Atlantic, will describe how her development team is transforming the 65-acre Walter Reed Hospital site across the river into a new mixed income community featuring a medical center, schools, and arts, cultural and recreation uses. Our program will conclude with dinner at Earl's Kitchen, a short metro ride from The Boro.
Tysons is readily accessible via Metro and from both airports, and we will have a place to store your luggage if you are coming directly from the airport. Dinner will start at 7 PM at Earl's Kitchen + Bar near the Tysons Center Stop on the Silver Line. A calendar invitation with specific times/locations will be sent to participants prior to the event, but all locations will be close to the Greensboro or Tysons Center stops on the Metro Silver Line.
WEDNESDAY, September 18, Early Morning, 8 AM, Walter E. Washington Convention Center
We will be holding an informal WDC gathering on Wednesday morning. Please meet at the ULI MEMBER ENGAGEMENT AREA at 8 AM near the ULI Bookstore at the Walter E. Washington Convention Center, and we'll find a place nearby to meet. Please bring your own coffee/tea (BYOB), and we'll bring delicious treats from a local bakery (likely from the delicious woman-owned bakery, Baked Joint). Free for all WDC members, students and purchasers of an all-inclusive ticket for WDC Fall 2019 program.
FRIDAY, September 20, Evening, WDC Leadership, 7:45 PM, Cosmos Club, Dupont Circle
Over wine, cheese and desserts on Friday evening at 7:45 PM, we will have a WDC leadership gathering at the elegant and historic Cosmos Club at Dupont Circle, where we will hear firsthand from the women who have made Union Market so spectacular. We will also facilitate a leadership conversation about how to build WDC's capacity and strength to support women in development. To all attendees, we will send out information regarding a place for WDC members to meet at the ULI Union Market reception immediately before so we can take the Metro or carshare to the Cosmos Club together. Registration is limited given this intimate venue, so only early bird ticket purchasers and WDC members will likely be able to attend, so please join WDC or purchase an early bird ticket soon!
SATURDAY, September 21, Morning/Early Afternoon, 9:15 AM – 1:30 PM, Alexandria VA
We will close out our WDC program on Saturday morning at the offices of LandDesign in Alexandria, VA where brunch will be hosted. Christina Mindrup of the Alexandria Economic Development Partnership will start the day with an overview of the Alexandria area and the growth it has experienced since the announcement of Amazon's HQ2. We will also learn how a dynamic group of women are continually enhancing Alexandria's unique artistic and cultural character. We are excited to launch our inaugural WDC Project Forum that will feature a presentation of a development challenge by WDC member, Jessica Newhouse who founded Hall+Haven. She will receive real-time feedback from a specially-selected panel of development advisors, Amy Erixon (Avison Young), Madelyn Kirsch (SMMC), Eve Picker (Small Change), moderated by Eileen Marrinan, (Eigen10) and facilitated by Adrienne Teleki (Willdan). They will recommend how to address these challenges with additional input from our WDC audience. After brunch, we will end our program with a walking tour along King Street to the Alexandria waterfront and Torpedo Factory Art Center where you can optionally spend the afternoon visiting its 82 working artist studios and 7 galleries.
LandDesign is easily accessible via Metro and to both airports from those departing directly from the event. We will have a place to store your luggage if you plan to head to the airport afterwards. A calendar invitation with specific times/locations will be sent to participants prior to the event but plan to end our formal program within walking distance of the Water Taxi to Washington DC.
---
* We hope you will consider becoming a member in WDC or renewing your membership in Fall 2019. Membership dues can be conveniently paid via Eventbrite (as a ticket purchase) or paid by check. If paying by check, please make checks payable to "Women's Development Collaborative" and mail to:
Women's Development Collaborative
5214F Diamond Heights Boulevard #221
San Francisco CA 94131
Please include member contact information and indicate whether you would like to be featured member on the WDC website.
---

---
The Women's Development Collaborative (WDC) is a network of women leaders who inspire, promote and support women who lead transformative real estate developments. WDC's mission is to advance women's success, leadership, innovation and collaboration in building developments that sustain and create thriving communities. WDC's members are committed to advancing WDC's mission and our collective capacity to champion and catalyze women-led developments.
Please contact WDC at wdc [at] seifel [dot] com with questions on membership or WDC.