Description
SAVE THE DATE JULY 14TH, 2016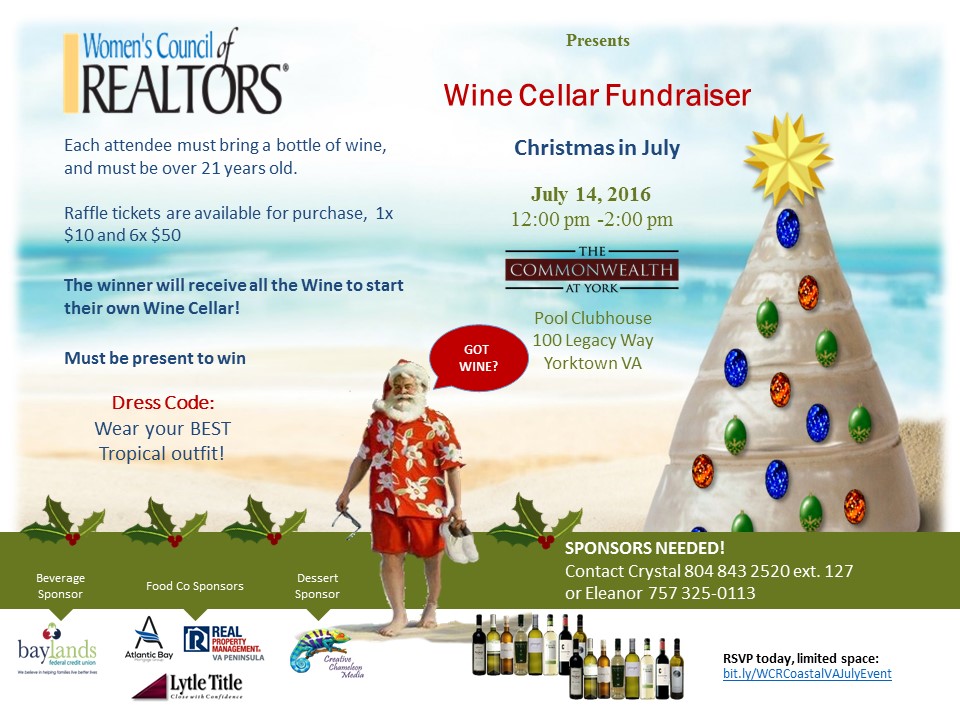 Whew, now that the snow is over, come and celebrate with us "Christmas in July"! Our 1st Annual Wine Cellar Fundraiser will be a fun event, and for a great cause. One lucky winner, will take home all of the bottles of wine that the attendees will bring for as a little as $10, can you believe it!!! Food, Drink, Music and Networking to take a break from the office.
Each attendee is required to bring $10 (Early Bird Special), and a bottle of wine. All of the wine bottles will be on display, and after light networking, music and great food, we will pick a winner, (must be present to win and take home all the wine! How fun is that, the best part wear your Hawaiian outfit, and enjoy.
A portion of the net proceeds will be given to our Charity of the Year, ALS Foundation, Richmond Chapter, to learn more about this disease, go to: http://webdc.alsa.org/site/PageServer?pagename=DC_homepage.
Sponsorship and Ads in our memorable Program Guide will be available to showcase your business, bring your own 6' table and tablcloth and network with the crowd! All professionals are welcomed! Please post this on your FB page, WCRCoastalVA and Twitter ,@WCR_coastalva accounts.