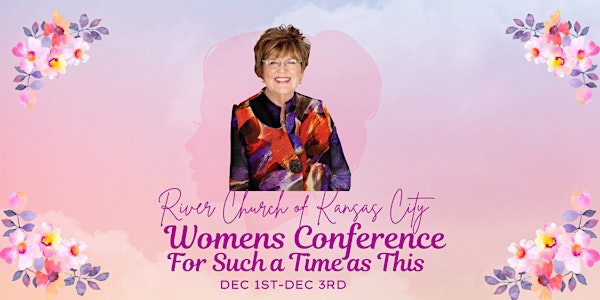 Women's Conference with Dr. Debbie RIch
Attention all Ladies in the Kansas City Region! Don't miss this powerful women's conference with Dr. Debbie Rich!
When and where
Location
7918 Quivira Rd 7918 Quivira Road Lenexa, KS 66215
About this event
🚨🚨Kansas City Ladies🚨🚨
Registration is officially open for the Women's Conference with Dr. Debbie Rich!
Here's the details
🔵Dates: Dec 1st - Dec 3rd
🔵Times: Dec 1st & 2nd @7pm
Dec 3rd Morning Service @ 9am
Coffee & Doughnuts will be served
🔵 Address: 7918 Quivira Rd Lenexa, Kansas 66215
🔵 No Childcare provided
🔵Come Hungry & Expecting
For over 30 years, Dr. Debbie Rich-Rester has endeavored to make known the ministry of Jesus Christ by preaching and teaching the Word of God and demonstrating the power of the Holy Spirit.
While serving as a missionary in Alaska, she encountered the ministry of Dr. Rodney Howard-Browne. That meeting forever changed her life and the direction of her ministry.
She has since carried revival to 46 nations of the world. She has delivered the Word of God through television on several continents. Dr. Debbie pioneered a church and a Bible school in the state of Washington. She has seen hundreds of thousands of people born again, baptized in The Holy Spirit, healed, and delivered. Dr.Debbie has overcome personal tragedy and ministers to the broken-hearted effectively. In her meetings, people are set ablaze to be witnesses for Christ Jesus.
Dr. Debbie is once again based out of The River at Tampa Bay Church, pastored by Drs. Rodney and Adonica Howard-Browne. She has a doctorate in theology and sometimes teaches at the River University.
Come expecting and your life will never be the same.