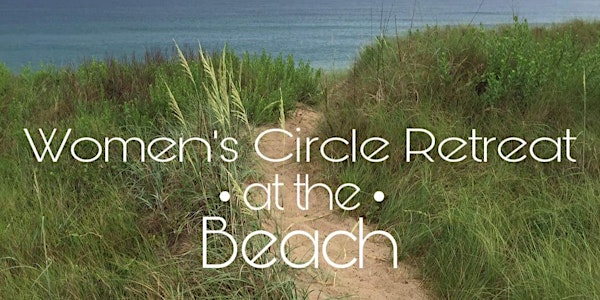 Women's Circle Retreat at the Beach: Moon Magic
Making memories, making medicine, making magic
When and where
Location
Rehoboth Beach Olive Ave Rehoboth Beach, DE 19971
About this event
Moon Magic Medicine Retreat
🌊 🌕 🌊 🌕 🌊 🌕 🌊 🌕 🌊
🌿 Making memories, making medicine, making magic ✨
When women gather with focused intention, we make magic! When we play, when we heal, when we dance, when we allow ourselves to show up unadulterated and unapologetic, we create powerful medicine! And when we just show up, we allow the Great Mystery to live within us!
Come, gather with your sisters and make space for magic under the moon March 10-13, 2023! We will gather at the beach in Rehoboth for 3 days and nights of ritual, relaxation, and rejuvenation.
Space for 18 women.
Shared accommodations.
Cost:
Ticket price includes shared accommodations along with breakfasts, lunches, healthy snacks, and a celebration dinner on Sunday night.
Accommodations:
Our home for the weekend: https://t.vrbo.io/VBMIesmKHsb
Everyone shares a bed/room
Bunk bed (single top, single bottom)
King & Queen beds shared
📝 Roommate preferences can be expressed in notes on Eventbrite
Tentative activities throughout our weekend:
Drumming, kayaking, henna, art, painting, evening ritual & sharing circle, cuddle puddles, foot rubs, flower mandala creations, morning meditation on the beach, dance, breathwork, body painting, and more!
Tentative Schedule:
Friday:
Check-in begins at 2pm
Opening circle on the beach from 5:30pm to 6:30pm
Potluck dinner from 6:30pm to 7:30pm
Post-dinner circle begins at 8:30pm: Playful, pajama pillow fight with popcorn, magazines, painting toenails, makeup, 80s & 90s dance party, and music and talking about first times in a playful circle
Saturday:
morning movement 7-8
breakfast 8-9 💙prepared by the Blue team
morning circle gathering 9-10
10-12 group morning activity
12-1 free time/lunch 💛 prepared by the Yellow team
1-2 lunch
2-5 group afternoon activities (1-3 activities to choose from)
5-6 free time
6 walk down beach sunset to dinner
6:30-8:30 dinner out on the town
9 -11 evening circle: Red Ritual & Feminine Archetype 🌹 Dress in red and adorn each other with henna, bless with anointing, and dive into our feminine mystery with stories of feminine archetypes and wisdom
Sunday:
morning movement 7-8
breakfast prepared by the 💚Green team
breakfast 8-9
morning circle gathering 9-10
10-12 group morning activity
12-1 free time/lunch prep ❤️ Lunch prepared by the Red team
1-2 lunch
2-5 group afternoon activity (multiple 1-3 offerings to choose from)
5-6 free time
6-7 dinner celebration prep 🌈 Community-created dinner celebration
7-8:30 dinner
9 pm: Evening Circle & Self Care Wellness Ritual: a night of nurturing touch, cuddles , massage, foot soaks, scented oils, poetry & song
Monday:
Group clean up.
Departure & checkout by 10am
💙💛💚❤️
Note on meals:
Please let us know of any allergies or dietary restrictions in the notes on Eventbrite.
Each breakfast and lunch will have a group dedicated to creating in the kitchen with teams assigned at check-in: Blue, Yellow, Green, and Red.
💙💛💚❤️