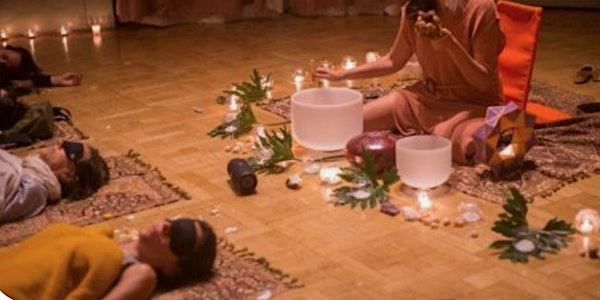 Women's Circle: Rest & Reflect with Sound Bath & Reiki
Surround yourself with a vibration of love, healing, & peace while you enjoy the energy of reiki, sound bowls, & sisterhood.
When and where
Location
S'il Vous Play 3216 Silsby Road Cleveland Heights, OH 44118
Refund Policy
Contact the organizer to request a refund.
Eventbrite's fee is nonrefundable.
About this event
As longer nights and colder temperatures signal to plants that it is time to rest up for the next growing season, we as humans often need and desire the same quiet & still space to go inward.
I invite you for an evening of gentle relaxation & reflection alongside sisters in your local community, in the beautiful S'il Vous Play in Cleveland Heights.
There will be a sound bath with crystal singing bowls, reiki sent out to everyone, and a guided meditation with journaling & sharing within the Circle. The evening will take you on a sacred journey of connection to your soul & the Sisters around you.
P.S.-- This location is super special to me, because when I was a little girl, my dad owned a microbrewery in the same space. One particular year in elementary school, I had intense anxiety and would often have to be picked up. My dad would take me to his restaurant & I'd read, always feeling safe & at peace. It's such an honor to hold space there for you to release anxiety and be held in nurturing peace.
WHAT IS A WOMEN'S CIRCLE?
A Circle is a sacred space for women to intentionally gather & deepen connection to self & the collective. I create an inclusive, warm, safe environment for those who identify as women to come together and share their experience & to reconnect with their feminine energy, all without judgement.
Whether you've been to Circles before, facilitated them yourself, or have never even heard of one, you will feel seen, heard, & held during these intimate gatherings.
Women's Circles have been around since ancient times, and while modern day circles may have a different flow, you can still expect ritual & ceremony to be a part of the experience. They're kind of like a gentle blend of group therapy & meditation-- there is thoughtful, facilitated discussion & sharing, as well as time to lay back & receive music or channeled messages coming through to lovingly support you.
WHAT SHOULD I BRING?
Dress comfortably & bring a notebook, pen, water bottle, and a blanket to be extra cozy!
If you wish to dress in the spirit of your divine feminine, you are fully encouraged to do so! No stress though-- come as you are, dress comfortably (pjs are welcome!) & travel as light as you wish. All will be well.
WHAT WILL BE PROVIDED?
To take home: a small gift
To use at Circle: a sit-upon cushion and extra yoga mats, blankets, notebooks, and pens for those who don't have their own.
COST
$30
Limited to 15 spots!
YOUR FACILITATOR
Steph Trzaska is Transition Coach & Soul Alchemist, supporting women as they navigate through a season of change. Steph has empathic & intuitive gifts which she uses to guide women to discover who they are at their core as well as who they are in this next chapter of their lives so they can use that knowledge to create an external reality that authentically matches who they are inside. She holds the deepest belief that the world heals & becomes a better place for us all when we have the opportunity to tap into our gifts, cultivate our strengths, & do what lights us up. She trusts that when we are connected to our truth & inner knowing, we create a ripple effect that creates a profound impact on our Earth & the people on it.
A Cleveland native, Steph resides in Cleveland Heights with her 2 toddler boys, husband, & 2 senior dogs.
Website: https://www.littlescrapsofmagic.com/
Instagram: https://www.instagram.com/steph.trzaska/
S'il Vous Play Website: https://silvousplaytoys.com/
S'il Vous Play Instagram: https://www.instagram.com/silvousplaytoys/