Description

Join us for a special retreat designed to explore, support, and celebrate the unique intersection of Judaism, cannabis therapeutics, and women's wellness. The all-inclusive event will offer the opportunity to connect with others who find their strength in power in holistic healing, spirituality, and the strong bonds of sisterhood. Women of all backgrounds are welcome.
This retreat is where you want to be if you are a woman who:
• consumes cannabis for medicinal purposes
• considering using cannabis or CBD for health and wellness
• curious about cannabis therapeutics and how it can help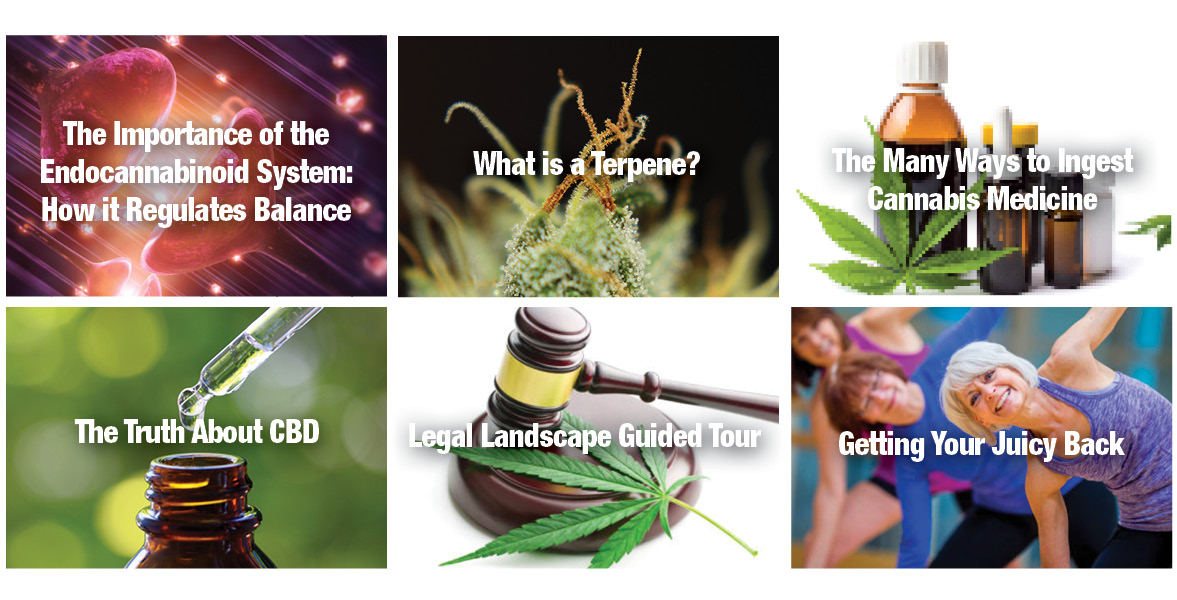 Join us to meet and schmooze with health and industry experts and discover how cannabis can help elevate your every day life. Sessions will cover:

• The Endocannabinoid System: How it regulates balance
• Getting Your Juicy Back—Cannabis for hormonal balance
• The Truth About CBD—Everything you wanted to know
• Legal Landscape Guided Tour—In Florida and beyond
• How Nutrition & Cannabis Work Better Together
• Managing Mental Health Issues with CBD/THC
The day will be completed with your choice of holistic healing and workshops including:

• Neuroplasticity workshop
• Past-life regression
• Group yoga and sound healing
• Medical consultation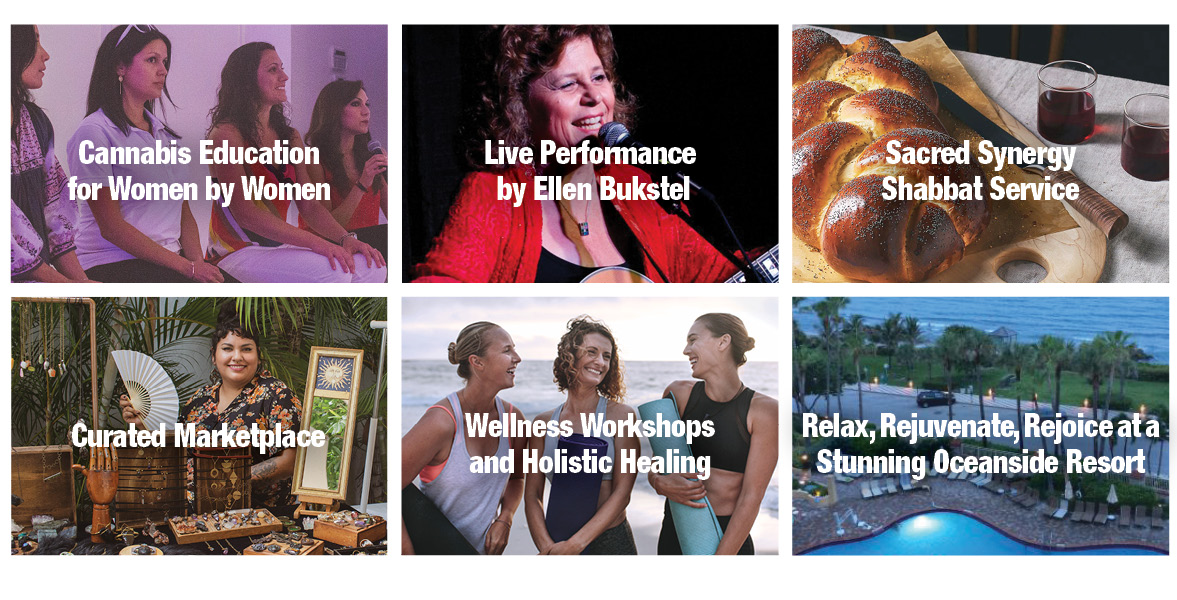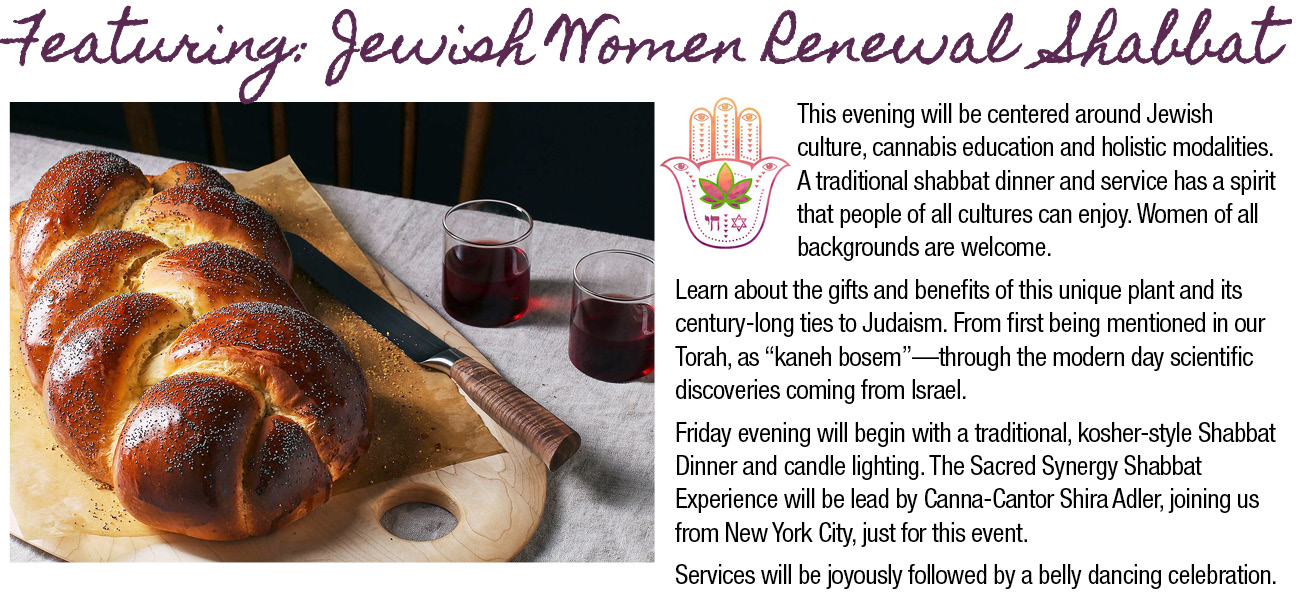 We are pleased to announce a Saturday night performance by Ellen Bukstel, award-winning singer, songwriter: ellenbukstel.com. Listen to her hit song: "Who's The Pusher Now": https://bit.ly/2VaSd7S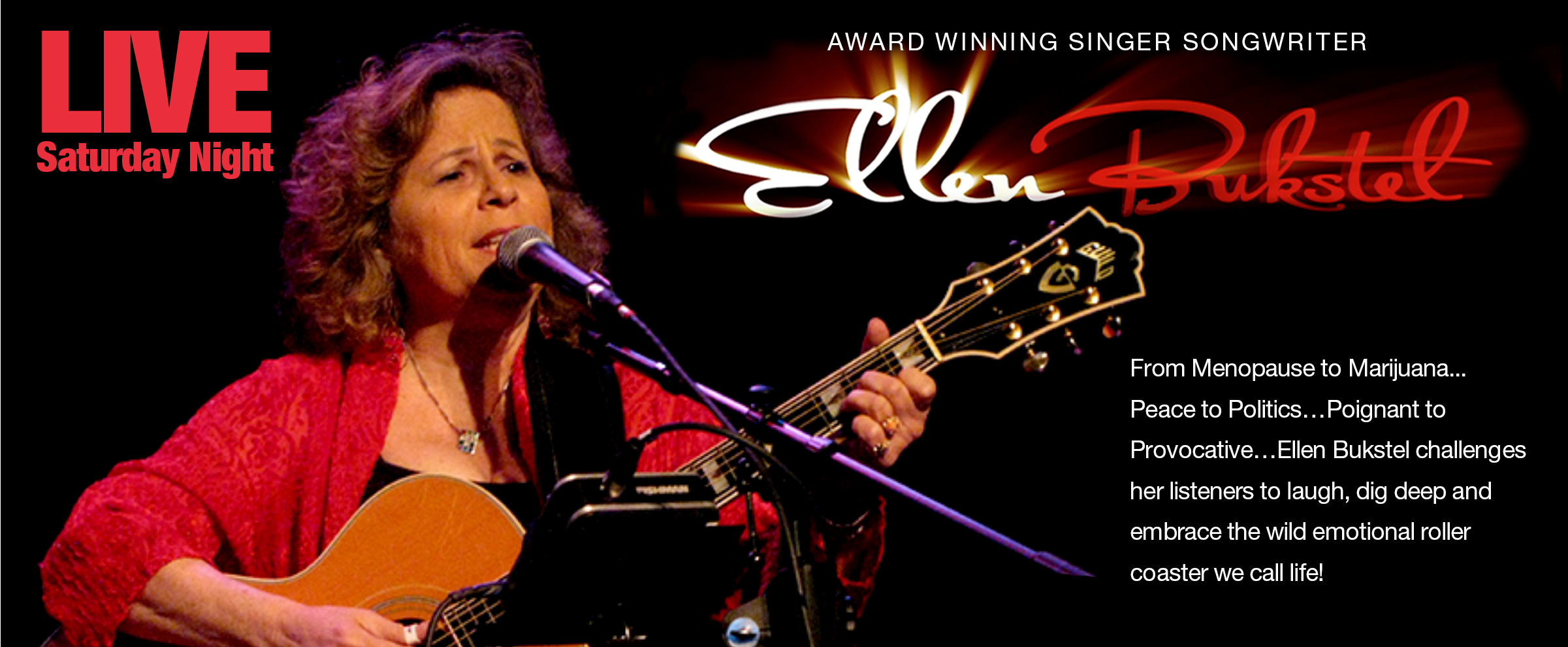 Our speakers are not only a group of women spanning several professional disciplines, they all have a personal connection to the healing powers of cannabis therapeutics. They will share their own stories of how the plant brought them to where they are today. We strive to create an open, approachable atmosphere where you can meet and schmooze with these amazing women, and learn how to improve your own health and wellness.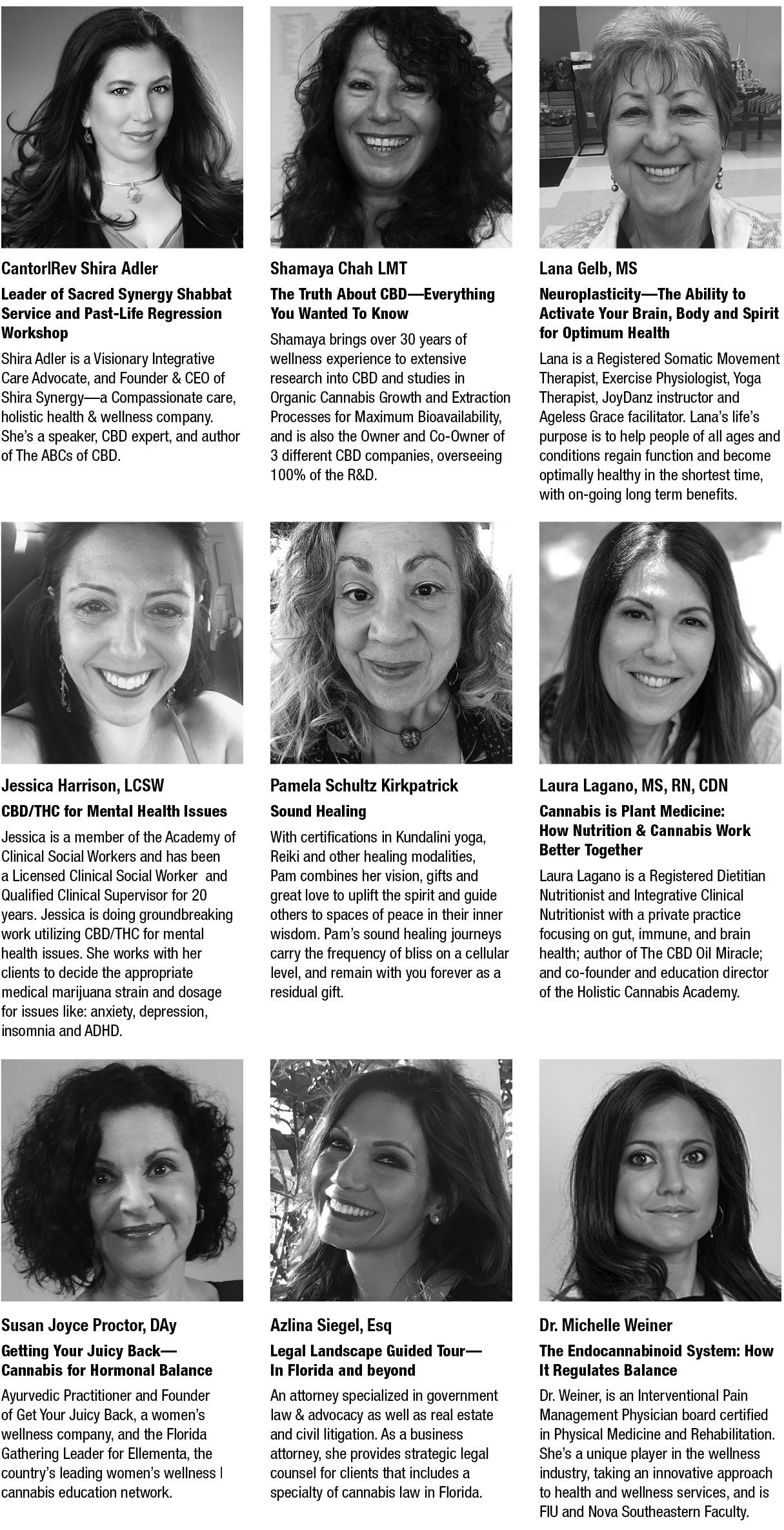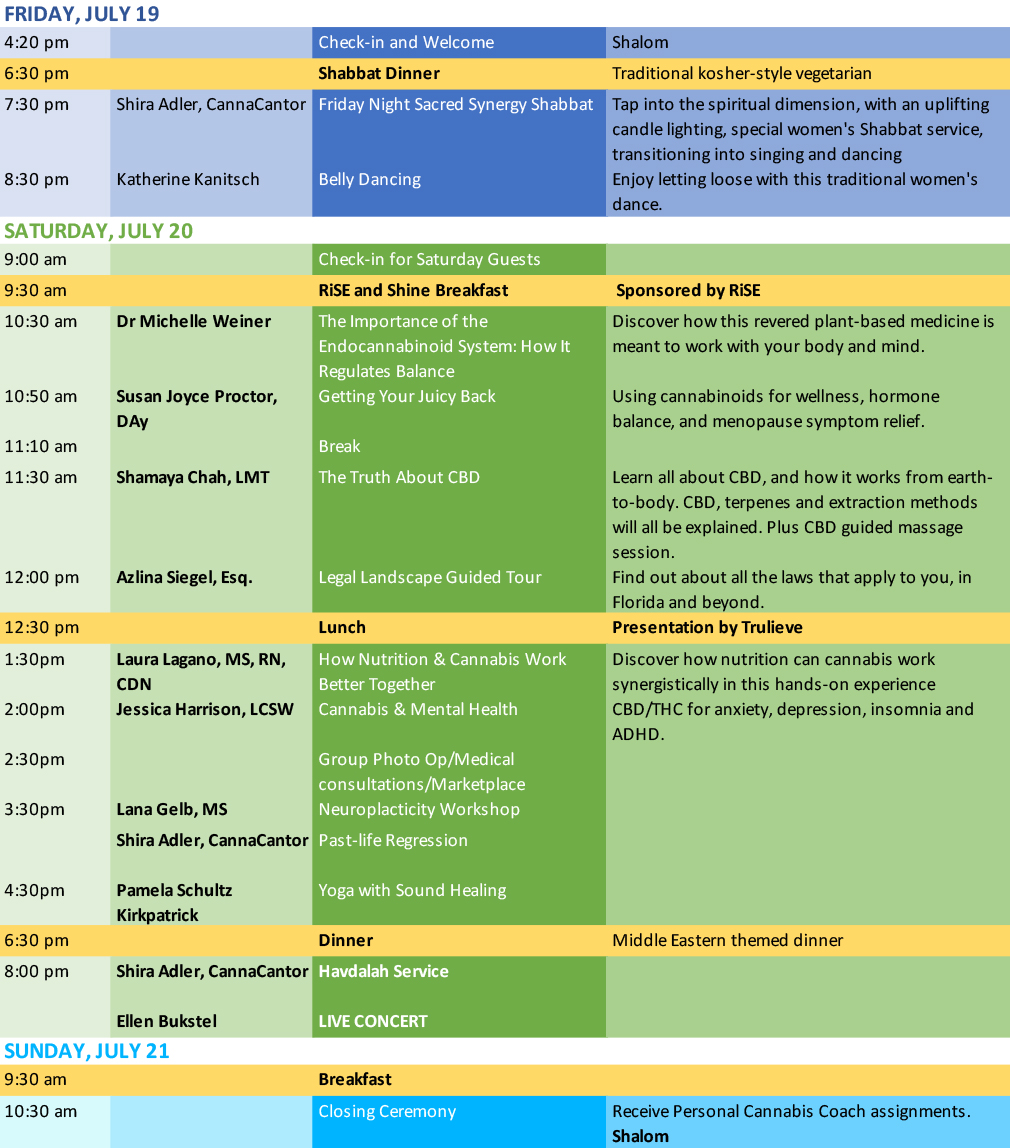 SPONSORED BY:


Lovely accommodations by the ocean: Wyndham Deerfield Beach was described by TripAdvisor as a stunning new resort with incredible views



Discounts are available, for veterans and medical card holders—when you complete your purchase.

For Group Rates, please email JWRSreg@gmail.com.

This is a medical cannabis educational event. All attendees must be 21+. No cannabis consumption nor sales are permitted at our events.


FAQs
May I come for the Shabbat program and the cannabis education without staying at the hotel?

Yes, We have a "local resident" option.

Do I need a cannabis medical card to attend?

No. This retreat is where you want to be if you are a woman consuming, considering, or curious about cannabis medicine. There will be on-site medical consultations available.

Is this only for Jewish women?
Absolutely not! This event will be centered around Jewish culture, cannabis education and holistic modalities. A traditional shabbat dinner and service has a spirit that people of all cultures can enjoy. Women of all backgrounds are welcome.
How do I request private hotel room?

We are able to accommodate all of your requests. There is a single occupancy rate. Please email JWRSreg@gmail.com