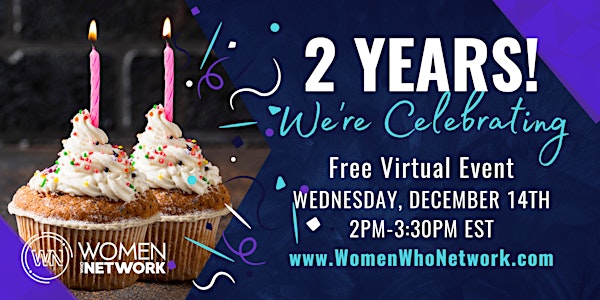 Women's Business Networking Event
Network with other Women business owners and Sales Professionals.
About this event
CELEBRATE 2 YEARS OF VIRTUAL NETWORKING WITH US!
Testimony:
"Thank you so much for your event! Its the most fun I had in a year and beyond resourceful! It has motivated more than ever to dive into the new way of life!" - Timeki Webber
Women Entrepreneurs Networking with Women Entrepreneurs**
Join us and grow your business by making new business relationships while learning effective strategies to maximize your networking activities.
This event is designed to accomplish 3 goals:
1. Connect. Connections are about building a community. The greater the community, the stronger the collective support of your business goals.
2. Collaborate. It is a basic strategy to seek collaboration to enhance the value of your business. Liken it to finding the yin to your yang.
3. Refer. Referrals are all about building relationships. The more relationships you develop, the higher chance of finding your ideal client.
Be prepared to meet some new people and hear about some products/services that can help your business.
WHAT YOU WILL GET FROM THIS EVENT
Meet 8-12 new people that can become referral partners for your business
Hear from organizations you can join to get resources for your business
Introduced to companies with business services to help improve your business
Get ideas on how to run your business better
Interact with other entrepreneurs who think just like you!
UPDATE: The following breakout sessions are taken, proceed ONLY if you don't fit into one of these categories:
Social Media Manager (Sponsor Exclusivity)
Lead Marketing Strategist
Networking (WWN Partner | The League Of Girlfriends)
Sales Coaching - From Corporate to Entrepreneurship
**Majority of ProNetworker events are open to all genders. This particular event is exclusively for women-owned businesses. Please only continue with registration if you are a woman entrepreneur. Thank you.
WWN & ProNetworker Team
Learn More: https://womenwhonetwork.com | @wwnconnect