Description
Three Wise Women - Have a Mary Christmas!
You may have heard the clever joke about what could have transpired if three wise women appeared at Jesus' birth instead of three wise men! It made me think about some of the wise women in Jesus' life and how we can learn from them: Mary, Jesus' mother; Mary of Bethany; and Mary of Magdala. They each had a special relationship with Jesus and we can learn from them. May we have a Mary Christmas this year!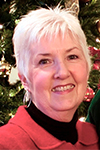 Candy Davison (speaker):
Candy has been Sandy Cove Women's Ministry Coordinator since 1994. She has a music degree from Wheaton College, accounting credentials earned at Messiah College, and 40 years of valuable experience in spirited matrimony.