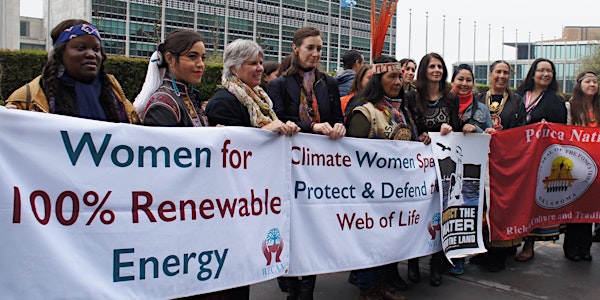 Women's Assembly for Climate Justice: Women Leading Solutions on the Frontl...
Location
The Green Room
401 Van Ness Avenue
San Francisco, CA 94102
Description
'Women's Assembly for Climate Justice: Women Leading Solutions on the Frontlines of Climate Change', will be an extraordinary gathering of women leaders from across the United States and around the world, joined in solidarity to speak out against environmental and social injustice, draw attention to root causes of the climate crisis, and present the diverse array of visions and strategies with which they are working to shape a healthy and equitable world.
International advocates, grassroots, Indigenous, and frontline women leaders, and policy-makers, will discuss topics including the intersectionality of gender and environment; Indigenous rights; a just transition to renewable energy; women and forest protection and regeneration; fossil fuel resistance efforts; women and agro-ecology/soils; environmental racism; and women's leadership and calls for action within a climate justice framework.
This dynamic public Forum, organized by the Women's Earth & Climate Action Network (WECAN) International, is to be presented the day before the Global Climate Action Summit (GCAS) in California. A list of collective key Calls to Action from the Women's Assembly for Climate Justice will be presented to the leadership of the GCAS the following day.
This event is free, and is open to the public. RSVP encouraged but not required.
** PLEASE RSVP USING THIS EVENTBRITE FORM **
Receive updates and invite friends and allies via the Facebook Event page:
www.facebook.com/events/402080546886812/
Full details also available via the WECAN International webpage:
www.wecaninternational.org/pages/sept2018