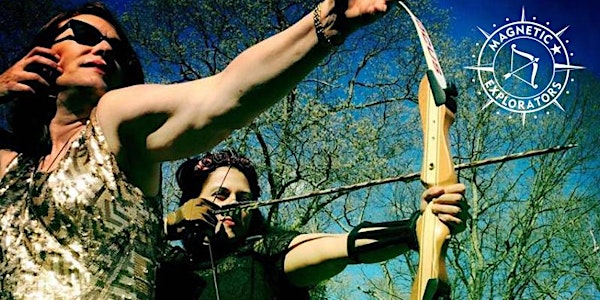 Women's Adventure Retreat - Unearth Your Soul's Intelligence
When and where
Location
Garrison Institute 14 Mary's Way, Route 9D Garrison, NY 10524
Description
WHAT
Access your soul's intuitive intelligence through nature's wisdom and our unique mapping method in order to create motivation and courage for forward motion. Join us for a nourishing and fun weekend of exploration, discovery and connection. Activities include archery, art, meditation, singing bowls, nature walk and more!
Join us at the Garrison Institute for our annual weekend JOYshop (joyful workshop) where you will walk away with a colorful map that you've created showing where you currently are in life and the instructions for how to get where you want to go. You will be able to use this visual reference as a compass, along with your beautiful archery photo captured while in your magnificence and strength. You will leave feeling adored and nourished from head to toe in body, mind and soul. You will have formed new bonds with other luscious legends and have access to our larger online community with continuing support, teleconference calls, and outdoor get-togethers.


LAST DAY TO REGISTER - THURS APRIL 28th BY 4PM
• Discover your Magnetic North & learn the art of using your compass
• FEEL how nature recharges your inner goddess
• Nourish your body with quiet time and locally grown NUTRITIOUS MEALS
• Clarify and MAGNETIZE your core desires
• Establish success habits to nurture your LEGACY
• Bring AWARENESS to what blocks your success
• Practice the art of focused intentions with ARCHERY
• Access your Path of Power and IGNITE your confidence
• Time to reflect and journal, and then cleanse in the SAUNA
• Map your Luscious Legend
• Splurge on your divine self and RELAX to the sound of SINGING BOWLS
• Enjoy picturesque views on Hudson River from the beautiful grounds of the Garrison Institute
• Celebrate in COMMUNITY with women pioneering SUCCESS
• INTENSIFY your RADIANCE
WHO SHOULD ATTEND
• You feel disconnected to Mother Nature, your own nature and others
• You're feeling stuck in life
• You're in need of direction with a plan
• You want to create an amazing legacy for yourself
• You're ready to live a life without regrets
• You want to feel aligned in body, mind and soul
• You want to feel really alive
• You want to feel adored
WHAT IS A MAGNETIC EXPLORATOR?
A Magnetic Explorator forges new paths...She is a pioneer that magnetizes what her soul longs for. She thrives in any circumstance using her Magnetic North Star as her compass. Her human nature radiates with nourishment from mother nature.
WHO WE ARE
Your luscious hosts, Cindy and Suzanne, are Certified Professional Coaches and avid outdoor women who love both city and country. These adventurous, worldly women, inspire infinite potential. They love calling out the power in people. They believe that when the magic of nature is embraced, women are able to embody their magnificence and create abundant success which lights the spark for all. It's their vision to evolve humanity from their unique Path of Power. In short, Cindy and Suzanne bring people to where they feel most alive.
Bernadette Pleasant,Creator of Femme!, is a dance, health and fitness expert as well as a certified Reiki practicioner and Integrated Energy Therapist. She integrates diverse styles of music with creative visualization, art, meditation and affirmation to create unique and memorable experiences that evoke a deep sense of awakening, joy and freedom. www.livefemme.com
Michelle Clifton is a certified Sound Healer and Massage Therapist. To witness her singing bowl music is an experience of enchanting and grounding bowl tones that calm the mind, release tension and reduce stress. She is also known for playing the bowls on top of the human body to awaken and send healing vibrations all the way down to the cells.
"A Powerful gathering of courageous women who are willing to think, live and be outside the box." - GL, NY
"This JOYshop was such a necessary turning point for me. It was a deep dive into what every aspect of my true self is already telling me, but now I have an actual, literal map from which to access these messages. Cindy and Suzanne are the perfect combination of wisdom, strength, and tenderness with our feminine natures and take the time to individually delve into what each person needs to fulfill their heart's desires. It was a remarkable experience. Delicious food, singing bowls, self-realization, beautiful location: the total package. It changed the course of my life and helped me become more decisive by trusting and learning where my strength resides." -
BM, NY
"The combination of empowering activities, delectable food and diverse, creative and loving women made this a wonderful event. The scenery was absolutely gorgeous and provided a perfect backdrop for the group and individual activities." - IWT, Manhattan, NY
"An insightful workshop bringing perspective to all our differences that originate from all of our similarities. " - GL, NY
"In my life, I've found that this bright, bright energy is extremely threatening to men, so I'm thrilled to visit a place, and get to know people, who are bringing that specific energy forth. And that's what carried over so directly for me the next day. I felt free, justified and safe to be my brightest turned-on self, full-on, socially & professionally." - MC, NY

"I got so much more out of attending the second time!" - CS, NY
Indulge and feel lit up everyday - you're worth it! Advanced tickets only. Price includes shuttle pick-up and drop-off from the train, six vegetarian meals plus snacks (gluten and dairy-free options available), shared room for two nights (contact us for single rooms), all materials for workshops, group coaching, archery lesson, healing chakra singing bowls performance, use of the saunas, walking labryinth and access to the breathtaking grounds at the Garrison Institute which is located on the Hudson River Valley. Please let us know if you will be signing up with a friend and would like to request to be roommates.

LOCATION
Garrison Institute
14 Mary's Way, Route 9D
Garrison, NY 10524
A 75 minute train ride from Grand Central on Metro North Hudson Line to Garrison. Shuttle service will be provided to the venue. Drivers please consider car pooling. Registration time is from 3-6pm. Consider arriving on the earlier side to settle in & connect with nature.

CONNECT