WomenOfAI.org AI Summit 2020
About this event
OVERVIEW
WHO SHOULD JOIN: If you work in AI, are interested in changing to AI, or you're simply interested in learning more about diversity and the latest trends in AI, please join us for our first Annual Summit!
OUR GOAL: Educate our audience on AI from various perspectives, ranging from leading AI venture capitalists, corporate executives and founders. Additionally, showcase leaders in D&I and bring their wealth of knowledge on growing inclusive companies.
FORMAT: Virtual — Zoom Link will be provided via email upon registration.
TOPICS:
AI Application: Real world applications and AI tech investment strategy
Diversity in AI: Why does it matter? How do we get there?
AI for Social Good: Initiatives on AI for Social Good
User-Focused AI: Creating utilitarian user experience
Creative Side of AI: Intersection of AI - Storytelling and Moviemaking
Agile Data Science at Scale: Building agile data science platform to scale
Using ML and CV in Real Estate: Case Study from Zillow, the leading online real estate platform
SPEAKERS
Erica Lee, Founder, WomenOfAI.org (Director of Machine Learning Engineering, Zillow)
Jamie Lee, COO, WomenOfAI.org
Frank Chen, AI/ML Partner, Andreessen Horowitz
Laurence Moroney, AI Advocacy Team Lead, Google TensorFlow
Yinyin Liu, Co-Founder and CTO, XOKind (Former Head of Data Science, Intel Nervana)
Abigail Hing Wen, Senior Director of AI, Intel (and NYT Best Selling Author)
Raena Saddler, VP of People and Managing Director, Lean In (Sheryl Sandberg & Dave Goldberg Family Foundation)
Jiun Kimm, Head of Diversity & Inclusion, Samsung NEXT
Yardley Pohl, Co-Founder and Board Member, Women In Product
Sarah Aerni, Senior Director of Machine Learning & Engineering, Salesforce
Yujie Li, Applied Scientist, Zillow CVML (3D Homes)
SCHEDULE
All times in PST
10:00-10:15 | Opening (Erica Lee, WomenOfAI.org)
10:15-10:55 | AI Application (Frank Chen, a16z)
11:00-11:55 | D&I Fireside Chat (Raena Saddler, Jiun Kimm, Yardley Pohl of Lean In, Samsung NEXT, Women In Product)
12:00-01:00 | Lunch Break - Hiring Manager Meet & Greet (Various)
01:00-01:45 | AI for Social Good (Laurence Moroney, Google TensorFlow)
01:50-02:35 | User-Focused AI (Yinyin Liu, XOKind & Former Intel Nervana)
02:40-03:25 | Creative Side of AI (Abigail Hing Wen, Intel AI)
03:30-04:15 | Agile Data Science at Scale (Sarah Aerni, Salesforce)
04:15-04:45 | Using ML and CV in Real Estate (Yujie Li, Zillow CVML)
04:45-05:00 | Closing (Erica Lee, Jamie Lee)
05:00-05:30 | Virtual Networking - Optional Session via Zoom
SCHEDULE - Hiring Manager "Meet-N-Greet"
12:00-12:20 | Erica Lee, Director of Machine Learning Engineering, Zillow Offers*
12:20-12:40 | Yinyin Liu, Co-Founder and CTO, XOKind (Former Intel Nervana Executive)
12:40-01:00 | Break
*Erica Lee is known officially as Director of Engineering, Machine Learning & Purchase Platform, Zillow Offers. She is currently hiring for MLE only, thus her title is altered for brevity.
REGISTRATION
Tickets are $25-60 and tax-deductible. All proceeds will go to WomenOfAI.org to help us continue technical and leadership programs for rising talent in AI. Ticket costs:
$25 for Hiring Manager "Meet-N-Greet"
$50 for General Admission
$60 for GA+HM Meet-n-Greet (25% off)
Once you purchase a ticket, you will receive a donation receipt for your records prior to May 30, 2020. WomenOfAI.org is a public, donation-based 501(c)(3) nonprofit since January 2020 with EIN 84-5104230.
SPEAKERS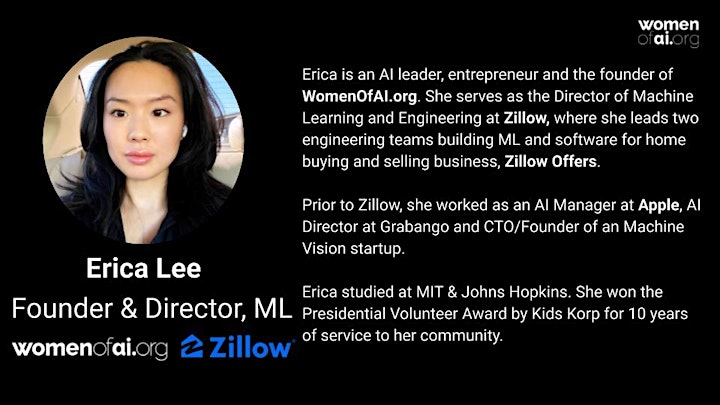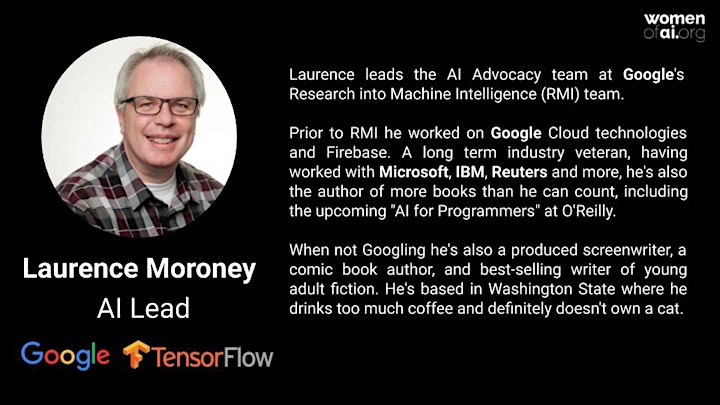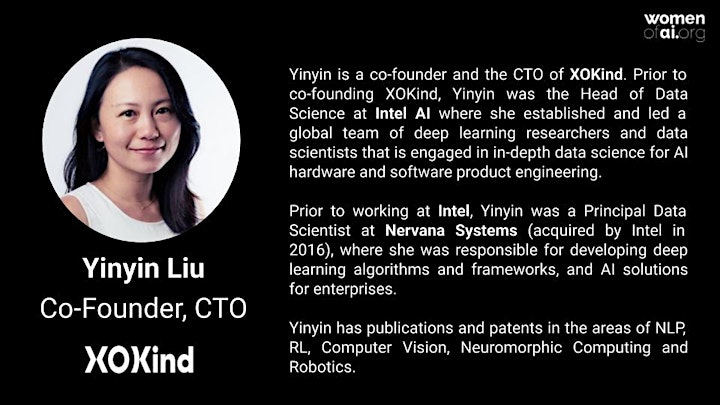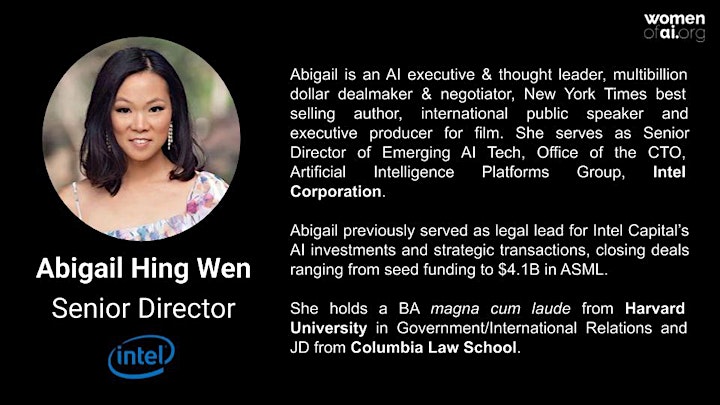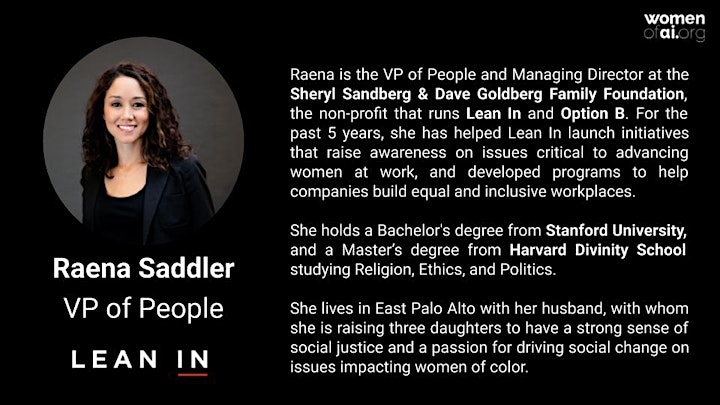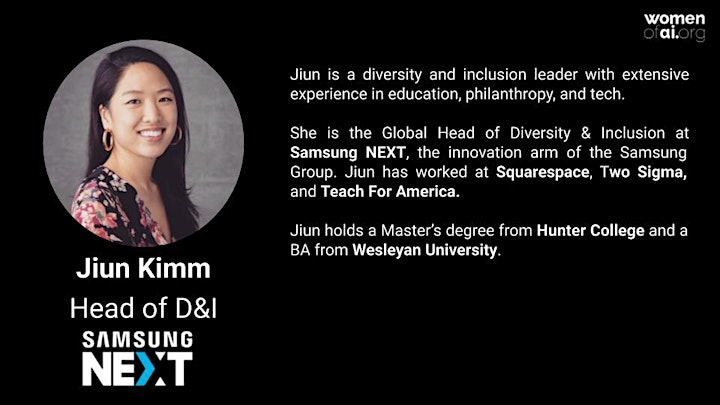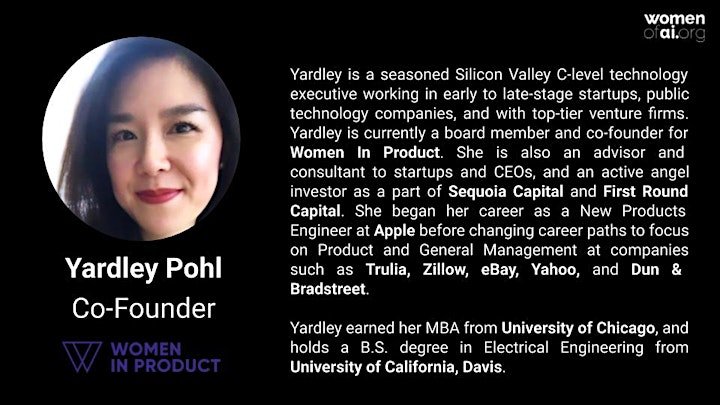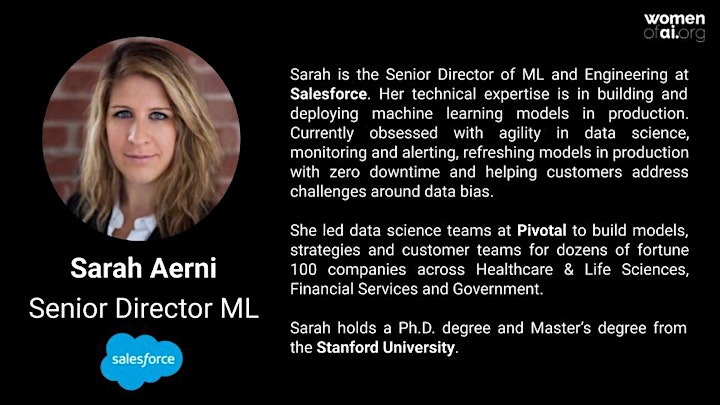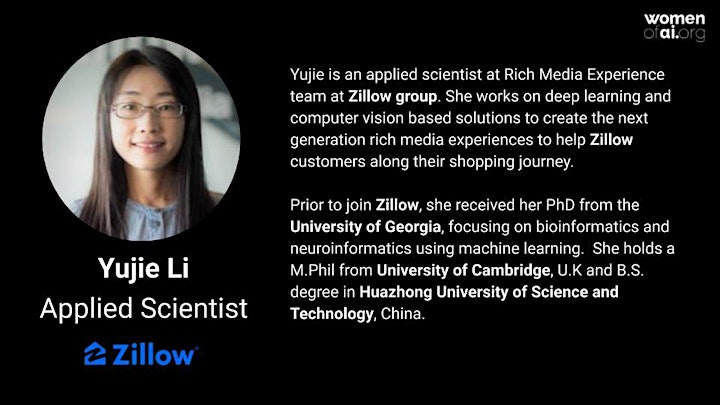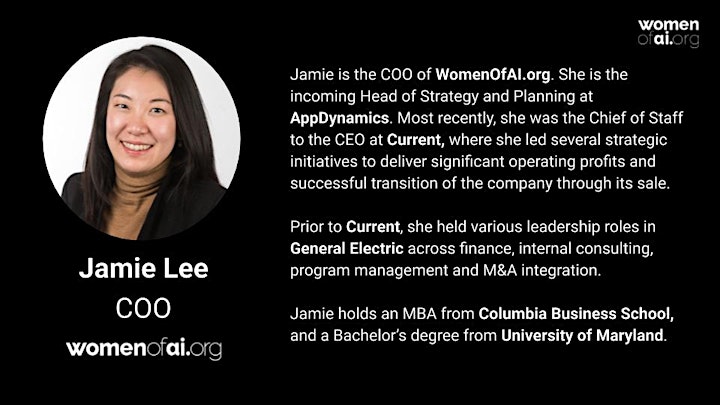 SUBMIT YOUR SPEAKER QUESTIONS
Submit your questions here to any of the speakers before the event!
DISCLAIMER
Personal Views.
Views expressed are the personal opinions of the individuals only.
Refund
No refunds, except in the event where the event is cancelled 24 hours in advance of start time. A written notification will be send out to registration list.
Modifications
Speakers, topics, schedule, banners and more may be modified at any time by the WomenOfAI.org team.
VIEWER GUIDELINES
Event will be hosted on Zoom Video Conferencing
Before the Event
Attendees will be emailed the Zoom URL to join the event after registering via automated Eventbrite email confirmation of registration.
Attendees are recommended to download the Zoom App on the device of their choice (iOS, Android, Mac, PC, etc.) before the event.
During the Event
Everyone will be muted to eliminate background noise.
Video On/Off is optional during the Q&A.
Submit questions in chat window during the Q&A.
Attendees will be broken out into automated, small groups of 4-6 for Virtual Networking.
Video On is recommended during Virtual Networking.
The event will be recorded.
After the Event
An event recording will be emailed out to the registrants.
ABOUT THE NONPROFIT
WomenOfAI.org is a global nonprofit providing technical and leadership programs for 10,000 members worldwide. Erica Lee founded this organization in 2018 at Apple Park after experiencing low diversity in her workforce.
Our mission of creating diversity and balance in AI. Our events focus on AI, leadership and diversity education reaching 2500+ people per year. Our newsletter reaches 100,000+ people per month.
Our 50+ sponsors & partners include Google, Amazon, Samsung NEXT, Microsoft, AAUW, Andreessen Horowitz, Stanford, Databricks, NVIDIA, Intuit, Forbes Cognitive World, TKS, LeanIn, Athena, Squareloot, UpChannels, Next Step Partners and more.
Our community drives us to continue our mission as we have impacted over 1000+ women in technology and have placed 50+ women in AI jobs since 2018. Our team is 100% volunteer-based and generous donors help fund our mission.
If you feel inspired by our mission, please consider making a 100% tax-deductible donation at womenofai.org/donate
Date and time
Location
Refund policy