Description
Career Advice You Can't Google
Whether they're spearheading key projects or managing teams, our panelists are engineering leaders making important product and team decisions every day. Join us to hear candid advice and tips on how to continue to progress in your career. How did our panelists transition into leadership positions? Were there pivotal moments that got them to that next step? Now that they're in leadership positions in engineering, what are some important lessons they've learned?
Panelists and attendees will get the opportunity to network after the discussion. Coffee and breakfast are on the house!

Panelists include:
Wendy Zenone - Senior Security Engineer, Netflix
Michelle Grover - VP of Engineering, SAP
Emma Utstrand - Engineering Manager, Anaplan
Nupur Goyal - Staff Software Engineer, Slack
Erica Johnson - Co-Founder and Head of Product, Modern Health
Agenda:
Breakfast & Networking 8:00 am-8:30 am
Panel + Q&A: 8:30 am-9:30 am
Free Time with Panelists and Attendees:9:30 am-10: 00 am
Attendees can submit specific questions for panelists upon registering.
Who is this event for? The session is intended to be of particular use for software engineers and web developers.
Meet our Panelists
Wendy Zenone, Senior Security Engineer, Netflix: Wendy is a Senior Security Engineer at Netflix. Her path to learning how to code went full speed when she was accepted and graduated from Hackbright Academy. Prior to Hackbright, Wendy worked in PR, Ads and Marketing at companies such as Facebook, Social Radius, and WhiteHat Security. Since graduating from Hackbright Academy, Wendy went on to work as an Application Security Engineer at Lending Club and then on to her current position, helping to secure the shows you love, at Netflix.
Michelle Grover, VP of Engineering, SAP: Michelle started in technology in 1995 as a Systems Support Engineer by accident. She was originally in college for Physics and Structural Engineering but during the summer she took on temporary work as the receptionist at AirTouch Paging (which became Verizon). At the end of her 90 days as a temp, she was offered a permanent position as a Systems Support Engineer. She started with TripIt in October 2014 and is responsible for the Tripit R&D Team which includes, mobile, platform and our datamapper (itinerary parser) team, the Concur Mobile Teams in Bellevue, Prague, Rot and Shanghai and Hipmunk R&D Team. She has been married for 24 years and has a 13-year-old son. In her spare time, she volunteers at several organizations that focus on getting more women and girls interested in Software Development and she sits on the board of Techtonica, a nonprofit that helps get women and nonbinary folks into the technology industry.
Emma Utstrand - Engineering Manager, Anaplan Soon after graduating from a Swedish university with a Bachelor in Computer Science, Emma moved to Bay Area where she started working as a software engineer at HP, contributing to projects in HPs cloud engineering space. When she joined Anaplan in August 2015, she became an early member of the security engineering team, focusing her efforts on Anaplan's nascent BYOK functionality and access control. After 2 years on the team, Emma put her coding skills on the shelf and switched roles into Program Management where she supported multiple teams to improve cross-team coordination and delivery. Most recently, Emma joined the engineering teams again as a manager. She has two young children that occupy most of her time outside the office.
Nupur Goyal - Staff Software Engineer, Slack: Since graduating from UC Berkeley with a degree in Electrical Engineering and Computer Science, Nupur has helped build products for millions of users by working at companies like eBay, Pandora Media, and Slack. Over time, she has gotten to work on projects such as expanding eBay globally and improving Pandora's revenue-generating ad business. In the process, she has led cross-functional project teams of engineering, product management, ad tech, and business systems. Besides working on business initiatives, she leads developer-driven initiatives to improve engineering cadence and best practices.
Erica Johnson - Co-Founder + Head of Product, Modern Health Erica is the technical co-founder of Modern Health, an emotional well-being platform for employers. Before starting a company and going through Y Combinator, Erica was a neuroscientist researcher and full-stack developer with over ten publications in peer-reviewed journals from her time in academia (Helen Wills Neurosciences Institute, UCSF, and Stanford School of Medicine). Her career for the past decade has been at the intersection of neuropsychology and technology, designing and building digital assessments and brain health tools. Erica has collaborated with Microsoft Research and the Gladstone Institutes to develop novel methods using virtual reality cognitive research and has also partnered with Salesforce and Apple to launch cognitive software across high tech and medical verticals.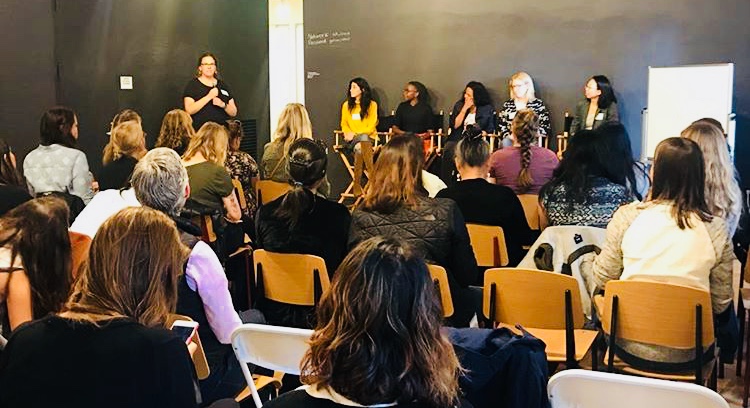 ---
About the Hosts:

ModelExpand: ModelExpand is a diversity recruiting strategy firm that helps great companies connect with great talent. The firm specializes in employer branding and talent acquisition. Learn more: https://www.modelexpand.com/
Location: