Description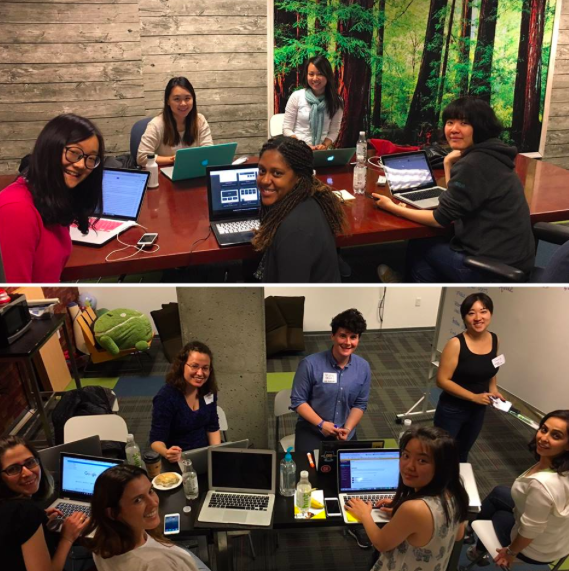 A one-day hackathon for women from experienced coders to total newbies. Note: No coding experience is required to participate in this hackathon, you just need passion



Only 20% of hackathon participants are women, similar in scope to the underrepresentation of women in computer science and other tech fields.
The Expat Woman has been addressing this gender gap by hosting these all-women hackathons for the last two years. Our talented participants with backgrounds in coding, design, entrepreneurship, business, product etc ranging in age from 15 to 65 have developed innovative websites, games, cloud-based services, and mobile apps to address various challenges.

"What an incredible day. Thanks to The Expat Woman team for all you did to pull it off - it was by far the BEST hackathon I've ever attended. So well-organized, and tons of talented, impressive women to connect with." - Ginny, Software Engineer and Sept. 2017 hackathon participant
Join us for our 5th WomenHack - The All-Women Hackathon on October 20, 2018.
Come with an idea, and form a team or join a team on-site and spend the day building a great project with enthusiastic, talented, fun people.
You do not need to have coding experience to participate We will have mentors at the hackathon who can assist you with your projects.
Registration | We have limited slots available, so please sign-up here. Your registration fee covers all meals (breakfast, lunch, and dinner)

Teams | Teams of 6 women will be formed Saturday morning.

Judges | Our judging panel is made up of industry influencers, educators, hackathon pros and civic leaders.

Bring |Your laptop, skills & ideas. Come with a collaborative, team-focused mindset and/or team-up in advance on Twitter/Facebook with #tewhack.
Food, fun, swag and prizes
HACKATHON CHALLENGES
Hackathon Challenge 1: Hack a solution that will help end the gender gap in tech, startup or venture capital

Hackathon Challenge 2: Hack a solution that ensures that women can be safe at the workplace, school or home, while traveling or out in the community

Hackathon Challenge 3: Hack a solution that empowers women to start and run a business, succeed in the workplace or become leaders in the community

Hackathon Challenge 4: Hack a solution that helps new immigrant or refugee women access resources and support and succeed in the US
Hackathon Challenge 5 : Design a crypto or blockchain business or solution
Join our Hackathon Event FB page for updates and to connect with other participants.
If you have coding/hackathon experience and are interested in volunteering as a mentor, please register here
For sponsorship, prizes or demo table inquiries, please e-mail us at info@theexpatwoman.com
We have four Winning Categories
1. Originality: How unique is your idea
2. Technical: Best use of code to create your product
3. Design: Best looking product
4. Business Model: Is there a viable business model attached to the idea
Agenda
9:00am- 10:30am Registration, breakfast, team & idea forming, and kickoff
10:30am - 12:30pm work on project
12:30 pm - lunch and continue working on project
6:00pm - 7:00 pm dinner and final project submission deadline
7:15 - 9:30pm - introductions, hackathon presentations and awards
If you are interested in participating as a panelist, speaker or mentor at our events, please apply here

Terms of Participation Agreement
You agree that you are responsible for any accidents or damages that you cause. You also agree to not hold The Expat Woman, or any of the event supporters liable for any loss, damage, injury, or any other unforeseeable incident.
You agree The Expat Woman, is not responsible for circumstances that may necessitate for substitutions or cancellations of speakers.

By Participating at the event, you grant The Expat Woman permission to capture photos/videos of the event.
By registering for this event, you also consent to receive email communication from The Expat Woman and its programs about events and updates that may interest you.
Tickets to this event are non-refundable. If you are unable to attend, you have the option of giving it to a friend or team member to attend in your place.