Description
Hi Friends! Your safety is our priority. WomenHack Raleigh/Durham will be held in an online format this time. If you have any questions, please email lisa@womenhack.com
This event is only for the top women Developers, Product Designer, Product Manager, Operations, Marketing, Sales professionals from the top companies in the tech industry and the community. Most who attend are currently employed but open to other opportunities.
AGENDA - VIRTUAL EVENT
6.30pm Reception Opens
7:00pm Welcome session and Sponsor Pitches - Stage Room
7:15pm Rapid Interviews - Networking Room
9:00pm Event Ends
WomenHack is a community that empowers women in tech through events, jobs, and reviews and aims at creating a more inclusive and diverse workplace for all. Our diversity recruiting events targets some of the most talented women in tech from respective local communities. We believe more diverse talent strengthens teams and creates companies that are capable of outperforming.
Our virtual events are designed just like our physical events. With a virtual event, you will be able to engage with candidates face-to-face on video for 5 minutes. We'll livestream the stage to get things started, followed by the opening of the speed-recruiting rooms and sponsored sessions.
The value of our events are the candidates, and we're confident we'll be able to deliver.
We invite you to join us in working towards the vision of equalizing the playing field in the tech industry while building mutually benefitting from an inclusive team.
BRING DIVERSITY, EQUALITY, AND INCLUSIVENESS INTO TECH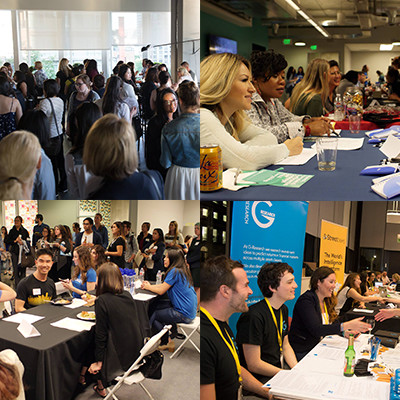 WHY ATTEND?
• Get the word out about your brand, technologies, and projects to the widest pool of candidates
• Build strong and diverse teams without sacrificing on quality and start the hiring relationship early
• Get in front of handpicked female technical talents and hire women who are amazing at their jobs
• Showcase your company's support and commitment to diversity hiring
• Connect with talents who registered individually through the provided list of contact details
WHAT YOU NEED TO KNOW ABOUT WOMENHACK EVENTS:
How do you ensure quality?
Our events are invite-only for candidates, so that ensures that almost everyone has a solid work history or background. Technical talents such as developers, designers, PMs, marketing, and sales professionals are invited according to their expertise.

Do you collect a recruiting fee?
We don't ever take a fee outside of the ticket price.

Can I hold a private event for my company only?
We have worked with multiple industry players to reach their diversity hiring goals internally. Email lisa@womenhack.com for more information regarding private events.
Event Sponsors:
Questions? Email us at lisa@womenhack.com
Date and Time
Refund Policy