Description
Women@Forbes and The Riveter present "How I Pitched This" - A conversation with Trina Spear and Sara Christensen.
Join us for a discussion about the road to funding. Sara Christensen, is a co-founding Partner of Per Capita Ventures, a private investment company focused on consumer-facing tech, products, and services. Trina Spear is Co-Founder and Co-CEO of FIGS, the medical apparel company that is disrupting the industry, selling directly to the consumer using a data-driven e-commerce platform and focus on fabric, fit and function that meet the unique demands of the medical profession.
Christina Vuleta, VP of Women @ Forbes, will moderate the conversation with Christensen and Spear, with a focus on what made the investment partnership click for both of them. How did they strike up a relationship? What was the pitch? What made it a match? What can rising founders and funders learn from their journey? The discussion will dig into what to expect when you are fundraising, what makes for a good pitch, and what to look for in a funder.
Special Co Hosts include:
If you are a Founder or a Funder, this event is for you! Converse and mingle with other like-minded women over pizza and wine at the beautiful new West LA location of The Riveter. Space is limited, so RSVP today!
Guest Parking & Arrival:
Main Entrance is in the alleyway off of Olympic Blvd between Barrington & Barry Ave. Guests can find parking at meters and free street parking in the area. Ride share & METRO always encouraged!
(Photo Credit: Uyen Cao for Forbes)




ABOUT THE SPEAKERS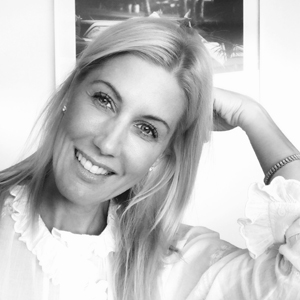 SARA CHRISTENSEN
Sara Christensen is a co-founding Partner of Per Capita Ventures, a private investment company focused on consumer-facing tech, products, and services.
Sara originally started her career in 1996 in Marketing, where she realized her love for studying consumer behavior and tracking trends while working in media as a liaison with the Institute of Future Studies & Gallup in Copenhagen, Denmark compiling presentations for Fortune 500 clients to better understand their consumers. In 2000, she moved to New York City and after 6 months in PR, joined forces with a local smoothie shop owner to help co-create the first artisinal pressed juice company, Liquieria. From 2000-2003, Liquiteria grew a cult following, was voted Best of New York by noted publications including New York Magazine and The Village Voice, was featured on numerous programs including the TODAY show and Martha Stewart's Living Program, and ten years later, was called "the pioneer" of the fresh juice craze by the New York Times.
In 2004, Sara took the leap from entrepreneur into the investor world; first working for Pilot Group (an NYC based investment fund founded by top executives from MTV, AOL, and Six Flags) where investments included companies such as Daily Candy (sold to Comcast), Ideal Byte (sold to Disney), and Thrillist. At Pilot Group, Sara served as Director of New Business as well as VP of Operations within the portfolio. In 2010, Sara moved to California to set up and run the west coast efforts for Raptor Group, a private investment firm backed by the family office of Jim Pallotta (Owner A/S Roma, Co-owner Celtics, former Vice Chair Tudor Investment Corp). While at Raptor Group, Sara worked across tech, consumer, sports and media investments. The portfolio included companies such as: AirBnB, Uber, Spotify, FNATICS, Blue Bottle Coffee, Artsy, UNREAL candy, JUST, BeautyCon, Spartan Race and over 100 more. Sara served as Managing Director of Raptor Group until 2017.
Based in LA, Sara is a graduate of Bucknell University. She continues to be an active angel investor focused on seed and early-stage companies and dedicates her time to advising and mentoring women founded and run businesses. Some of her investments include FIGS, Girlboss, Pop&Suki, Harper & Wilde, Dirty Lemon, and more.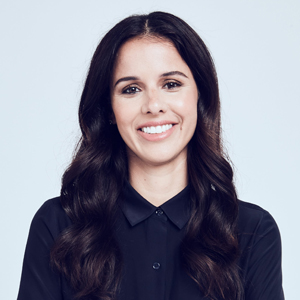 TRINA SPEAR
Trina Spear is Co-Founder and Co-CEO of FIGS. FIGS is revolutionizing the $60 billion antiquated, highly fragmented medical apparel industry by creating the highest quality medical apparel in the world. FIGS is the first medical apparel company to sell directly to the consumer through its thoughtful, data-driven e-commerce platform that utilizes predictive analytics, a streamlined UI / UX experience and lifestyle-driven imagery. FIGS' foundation is built on product quality and innovation, with a relentless focus on fabric, fit and function. FIGS developed its proprietary, performance-oriented fabric technology to meet the unique demands of the medical profession. FIGS' Technical Collection fabric is antimicrobial, wrinkle resistant, stain and liquid repellent, moisture wicking, odor proof, lightweight, breathable and offers four-way stretch. By offering a branded and customer-centric digital shopping experience, FIGS is changing how medical professionals think about and purchase their workwear. FIGS' Threads for Threads initiative is central to the mission and has donated over 500,000 sets of scrubs to healthcare providers in need in over 35 countries around the world.
FIGS has raised $75 million from investors, including most recently $65 million from Tulco (the fourth-largest raise for a female-founded company in 2017), and previously $10 million from Irving Place Capital, Mohr Davidow Ventures, Will Smith and others. FIGS was recognized as Best for the World B-Corp in 2015. FIGS was ranked as Number 21 on Inc. Magazine's Inc. 5000 ranking of the nation's fastest-growing companies in 2018, experiencing a 9,948% growth rate over the prior three years.
Prior to launching FIGS, Trina Spear worked at The Blackstone Group. Trina was selected as an Endeavor Entrepreneur in 2015. She won the Ernst and Young Entrepreneur of the Year Award for the Greater Los Angeles Region in 2018. She was recognized as one of the 100 Most Intriguing Entrepreneurs by Goldman Sachs' Builders and Innovators Summit in 2018. She is a member of the 2018 Class of Henry Crown Fellows within the Aspen Global Leadership Network at the Aspen Institute. Trina received her B.A. in Economics from Tufts University, graduating magna cum laude. She completed her MBA at Harvard Business School.
SPECIAL THANKS TO OUR SPONSORS: