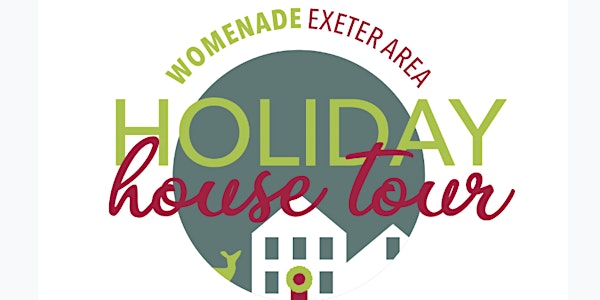 Womenade Exeter Area Holiday House Tour
When and where
Location
Folsom Tavern - American Independence Museum 164 Water Street Exeter, NH 03833
Description
6th annual Exeter Area Holiday House Tour to benefit Womenade of Greater Squamscott
Sunday, December 8, 2019 from 12pm-4pm
More than five years ago, a tradition was dreamed up by a small, talented group of designers and homeowners - to create a beautiful showcase of holiday spirit in the Exeter area, and at the same time, to fund a long-standing desire to help neighbors in need.
We are pleased to announce the 6th annual Exeter Area Holiday House Tour. Enjoy touring beautiful Exeter area homes expertly decorated for the holiday season. All proceeds benefit Womenade of Greater Squamscott, a local non-profit serving NH Seacoast area residents facing short-term financial set backs when no other resources are available.
Don't delay! Ticket sales will be limited to the first 700 guests and can only be purchased through this Eventbrite page. The $30 ticket price is effective through October 31st, then increases to $35 on November 1st. Once you have purchased your tickets online, your ticket/program and map need to be picked up on Sunday, December 8th from 9am-2pm within the Folsom Tavern at the American Independence Museum, located at 164 Water St, Exeter, NH 03833.
Your ticket purchase includes a reusable bag which can be used to carry your shoes or boots while you tour the homes in your stocking feet. Festive socks or cozy slippers are encouraged! We will also have shoe covers, or 'booties,' available to those who are unable to tour the homes without shoes.
Parking, Accessibility, and other important information:
Some of the homes on the tour are located on highly travelled streets. Please park on the side of the road and use sidewalks when possible.
There is little to no wheelchair accessibility available. Please be advised that guests with mobility issues should use extreme caution.
While we cannot forecast the weather conditions, we will do our best to clear walkways if there should be snow or ice. Please use caution as you travel sidewalks, driveways, and walkways.
We regret that there are no public restrooms on the tour. However, there is a public restroom located in downtown Exeter at the Town Hall.
Because ticket sales are limited this year, we encourage you to purchase your tickets in advance. There is no , guarantee that there will be tickets available for sale the day of the tour.