WOMEN YOU THOUGHT YOU KNEW: A TRILOGY #2 SILK STOCKINGS AND A BIBLE
Description
AFTER A SUCCESSFUL SOLD OUT PERFORMANCE OF PLAY #1 TITLED "THE GRINDER" WE'RE BACK WITH PLAY #2!
*******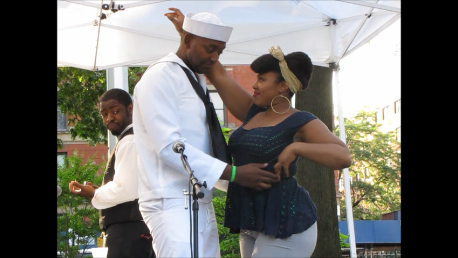 THE SECOND PLAY IN THE TRILOGY "WOMEN YOU THOUGHT YOU KNEW", ABOUT WOMEN PERCEIVED AS SOCIETY'S SO-CALLED "BAD GIRLS", IS SET IN HARLEM AND ATLANTIC CITY, AND TELLS THE TALE OF FORMER CHORUS GIRL FANNIE MAE BROWN, STAGE NAME "DELLA STARR", AND THE HANDSOME SAILOR WHO STOLE HER HEART. DOES SHE REGRET HER SPICY PAST OR THE AUSTERE PRESENT? A FLASHBACK TO THE GOLEN AGE OF THE SWING ERA WILL HELP YOU DECIDE...
A NIGHT OF SASS N' CLASS AWAITS! NO JIVIN'!
TAKE THE JOURNEY BACK TO 1944-45 DURING A TUMULTUOUS, YET CELEBRATORY TIME IN HISTORY
WRITTEN, DIRECTED, PRODUCED BY
STEPHANIE LYNN WILSON
CO-PRODUCER
BILL RUSSO
STARRING
KRYSTAL HILL AS CHORUS GIRL "FANNIE MAE BROWN"
STACEY GRIFFIN AS THE SAILOR "JOSEPH CHARLES"
MICHELLE ROBINSON AS CHORUS GIRL "DORIS LASALLE"
CHUK OBASI AS BARTENDER/MUSCIAN "BUDDY"
EREN T. GIBSON AS EX-CHORUS GIRL "SASSY"
AND
SANTI RODRIGUEZ AS WISEGUY/IMPRESARIO "SAMMY G."
$25 in advance/$30 at door
~~~~~~~~~~
Mature subject/Strong language
A scene from this play was chosen and performed at the 2014 Harlem Arts Festival
The FREE staged reading of the third play in the trilogy "Wild Child" August 2, 2014
Follow @trilogyofwomen on Twitter
WILSON EXCLUSIVE TALENT PRODUCTIONS IS FISCALLY SPONSORED BY MEGA NATIONAL ARTS ORGANIZATION FRACTURED ATLAS