Event Information
Location
Dio Wine Bar
904 H Street Northeast
Washington, DC 20002
Bringing women artisans, bosses, and experts together over women-made beverages in a woman-owned space!
About this event
On the 3rd Wednesday of each month (Dec 18, Jan 15 etc…) we celebrate the female owners, makers, and bosses in wine and beyond. Enjoy a special women-driven menu of wines by the glass and cocktails set to an all lady-music playlist. Being a woman-owned and operated space, we're excited to welcome lady chefs, artisans, and small business owners to share their skills and sell their wares.
Our theme for December is cozy! We'll get toasty, sip coffee cocktails, don our socks and slippers, and curl up with a book. Check out who will be in the space in December:
Nomad Dumplings Pop Up - taking over the kitchen and serving dumpling boards and Hunan dishes. Also selling dumpling bags for you to take home. (FOOD AVAILABLE ALL NIGHT)
Cosmo Castle - jewelry and crystals
Southeastern Roastery - coffee
Culture Socks - dc-made socks
Libros Con Coffee and Duende District - pairing up to host their first book club at Dio. The book for this meeting is Jennine Capo Crucet's 'My Time Among the Whites'. Dio also hosts a permanent bookstore with Duende District where you can pick up other thought-provoking or fun reads from women of color authors.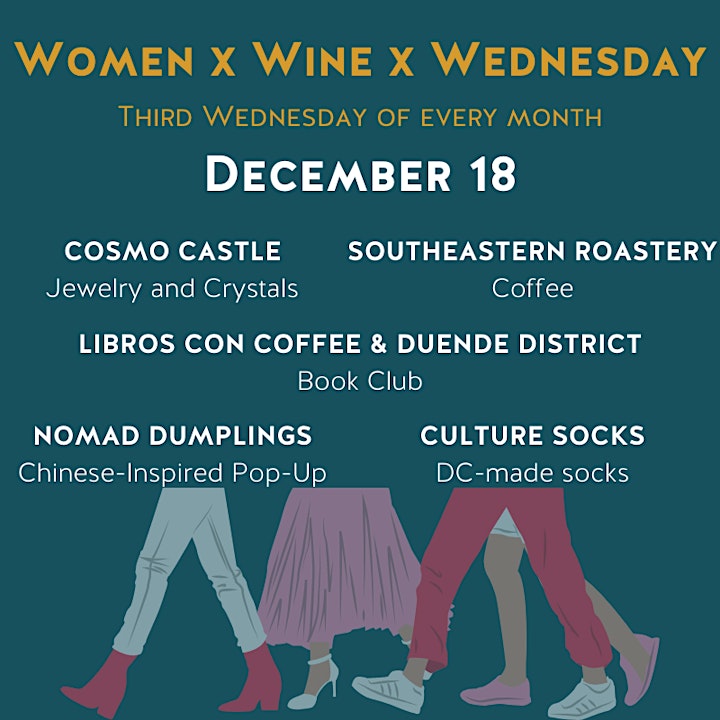 Date and time
Location
Dio Wine Bar
904 H Street Northeast
Washington, DC 20002