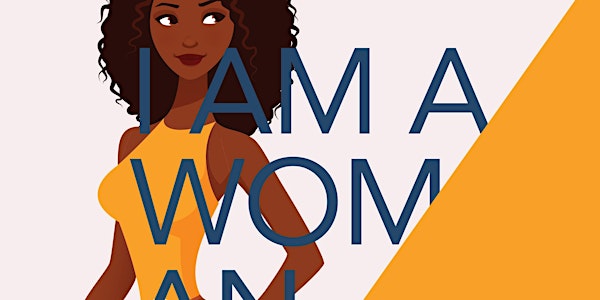 Women With Purpose: Professional Development Seminars
When and where
Location
Suffolk University 120 Tremont Street 4th Floor Boston, MA 02108
Refund Policy
Contact the organizer to request a refund.
Description
Update! The event is now SOLD OUT! Many thanks to all of you who booked early were extremely excited and looking forward to meeting you all!
If you didn't get a ticket- please be sure to purchase tickets for our April event! Tickets are now available!
Enter: 'Women With Purpose: Professional Development Seminars- April 2016' in the Eventbrite search bar!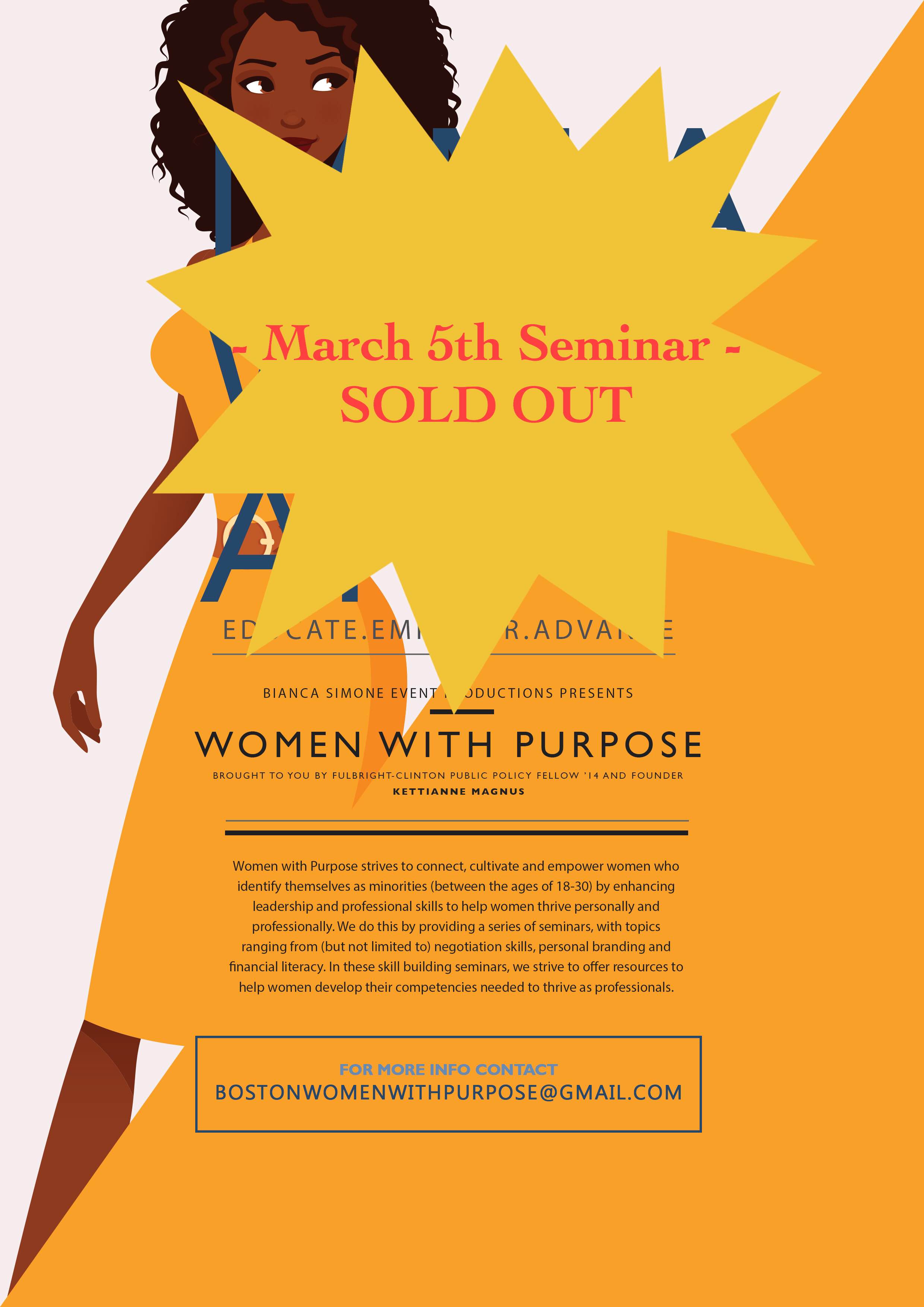 We're Back!
Join us for the 2nd Season of Women With Purpose: Professional Development Seminars- Sponsored by the Moakley Center for Public Management at Suffolk University!
Come meet, network and learn from some of Boston's leading and established women as they share their insights, advice and tactics on how to overcome some of the more frustrating professional challenges facing women of color!

Mission:
Women with Purpose strives to connect, cultivate and empower women who identify themselves as minorities by enhancing professional and leadership skills to help women thrive personally and professionally. We do this by providing a series of seminars, with topics ranging from (but not limited to) negotiation skills, personal branding and financial literacy. Our goal is to empower our participants to achieve their greatest potential by providing unparalleled opportunities for professional development and skill building.
Objectives:
Advance women of color in the workforce
Build and generate social and human capital
Connect women with one another from the urban Boston community
*Tickets will NOT be sold at the door.
Saturday- March 5th, 2016 [9am -1pm]:
Ever wondered what it takes to be an entrepreneur? How many female entrepreneurs AND women of color- have you met here in the city of Boston? Do you have entrepreneurial aspriations? Blog - business- brick and motor ? Have an idea and want to start your business plan? We welcome you to come join this session to hear from our speakers!
Session A- will feature two entrepreneurs, who will share their experiences as to how they got to where they are now! They will also lead a group brainstorm to come up with YOUR very own business idea:
Melissa James, Chief Executive Officer of Tech Connection: "Infusing Diversity into Your Business" and Founder of The Black Tech Boston Meetup!
Pam Griffin, co-owner and co-founder of Framingham-based Chocolate Therapy - creators of award-winning, artisanal truffles and more that indulge your senses, treat your body and soothe your soul. She's been featured in both Ebony and Color Magazines.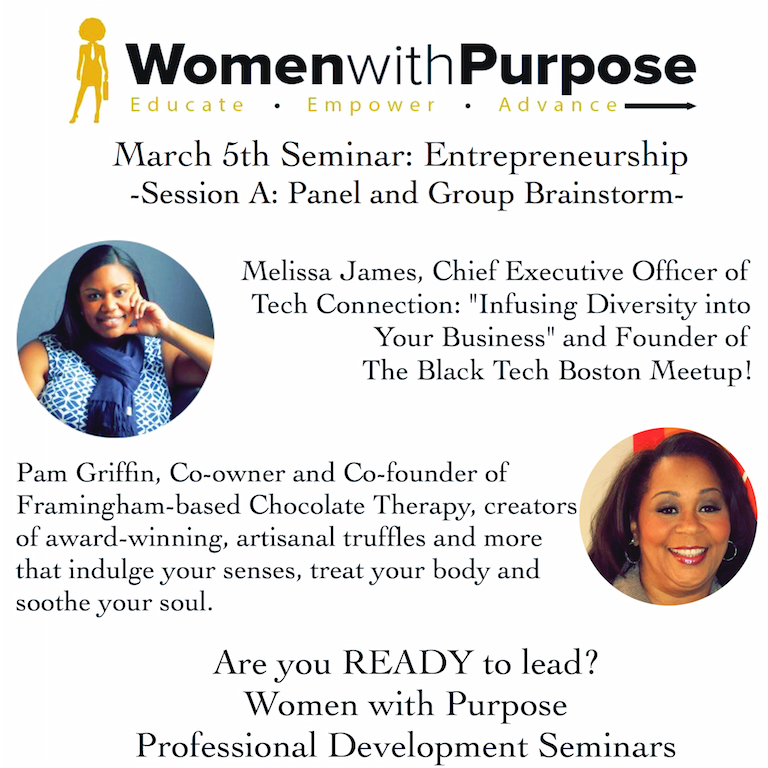 Session B- will feature a dynamic duo who will present on business plans and legal matters. Have a business idea but don't know where to start? These women will walk us through the business planning process and show us what legal issues to consider when forming a business:
Sankeetha Selvarajah, Managing and Principal Attorney of Selvarajah Law P.C - who will share top legal issues to consider when forming your business!
Tricia Young Shaw, founder and principal of TLE consulting, will come talk about putting together your business plan! Have one? Always meant to get to it? Have NO idea where to start? This is the place to be!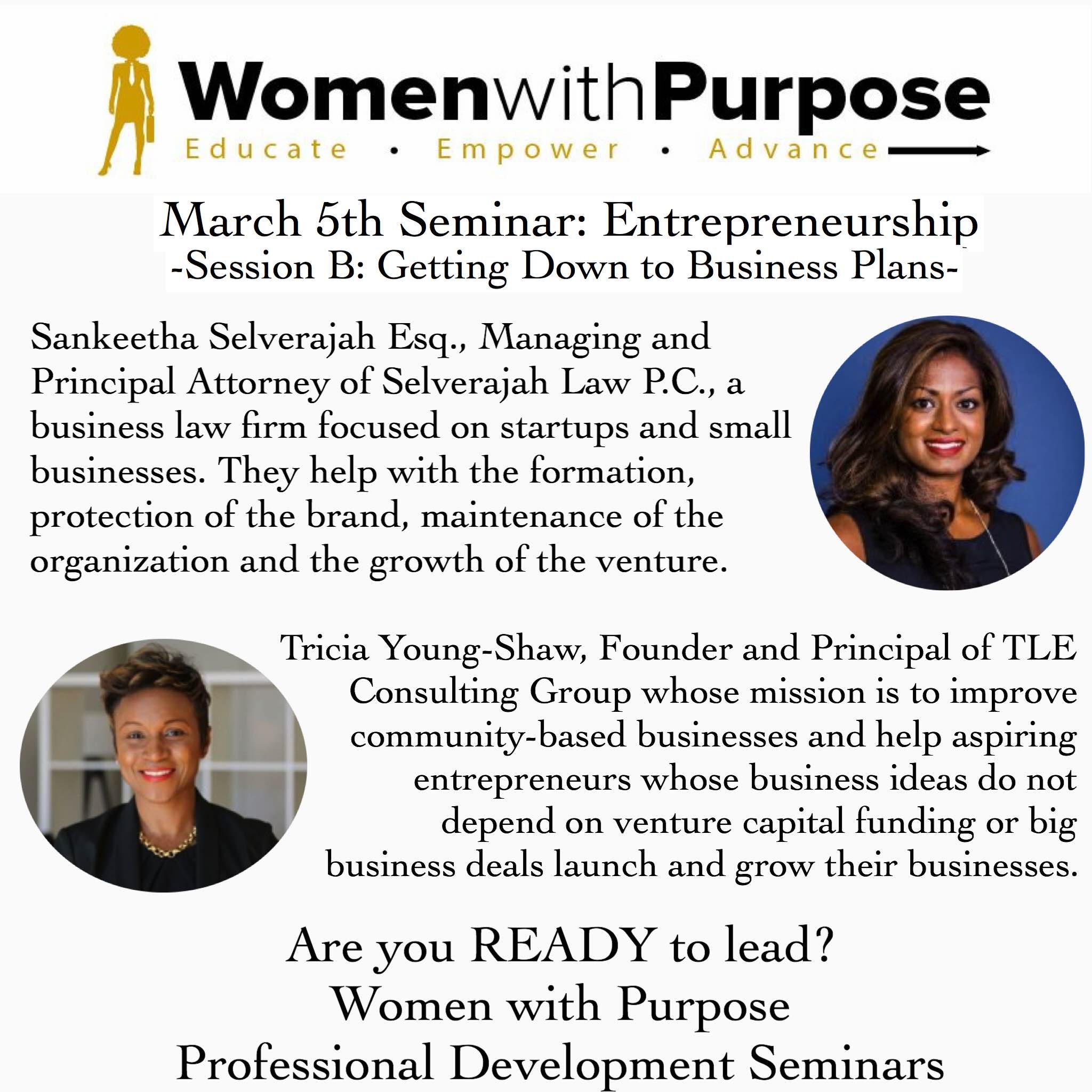 Dates and Seminar Breakdown:
Our three-part series will take place on the first Saturday of the month, for 3 consecutive months this spring:
- Saturday, March 5th, 2016

- Saturday, April 2nd, 2016

- Saturday, May 7th, 2016
Each seminar will follow the following breakdown:
9- 9:15 am: Registration
9:15-11 am: Session A
11-11:30 am: Networking
11:30-1 pm: Session B
Saturday- April 2nd , 2016 [9am- 1pm] :
Leadership & Financial Management -
A) Leadership: What it looks like and how to get there.
Featuring:
Lora McCray- Assistant Vice President for Diversity & Inclusion for the Federal Reserve Bank of Boston
Su Joun- Vice President, Talent, Engagement, Diversity & Inclusion of Blue Cross Blue Shield of Massachusetts
B) BACK BY POPULAR DEMAND Financial Management and Financial Literacy through Home-ownership II (Budgeting, tackling debt, credit score, wealth accumulation).
Featuring:
Chenae White of NEPC and Denisha McDonald of Urban Money Matters - a group created for Boston's urban communities with the purpose of educating its people about all things "money."
Saturday- May 7th, 2016 [9am- 1pm] :
Personal Branding & Career Speed Dating
A) Personal Branding.

B) Career Speed Dating : (entrepreneurship/tech/business/law) featuring numerous successful women from various professional sectors!
Sponsored by the Moakley Center for Public Management at Suffolk University!

----------------
Want to know more about WWP Seminars?
Here's a peek into our program last year: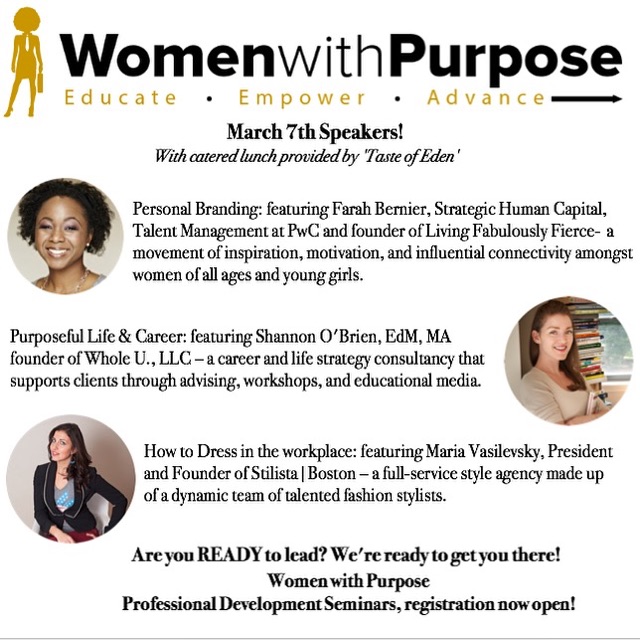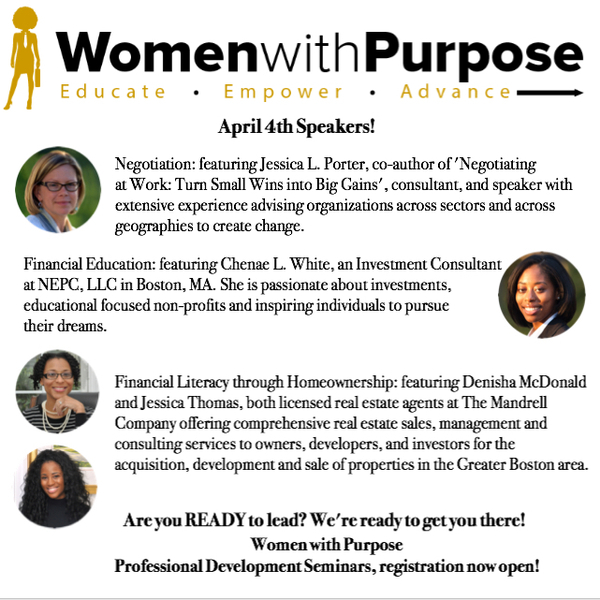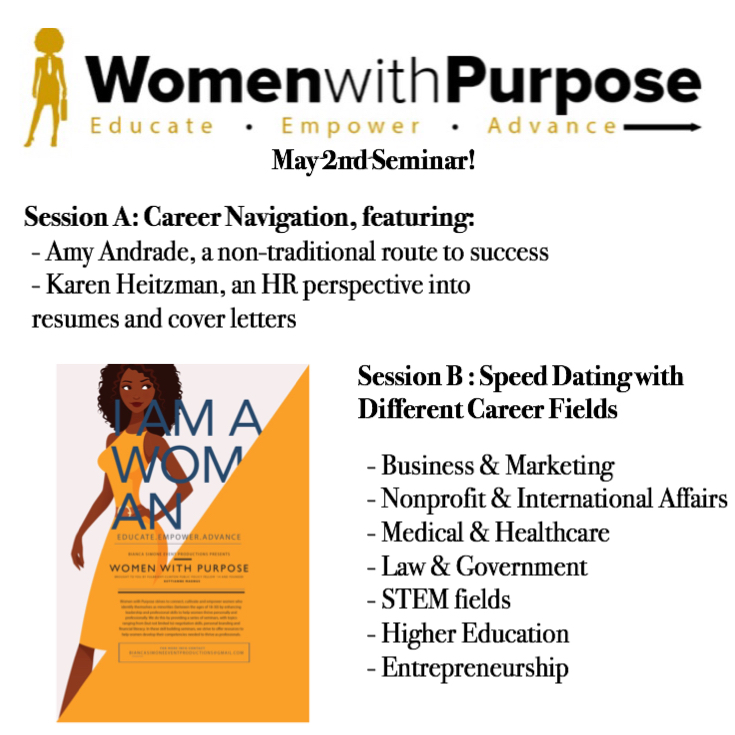 Women with Purpose wants you to achieve YOUR greatest potential...
Can't attend the seminars but still engaged in our mission?! Check out our Crowdfunding Campaign!