About this Event
Come celebrate with us!
Garra is hosting its annual Women With Garra Awards, which seeks to honor fierce Brazilian immigrant women who, through resilience and grit (garra), have redefined success for themselves and are laying the groundwork for our community's success in New York City.
Please join us in awarding:
Mila Burns, journalist at Globo International and professor of Latin American Studies at Lehman College;
Isadora Varejão, founder of the nonprofit W.A.V.E. Experiment, which educates the community about gender-based violence using interactive tools like theater of the oppressed methodology;
Flávia Barbosa, co-founder of Kilomba Collective, the first collective of Black Brazilian immigrant women in the U.S; and
Juliana de Andrade Silva, nurse at Elmhurst Hospital, one of the health institutions at the forefront of the COVID-19 pandemic in Queens, NY.
In addition, this year's Women With Garra graciously shared their stories with us and we memorialized them in a book, so we can remember the drive that is alive in our community and in all of us, even in moments of fear. If you donate $15 or more here, we will send you an online copy of the Women With Garra 2020 book as a thank you gift. But act now, as the threshold for the gift will increase to a minimum $20 donation on November 1.
All proceeds will go to support Garra's work with Brazilian immigrant women and girls. Garra is a 501(c)(3) non profit and all donations are tax deductible to the fullest extent allowable by law.
Every single dime, up to $5,000, that is raised by this fundraiser WILL BE MATCHED by our incredible supporters, the Sparkplug Foundation. So please share with your friends on Facebook and Instagram, and invite them to come to our event or donate towards it.
Garra's event will also feature the photographic exhibit "The Power in You," a project created by Brazilian photographer Luiza Tojer. This powerful exhibit aims to shed light on gender-based violence from an unique perspective. Further, it underscores the importance of genuinely listening to survivors to understand and address their needs. Don't miss this unique artistic expression of grit (garra).
7:00 PM - Networking reception
7:15 PM - Program begins
8:15 PM - Networking reception
*Click on the button that says "Details" for tickets and sponsorship opportunities
EVENT SPONSORS:
Luiza Tojer
HOST COMMITTEE:
Aline Estefam
Daniele Andrade
Danielly Ortiz
Livia Paula
Luiza Tojer
Nathalia Narciso
ORGANIZATIONAL SPONSORS:
Council member Jimmy Van Bramer
Sparkplug Foundation
Catholic Campaign for Human Development
The New York Women's Foundation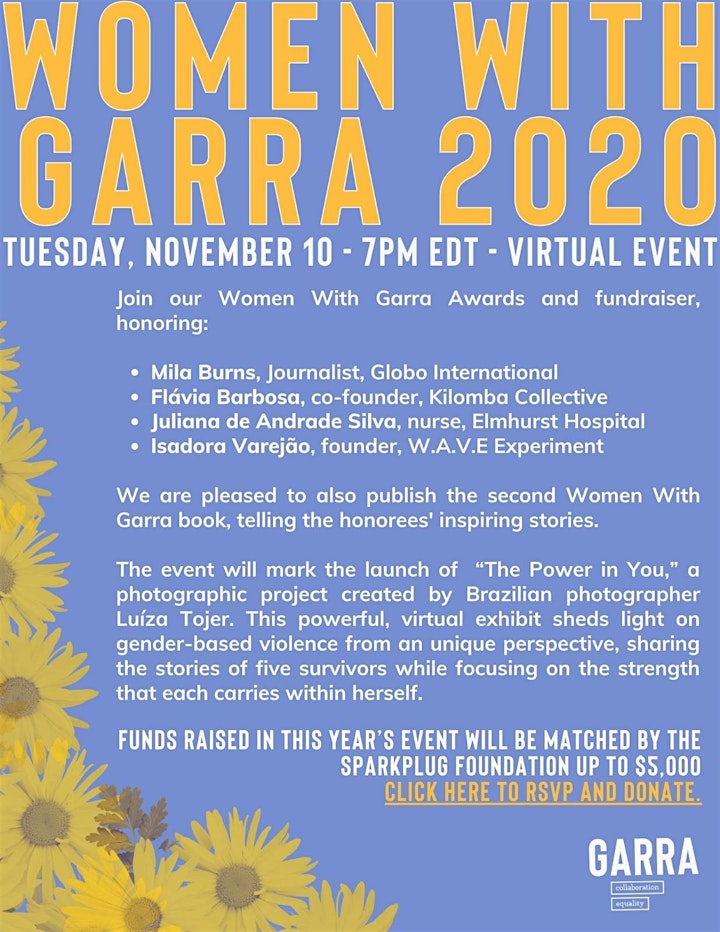 Date and Time
Location
Refund Policy