Description
CREATE A WEBPAGE, ENJOY WINE & NETWORK WITH CLEVELAND WOMEN: INTRODUCTORY HTML & CSS WORKSHOP
***1/24 update: We are super pumped about all the interest in this event and have now reached full capacity. Grab a waitlist ticket and we'll let you know if a spot opens up before Feb. 7. And be on the lookout for more WW&WD workshops coming soon!***
Join us for a beginner workshop to learn the fundamental tools of front-end development (HTML & CSS) and build your very own web page! By the end of the session each attendee will have created an "About me" webpage to call your own.
Instructor: Nicole Capuana, full-stack software designer, passionate about making technology more accessible, inclusive and diverse.
Sponsored

by OEC, e-Commerce technology leader for OEM distribution networks and Tech Elevator, Cleveland's 14 week coding bootcamp and career network.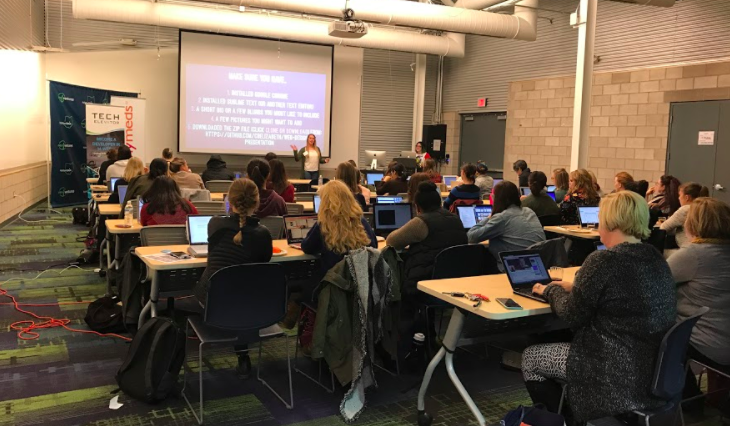 WORKSHOP DETAILS
Doors open at 5p. Come early to get set up and enjoy light bites and wine. Workshop begins at 6p.
[INTRO]
Introduction of coding concepts and fundamentals using Mozilla X-Ray Goggles.
[PLANNING]
Planning Your Page: create a structure for your 'About Me' page
Before you build, it's important to know what you want to build and how your elements relate. We'll work together to build individual plans for your personal page.
[BUILD]
We'll use Thimble as a framework for building your page allowing you to see your creation as you go. You'll be implementing basic coding principles and lightly styling your page to get it the look and feel you desire.
BEFORE THE WORKSHOP
Create an account at https://thimble.mozilla.org/en-US

Install the Mozilla X-ray Goggles to your Chrome bookmark bar (instructions and Goggles here: https://goggles.mozilla.org/)

Make sure you have Chrome installed on your computer

Gather your prep materials (see below!) together in a folder so it's easy to get what you need during the activities

Come with an open mind to learn
PREP MATERIALS
Headshot/photo of yourself (small file size to help upload time - 800px wide)
6+ images you'd like to include on the webpage (again, small file size or if the images are online, bring the links to them. If you are using an image you have on your Facebook account, you may have to change your privacy settings or make sure to download a copy of the photo to your computer)
An introductory paragraph or two
Anything else you'd like to include on the page (resume/portfolio information, interests, etc.); extras are always great!
A laptop with Google Chrome

installed.
OTHER NOTABLE DETAILS
Roaming mentors: we'll have expert programmers roaming the floor during the workshop to answer specific questions

We'll have wine and light snacks to help fuel the creative process

Invite your girlfriends and have a fun night out!