Description
UPDATE: Due to high interest, this event is FULL but feel free to grab a waitlist ticket which will notify you if a spot opens up. Thank you!
---
CREATE A WEBPAGE, ENJOY WINE & NETWORK WITH COLUMBUS WOMEN: INTRODUCTORY HTML & CSS WORKSHOP
IT'S BACK! After 200+ women attended our 2017 Women + Wine workshops, we're offering another chance to learn core web design concepts and spend a night with the gals.
Learn the fundamental tools of front-end development (HTML & CSS) and build your very own web page. By the end of the session each attendee will have created an "About me" webpage to call their own.
Instructor: Elizabeth Blackburn, a web developer for The Wendy's Company who loves complicated board games, organized chaos, solving problems for fun, do-it-yourself culture, and talking to women about STEM.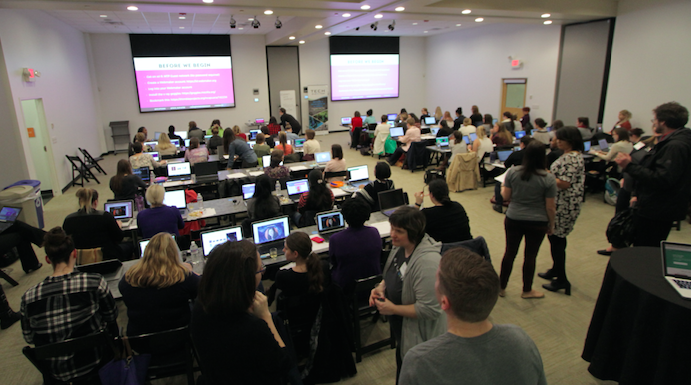 100+ women from a variety of industries attend Women, Wine & Web Design in February 2017.
WORKSHOP DETAILS
Doors open at 5p. Come early to get set up and enjoy light bites and wine. Workshop begins at 6p.
[INTRO]
Introduction of coding concepts and fundamentals using Chrome Dev tools.
[BUILD]
We'll use Thimble as a framework for building your page allowing you to see your creation as you go. You'll be implementing basic coding principles and lightly styling your page to get it the look and feel you desire.
BEFORE THE WORKSHOP
Install Sublime Text 3 (https://www.sublimetext.com/3)


Make sure you have Chrome installed on your computer

Gather your prep materials (see below!) together in a folder so it's easy to get what you need during the activities

Come with an open mind to learn
PREP MATERIALS
Headshot/photo of yourself (small file size to help upload time - 800px wide)

A few images you'd like to include on the webpage (again, small file size or if the images are online, bring the links to them. If you are using an image you have on your Facebook account, you may have to change your privacy settings or make sure to download a copy of the photo to your computer)

An introductory paragraph or two

Anything else you'd like to include on the page (resume/portfolio information, interests, etc.); extras are always great!

A Windows laptop or Macbook with Google Chrome installed.
OTHER NOTABLE DETAILS
Roaming mentors: we'll have expert programmers roaming the floor during the workshop to answer specific questions

We'll have wine and light snacks to help fuel the creative process

Invite your girlfriends and have a fun night out!