Event Information
Refund policy
Refunds up to 30 days before event
Eventbrite's fee is nonrefundable.
PROACTIVE DIVERSITY HACKS. How to address diversity challenges with grace and strength.
About this event
Agenda
Each of the Women Willpower panel series include a compelling conversation among experts followed by an opportunity to network and connect.
TUESDAYS | 11:30AM TO 1PM
10.26 - Don't Wing It - Have A Plan
11.16 - Own Your Seat At The Table
11.30 - Handshakes For Business Growth
12.07 - Proactive Diversity Hacks
What Makes Our Programs Unique and Valuable? ​
WWP speakers represent a diverse group of business owners, entrepreneurs and leaders whose knowledge and experience cross a wide array of sectors, industries and roles.
What do the Speakers have in common?
All speakers have the crucial ability to pivot and adjust in turbulent times to build successful careers, businesses and movements. They have recognized when waves of innovation and disruption offer opportunities for discovery & growth. They have created new ways of doing business, of leading and have brought deep value to their stakeholders and communities.
What Is The "We Will Power" Campaign About?
Women Willpower is committed to elevating the voices of women, non-binary genders and BIPOC who embrace inclusivity and who understand that the core principals of an ESG business framework (Environmental Social and Governance) deliver big impact to the bottom line for business growth.
Virtual Event Details | Presentation and Q&A
You will receive an email 24 hours before the event with the Zoom meeting link and ID needed to join.
Ticket sales will end two hours prior to the event's start time. Non-members rate will increase 24 hours before the event.
Meet the Speakers:
Angeline May
Founder of OnMarket Solutions and TEDxWestChester
Christine Martey Ochola, PhD
Founder of Avo Global Ltd and Nuele Haircare
Jackie Freedman
Founder of Delta V Strategies
Judy Setting
Founder of Rising From Falling and Setting Properties
Angeline May
Angeline May is president of OnMarket Solutions where she works with executives and business leaders on strategic planning, marketing strategy and thought leadership development. Angeline helps clients build strong businesses, strong partnerships and strong client relationships. In 2017, she founded Women Willpower, a business development community where women support each other in their efforts to build businesses, grow as leaders and leverage impact investing. Angeline is also a co-founder of the Uptown Knauer Performing Arts Center and the West Chester chapter of TEDx, where she's been running events and coaching speakers since 2013. She is a a long standing member of the Board of Directors of the American Marketing Association, where she leads a Small Business Taskforce studying the needs and challenges facing Philadelphia's marketers.
Christine Martey Ochola, PhD
Dr. Christine Martey-Ochola is a serial entrepreneur and is the co-founder of Avo Global Ltd, an engineering, education, and public health management consulting firm. She is also co-founder of Nuele, a natural hair care company based in Pennsylvania. Dr. Martey-Ochola is keen on economic community development and received an award from the White House as a champion of change due to her work with diaspora communities in the United States on matters of economic empowerment. She has had a successful career as an academic consultant and biochemistry professor where she ran cancer research on targeted chemotherapeutic delivery. Learn more about Christine Martey Ochola and Nuele Hair Care.
Judy Setting
After spending almost a decade navigating a life-threatening illness, Judy Setting (BSN, RN*, CCRA, CTI Coach) emerged with a newfound passion to share the lessons from her journey. As the founder of Rising from Falling, she supports her clients on their journeys to traverse challenges and unveil what's truly possible for them – both personally and professionally.
Judy received her Bachelor of Science in Nursing from the University of Delaware, eventually leaving nursing to form her own company, Next Phase Research, where she consulted with companies on clinical trials. Today, Judy also serves as Senior Vice-President for her family company, Setting Properties, Inc. and is a member of Delaware's Lyme Disease Education Oversight Board. Judy lives in Delaware with her beloved husband, Joseph, and son, Jay.
Jackie Freedman
Jackie Freedman is an author, speaker and leadership consultant who provides the insights and perspectives that enable people to lead from their truest, confident selves. As the owner of Delta-V Strategies, Jackie works with business owners and leadership teams, equipping them with the knowledge and skills they need to successfully navigate growth. She is the author of the award-winning book Updraft: The Aerodynamics of Great Leadership and has worked with a wide variety of organizations including Merck & Co., J.P. Morgan, ShopRite and Crispy Green. Jackie has been a guest on radio stations across the country and on podcasts internationally. She earned her Master's degree in Business from Rutgers Business School and her Bachelor's degree from Tufts University.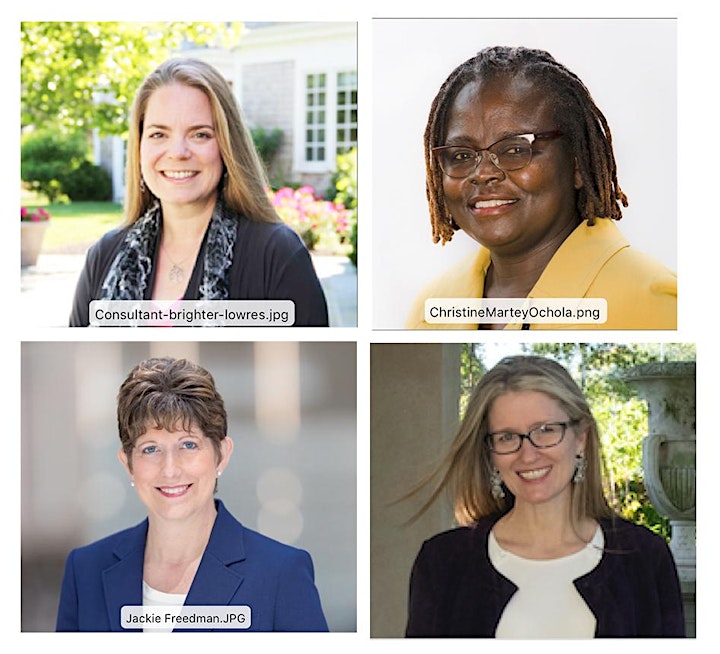 Date and time
Location
Refund policy
Refunds up to 30 days before event
Eventbrite's fee is nonrefundable.
Organizer of Women Willpower Fall Panel Series - Proactive Diversity Hacks
Women Willpower is an alliance of women helping women thrive. It is a space to cultivate our individual and collective willpower, to grow our small businesses, to develop as leaders and to culitvate our willpower (our drive to surmount barriers!) Through small groups our goal is to support and elevate, to learn from and to lean on each other, in pursuit of our goals through engagements, exchanges and conversations.