Description
The application process takes about 20-30 minutes on average. There will be some general questions about yourself, employment details and 2 short essay questions to help us to get to know you better!
For more information on how to get your Alumni ID, please refer to the "Who can Participate and How" section.
What Is Thrive?
Thrive is a Monash Business Almuni Chapter (MMBAC) initiative, designed to disseminate soft and hard skills in workshops format.
Thrive targets the way you create, develop and transform yourself, enabling you to pick up a new perspective of looking at yourself and the world around you. Aditionally, the programme aims to help you pick up new skills, craft and mastery.
When Is It Held?
The Women Who Thrive series is divided into a 3-part workshop format with each conducted on a Saturday, as follows:
1. 29 July 2017
2. 26 August 2017
3. 30 September 2017
What To Expect From Women Who Thrive Series?
Our first workshop, Women Who Thrive (WWT): Defining Success, aims to help 30 selected women create a personal mission statement and definition of success that is tailored to their lives. The subsequent workshops address health & wellness, branding yourself and contributing to the society to help you achieve your definition of success and your personal mission.
Our workshops includes a mentorship program and 3 exclusive, 8-hour (9am - 5pm) workshops. Each workshop has curated content and a mentorship program aimed at helping young working women make purposeful life choices and to achieve their full potential.
Who Are The Mentors?
The following are our amazing mentors from different industries, professional service firms and start-ups.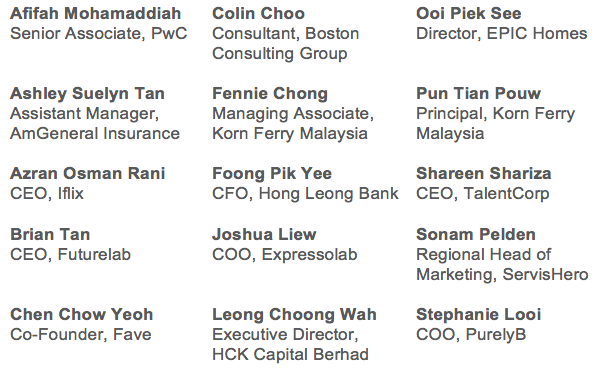 Ticket Price
Admissions are free of charge!
A deposit of RM50 is required upon confirmation of your participation in the workshop. Deposit is to be collected on July 29th, day of Workshop 1 (WWT: Defining Success).
Commitment Required and Starting Date
Each participant should expect to attend a series of all 3 workshops, with the first workshop taking place on July 29th 2017. Attendance for all workshops are compulsory.
The 30 participants who are selected will receive participation certificates and mentee certs (with their mentor names included) at the end of the Workshops Series in September.
Who Can Participate And How?
If you are a Monash Alumni and a young working woman ambitioning to make a change to your personal and career development, then we are looking for you!
Come create, develop and transform ideas of yourself into a roadmap that is tailored to your life situation!
Apply here at https://goo.gl/forms/Z4aLs3zdnLXHkYpl1
(Note: Please DO NOT submit any application through the Eventbrite page, all admissions shall be applied from the link above).
Monash Alumni ID
The Alumni ID can be found at the bottom on the email invitation from Monash University.
If you did not received an email invitation from Monash, kindly update your details here at https://community.monash.edu.au/update?utm_source=alumni-community-page-carousel&utm_medium=Web-banner&utm_campaign=monash-alumni-engagement
Got a question?
Drop our Head of Admissions, May Ee an e-mail at mayee.thrive@gmail.com
Date and Time
Location
Monash University Malaysia
Jalan Lagoon Selatan
Bandar Sunway
Subang Jaya, Selangor 47500
Malaysia