Description
The Women Who Mean Business (WWMB) Summit is an all-day professional development and networking conference designed for successful women entrepreneurs, executives and professionals eager to take their careers to the next level. Bringing together women from various backgrounds, career paths, geographic areas and ethnic groups, our purpose is to empower our attendees by creating a community dedicated to helping each other build and enhance amazing careers.
2016 SUMMIT THEME
SHATTER THE GLASS CEILING
Having the Confidence to Make Bold Decisions and Provide Strong Leadership
The conference features focused training sessions, panel discussions and keynote presentations from experienced leaders with content focused on leadership development and gaining the confidence to make bold decisions.
EVENT AGENDA
8:00 a.m.
Doors Open and Breakfast Begins
9:00 - 9:50 a.m.
The Most Energetic OPENING SESSION presented by Wells Fargo
10:00 - 10:50 a.m. | Breakout Sessions
** Developing and Growing a Thriving Non-Profit
** From Day Job to Dream Job and How to Get There
** Motherhood and Entrepreneurship
11:00 - 11:50 a.m. | Breakout Sessions
** Evolution of Diversity and Inclusion
** Building Your Brand to Meet Your Goals
** Funding Your Dream
12:00 - 1:30 p.m. | Delivering Remarkable Value POWER LUNCH
1:40 - 2:50 p.m. | Mega Sessions
** Building Your Dream Team
** Powerhouse Panel
2:50 - 3:30 p.m. | Closing Session - Chocolate & Wine Reception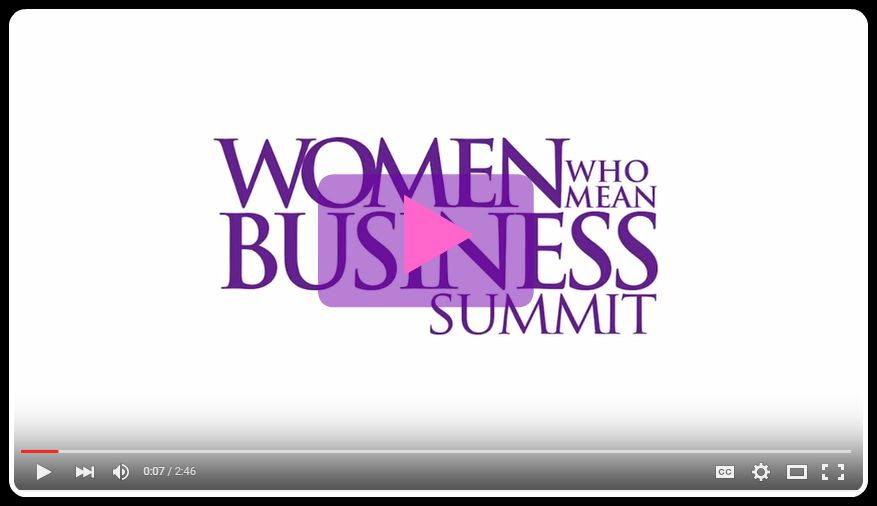 Click to view our promo video about the summit.
=========
REGISTER NOW AND YOU COULD WIN!
Register by Monday, September 26 and you will automatically be entered to win this Lagos sterling silver and 18k yellow gold and diamond cushion bracelet, retail price $795,

provided by

=========
EVENT SPEAKERS:
Heather Crislip

Housing Opportunities Made Equal of Virginia

Session: Developing and Growing a Thriving Non-Profit

Nathalia Artus

Virginia Small Business Financing Authority - DSBSD

Session: Funding Your Dream

Christen Daniels

Create Digital

Session: Building Your Brand to Meet Your Goals

Maegan Deibler

Summit Media

Session: Building Your Brand to Meet Your Goals

Mary Foley

Bodacious! Ventures, LLC

Session: Building Your Dream Team

Krissy Gathright

Apple Hospitality REIT, Inc

Session: Powerhouse Panel

Mary Gordon

Altria

Session: Powerhouse Panel

Danielle Fitz - Hugh

Petersburg Chamber of Commerce

Session: Powerhouse Panel

Tiffany Jana

TMI Consulting

Session: Building Your Dream Team

Cydny Neville, MAEd

Neville Empowerment Network, Inc.

Session: Developing and Growing a Thriving Non-Profit

Arianne Mockabee

The Butterfly Garden, LLC

Session: From Day Job to Dream Job and How to Get There

Mesha Mott

MM Consultants

Session: Evolution of Diversity and Inclusion

Stinson Mundy

Crawford Adams LLC

Session: From Day Job to Dream Job and How to Get There

Amy Obenchain

Summit Media

Session: Building Your Brand to Meet Your Goals

Ericka Perry

The Stork Bag

Session: Motherhood and Entrepreneurship

Rita Ricks

Speak to Your Spirit

Event Emcee

Myra Goodman Smith

Leadership Metro Richmond

Session: Developing and Growing a Thriving Non-Profit

Heather Sullivan

News Anchor for NBC 12

Session: Developing and Growing a Thriving Non-Profit

Lisa Hicks Thomas

Dominion

Session: Keynote Interview

Polly White

Whitestone Partners

Session: Building Your Dream Team

Katherine Wintsch

The Mom Complex

Session: Powerhouse Panel

Lisa Zajur

Awaken the Spanish Within

Session: Powerhouse Panel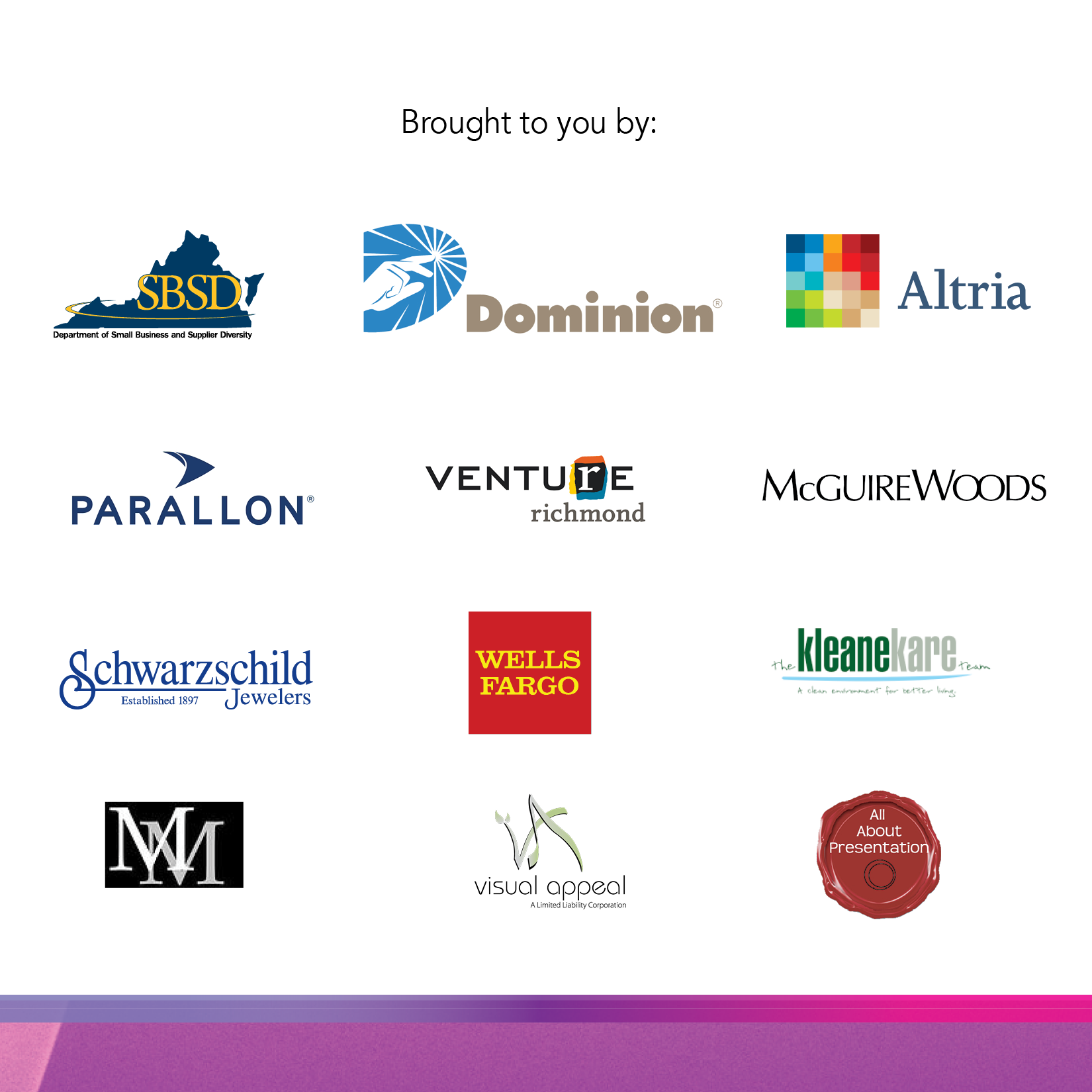 Nathalia Artus

Virginia Small Business Financing Authority - DSBSD

Session: Funding Your Dream

Heather Crislip

Housing Opportunities Made Equal of Virginia

Session: Developing and Growing a Thriving Non-Profit

Christen Daniels

Create Digital

Session: Building Your Brand to Meet Your Goals

Maegan Deibler

Summit Media

Session: Building Your Brand to Meet Your Goals

Mary Foley

Bodacious! Ventures, LLC

Session: Building Your Dream Team

Krissy Gathright

Apple Hospitality REIT, Inc

Session: Powerhouse Panel

Mary Gordon

Altria

Session: Powerhouse Panel

Danielle Fitz - Hugh

Petersburg Chamber of Commerce

Session: Powerhouse Panel

Tiffany Jana

TMI Consulting

Session: Building Your Dream Team

Cydny Neville, MAEd

Neville Empowerment Network, Inc.

Session: Developing and Growing a Thriving Non-Profit

Arianne Mockabee

The Butterfly Garden, LLC

Session: From Day Job to Dream Job and How to Get There

Mesha Mott

MM Consultants

Session: Evolution of Diversity and Inclusion

Stinson Mundy

Crawford Adams LLC

Session: From Day Job to Dream Job and How to Get There

Amy Obenchain

Summit Media

Session: Building Your Brand to Meet Your Goals

Ericka Perry

The Stork Bag

Session: Motherhood and Entrepreneurship

Rita Ricks

Speak to Your Spirit

Event Emcee

Myra Goodman Smith

Leadership Metro Richmond

Session: Developing and Growing a Thriving Non-Profit

Heather Sullivan

News Anchor for NBC 12

Session: Developing and Growing a Thriving Non-Profit

Lisa Hicks Thomas

Dominion

Session: Keynote Interview

Polly White

Whitestone Partners

Session: Building Your Dream Team

Katherine Wintsch

The Mom Complex

Session: Powerhouse Panel

Lisa Zajur

Awaken the Spanish Within

Session: Powerhouse Panel